The University of California today (July 21) released results from a new survey of California youth that provides insights into their political and civic engagement as the 2020 general election approaches amid COVID-19 challenges.
Conducted by YouGov on behalf of UC, the survey asked 18- to 24-year-olds in California about their perceptions of current events — including the COVID-19 pandemic, as well as about their attitudes on voting and the U.S. census — in an effort to better understand how they are engaging politically ahead of this year's presidential election. The University also released a concurrent brief summarizing the latest data on undergraduate voter participation and trends among the UC student population. Both the survey data and UC brief reinforce larger national trends showing a surge in youth involvement.
"One of the University's core values is civic engagement, so we undertook this survey to better understand how young people are getting involved in the political arena and where UC's support is best focused," said UC President Janet Napolitano. "While the pandemic has dramatically affected get-out-the-vote efforts, this poll will help us rally young Californians this year to ensure they are informed, prepared and motivated to make their voices heard."
Key survey findings among California young adults:
Seventy percent surveyed by YouGov reported they are registered to vote. This finding indicates a likely increase in registered voters among young people across the state, and aligns closely with UC data from 2018 showing that 74 percent of UC students were registered.
Fifty-five percent say they will "definitely" or "probably" vote in the November 2020 general election, while 22 percent remain undecided. This indicates a continued upward trend as voting rates among U.S. college students doubled between 2014 and 2018 (up to 39 percent), while they nearly tripled at UC (up to 44 percent).
Those enrolled in college reported higher levels of political participation than non-students, highlighting the unique role of higher education institutions in driving civic engagement. The poll also found that full-time students are more likely to be registered to vote, to encourage others to vote, and to be engaged in influencing public policy or opinion.
The poll also pointed to overwhelming support for removing barriers and increasing access to voting. Eighty-seven percent of California youth surveyed strongly or somewhat support expanding voters' ability to vote early or cast their vote via mail-in or absentee ballots, and nearly half said that voting should be made easier and support same-day voter registration. Additionally, 61 percent of those surveyed supported making Election Day a national holiday, while 52 percent supported digital voting.
Respondents also expressed concern that COVID-19 will depress voter turnout in November's presidential election, with 69 percent saying they are very or somewhat concerned. This was more pronounced among those 21- to 24-years-old.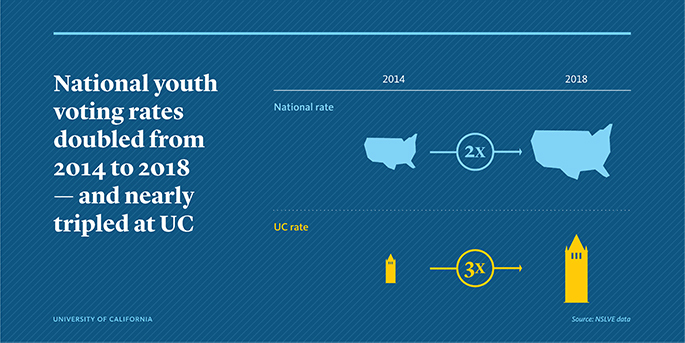 "This poll confirms what we as student leaders have long suspected: that California youth are excited and motivated to vote, even under these extraordinary circumstances," said UC Student Association President Varsha Sarveshwar. "We will continue to find creative ways to engage students online to ensure that turnout is strong this November."
Not only are California youth actively engaged and interested in voting and elections, they also have more diverse political beliefs than commonly assumed: 36 percent described themselves as "very liberal" or "liberal"; 28 percent as moderate; 19 percent as "conservative" or "very conservative"; and 17 percent said "don't know." UC data show that about two-thirds of UC undergraduates report gaining deeper understandings from interactions with students of different political beliefs.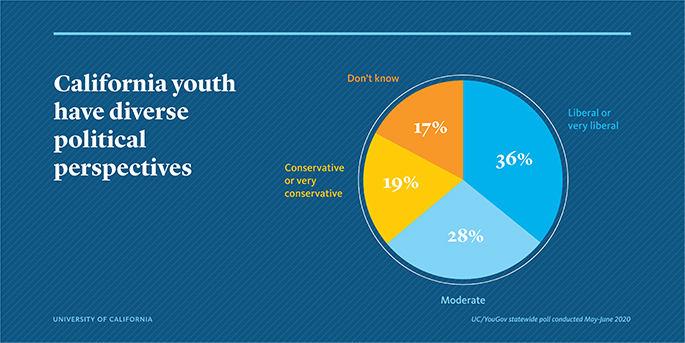 According to the survey, only 18 percent of young California adults say they believe the country is headed in the right direction. When asked to identify the most important issues facing the U.S. today, the COVID-19 pandemic was the leading concern among youth, along with gun violence, jobs and the economy, health care and immigration.
Of particular note, 59 percent of California young adults say they have been paying "a lot" or "some" attention to the current election campaign for president. The survey findings also shed new light on how California young adults are consuming and sharing information, with 45 percent stating their primary source of news about politics and elections is through social media, and only 25 percent consuming traditional media such as TV, newspapers or radio. Nearly half reported using social media to express or share others' opinions about a political candidate, issue or event. Among prominent news outlets, young people ranked CNN and The New York Times as their most frequently consulted sources for information about elections and politics.
The YouGov poll was conducted as part of the University of California's 2020 civic engagement and get-out-the-vote campaign. Launched in January, the nonpartisan campaign aims to boost youth voter registration and turnout, as well as participation in the U.S. census process, and will continue through the November election. While youth voter registration and turnout surged in recent elections, more remains to be done. In fact, the YouGov survey highlights that nearly half of California young adults were assisted in registering to vote by a get-out-the-vote campaign organized by their school or university or by the California DMV. According to the YouGov poll data, GOTV campaigns were especially effective at registering non-white males.
For complete poll questions and findings, view or download the UC/YouGov survey toplines and tabulations.
High-resolution versions of the images in this release and additional images are available for reprinting, no additional credit is needed.
Survey details:
Survey conducted by YouGov between May 28–June 5, 2020
Sample size: 1,000 California adults ages 18-24
Margin of error: +/- 3.6 percent