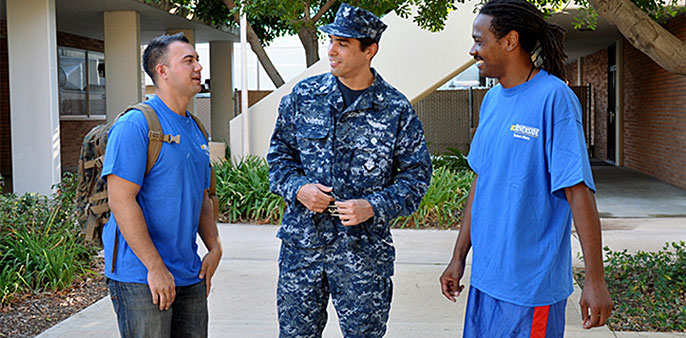 The University of California has launched a comprehensive website to help returning military service members prepare for and attain a UC education.
The site, designed as a one-stop shop, details an expanding array of services for veterans, including:
priority registration for classes
eligibility for in-state tuition
veteran-focused campus orientations
academic advising and career counseling
pre- and post-deployment support
housing services
social organizations
It also connects student veterans to campus coordinators who can advise them on financial aid and the effective use of their veterans' benefits.
"We want every returning service member to know that a world-class UC education is attainable and affordable," said Judy Sakaki, UC vice president for student affairs. "The new website will be instrumental in helping them get the most out of their G.I. Bill benefits and other financial aid."
In addition to information about G.I. Bill benefits, the site provides information about other aid options, such as UC's Blue and Gold Opportunity Plan, which covers all systemwide tuition and fees for eligible California resident students from households with annual incomes up to $80,000.
For veterans planning to transfer to UC from a California community college, as the majority of UC's student veterans do, the website provides links to resources such as UC's transfer admission portal that can guide students on enrolling in the appropriate classes.
The university created the website in response to recommendations from an advisory council on student veterans that UC President Janet Napolitano established shortly after she assumed leadership of the 10 campus system in fall 2013.
The University of California has approximately 1,750 undergraduate and 450 graduate students who are veterans or active duty military. That number has more than doubled since 2008.
"Student veterans possess many of the attributes we prize most at UC — leadership, persistence in the face of adversity, and a willingness to serve the greater good," Sakaki said. "We have resources to help student veterans get here and help them succeed. This website makes it easier for our veterans to access those resources."
View the new site at http://veterans.universityofcalifornia.edu/.