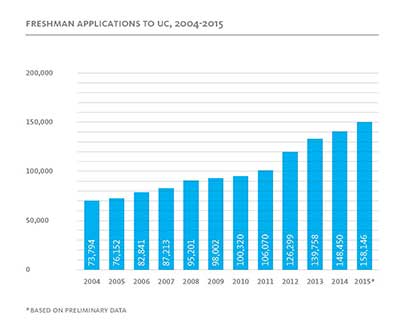 The number of high school seniors applying for 2015 freshman admission to the University of California rose by 6.5 percent over last year, the 11th consecutive year of record high numbers of applicants, according to preliminary data released today (Dec. 11).
Data collected from the application cycle that closed Nov. 30 show that 193,873 students applied for admission to at least one of the nine undergraduate UC campuses — 158,146 of them as freshmen and the remainder as transfer students. These combined numbers represent an overall increase in applications of 5.8 percent over fall 2014.
Latinos, the largest racial/ethnic group among the state's high school students, remained the largest group of Californians applying for freshman admission. African American, Asian American, Latino and Pacific Islander applicants also grew in absolute numbers.
"This early look at the numbers serves as a strong indication that students and their families continue to place a high value on a UC education," said UC President Janet Napolitano.
More detail about high school and community college students who applied for 2015 freshman and transfer admission, including campus-specific information, will be available in January.