The University of California has selected Brent Colburn to be the next senior vice president of External Relations and Communications for UC's Office of President, as approved today (June 23) by its Board of Regents.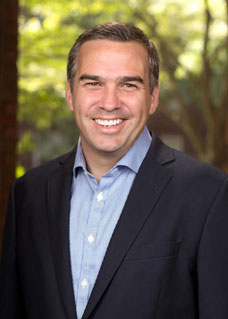 Colburn brings more than two decades of high-level experience across higher education, the nonprofit sector, the federal government, and national politics to this systemwide role. He joins the University at a pivotal time marked by a new presidential administration, the ongoing impacts of the coronavirus pandemic, and a focus on social justice reform, climate change innovation and medical breakthroughs.
"The depth and breadth of Brent's experience and his clear commitment to public service are remarkable," said UC President Michael V. Drake, M.D., noting that Colburn was the advisory committee's unanimous choice following a nationwide search. "We are very fortunate to have him join the University of California; he will be a tremendous asset to advancing UC's influence and impact."
As senior vice president, Colburn's broad portfolio will include all University-wide internal and external communications and outreach, state and federal governmental relations, advancement and alumni relations in support of UC's tripartite mission of education, research and public service.
Colburn is currently the vice president for communications and public affairs at Princeton University, where he oversees communications, government relations and community affairs. He also serves as a member of the university's cabinet, working with Princeton's board of trustees, the president and senior leaders to manage the institution's affairs and to implement strategic initiatives.
"I'd like to thank President Drake and the Board of Regents for this opportunity to serve the students, faculty and staff of the University of California," said Colburn. "The University's unparalleled commitment to teaching, research and service changes lives and strengthens communities. It is hard to imagine an institution better positioned to contribute to the greater good at this critical moment for California and our nation, and I look forward to being a part of the University's vital work."
Colburn's extensive experience in public service includes senior roles in the Obama administration, where he served as the assistant to the secretary of defense for public affairs, chief of staff at the Department of Housing and Urban Development (HUD), assistant secretary of public affairs at the Department of Homeland Security (DHS), and director of external affairs at the Federal Emergency Management Agency (FEMA).
Colburn also comes to his position with a deep well of political experience, having worked on a range of political campaigns, including as national communications director for President Obama's successful re-election. He has served in roles at the Democratic National Committee and the Democratic Congressional Campaign Committee, and as communications director for Michigan Senator Debbie Stabenow's 2006 re-election campaign. He also worked as Stabenow's deputy chief of staff.
Before joining Princeton, he was the vice president of communications at the Chan Zuckerberg Initiative in Redwood City, Calif. The philanthropy created by Priscilla Chan and Mark Zuckerberg works to drive innovation in education, social justice and science.
Colburn is a recipient of the Department of Defense Medal for Distinguished Public Service, as well as William & Mary's Baxter-Ward Fellowship for Distinguished Government Department Alumni. He graduated from the College of William and Mary with a bachelor's degree in political science and a master's degree in public policy.
Colburn's base annual salary will be $415,000 with a 20 percent signing bonus. As background, UC's top executives comprise less than one-tenth of 1 percent of all employees. Their combined earnings equate to less than one-half of 1 percent of UC's systemwide gross compensation. More details on Colburn's appointment may be found here.
Colburn is married to Nichole Mayer, a professional chef and San Francisco native, and will begin his position with UC at the end of August.