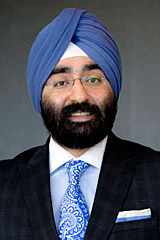 The University of California Board of Regents today (Jan. 23) appointed Jagdeep Singh Bachher, currently an executive vice president for one of Canada's largest and most diversified investment fund managers, as chief investment officer and vice president, investments, Office of the President.
In his new role, Bachher will be responsible for managing the more than $80 billion in assets that encompass UC's pension, endowment, short-term and total return investment pools. After he joins the university on April 1, he will report directly to the Board of Regents on investment matters and to UC's Chief Financial Officer Peter Taylor on administrative issues related to managing a group of more than 50 investment officers and staff.
Bachher, 41, succeeds Marie Berggren, who retired in July 2013 after 11 years of service.
"I'm grateful and humbled by this phenomenal opportunity to join the University of California," Bachher said. "I know that working to ensure the health and longevity of the university's financial assets has a direct impact on UC's educational, research and public service mission. This is a chance to really make a difference."
Bachher has been with Alberta Investment Management Corp. (AIMCo), based in Edmonton, Canada, since 2009. His current title is executive vice president, venture and innovation, and he served previously as the corporation's deputy chief investment officer and chief operating officer. AIMCo, which is governed by an independent board of directors, invests some $70 billion on behalf of public sector pension plans, provincial endowments and government funds.
Bachher was chosen as UC's chief investment officer following an international search that began immediately after Berggren's retirement. Associate Chief Investment Officer Melvin Stanton and Senior Managing Director-Fixed Income Randy Wedding will remain as interim co-CIOs until Bachher begins his tenure in Oakland.
"The university is extremely fortunate that Jagdeep has agreed to take on the pivotal role of chief investment officer," said Regent Paul Wachter, chairman of the regents' Committee on Investments. "His quantifiable talents in the field of institutional investing, combined with his strengths as a manager and communicator, make him especially suited to UC. I look forward to working with him."
Said CFO Taylor, "We are particularly pleased to have an investor with Jagdeep's analytical skill joining us at UC. Combined with his experience managing staff, I'm confident he will provide excellent strategy and leadership for the diverse mix of assets in our investment portfolios well into the future."
Bachher, who has a doctorate in management sciences, has been a champion for change in the investment business and gained an international reputation as an innovator. He is a visiting scholar in the Global Projects Center at Stanford University and chairman emeritus of the Institutional Investors Roundtable, a leading financial think tank. He is a Canadian citizen with legal U.S. residency.
"Jagdeep Bachher brings to the table his investment acumen, management expertise, scholarly research and great social skills," said UC President Janet Napolitano. "I welcome him to the university."
The UC Board of Regents approved an annual base salary for Bachher of $615,000, to be funded entirely from non-state sources. He will be eligible to participate in the Office of the Chief Investment Officer's annual incentive plan with a target award of 100 percent of his base salary, with a maximum potential award of 165 percent of his base salary, also entirely from non-state funds.
Comparable positions at the University of Texas, University of Michigan, Ohio State and the University of Virginia have total cash compensation ranging from $1.2 million to $3.2 million annually. Comparable positions in the private sector pay considerably more.