The University of California today (June 3) announced the distribution of $2 million in seed funding for important research across the state aimed at mitigating the impact of COVID-19, particularly among those at greater risk for infection and adverse outcomes. UC awarded the funds to support rapid-response, high-impact research in vaccines, therapeutics, clinical management, epidemiology and other COVID-19 related areas. In addition to UC campuses, other institutions of higher education as well as private and nonprofit groups in California received awards.
"This is a challenging time for our country and for those suffering from COVID-19," said UC President Janet Napolitano. "With some of the world's premier researchers and scientists working to find answers to this disease and ways to alleviate its impacts, UC is in a prime position to make a real difference for those most at-risk."
"We recognize there is a compelling and dire need for COVID-19 research, especially for our more vulnerable populations. In coordination with our research program external advisory councils and others, we all agreed the right course of action was to promptly shift funds in various grant programs to meet that need," said Theresa Maldonado, Ph.D., vice president of systemwide Research and Innovation at UC. "Older persons and those living with breast cancer, lung disease, and diabetes face a disproportionate risk of mortality due to COVID-19, and our scientists, some of them jointly with non-UC collaborators, are well-positioned to help mitigate those risks head on."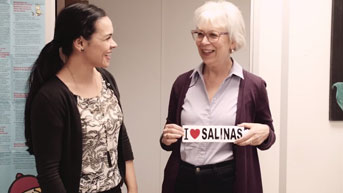 The research award monies come from three statewide UCOP-based research grant programs focused on breast cancer, tobacco-related disease, and HIV/AIDS, among other programs, and provide up to $25,000 in seed funding to each selected proposal. The projects were approved for six months after which time researchers can apply for additional funds to continue their projects and build upon their research successes.
In just under a month, nearly 400 research proposals were received and 85 of those were selected for funding. Below are some projects approved across UC:
UC Agriculture and Natural Resources: UC Cooperative Extension will partner with Gala Pride and Diversity Center and Tenet Health Care to develop educational materials for health care providers, public health care officials, community-based organizations, and other groups to increase awareness of LGBTQ+ individuals' increased risks for severe complications from a COVID-19 infection.
UC Berkeley: Harnessing a long-standing partnership with the agricultural Latinx community of Salinas Valley, one research team will examine the ability of residents to comply with health orders at home, work and in the community. This community has many essential workers and undocumented individuals who are highly vulnerable to COVID-19.
UC Davis: One UC Davis project will aim to reduce the number of aggravated infections that can occur in the elderly, diabetes patients and other high-risk groups after they are vaccinated. This unfortunate side effect is due to sub-optimal levels of antibody production in immunocompromised individuals. The study will explore a new vaccine strategy to elicit a robust antibody response regardless of the individual's immune system.
UC Irvine: Using the X-rays of patients' chests, investigators aim to develop an artificial intelligence-based platform to predict COVID-19 outcomes.
UCLA: In partnership with the Los Angeles Homeless Services Authority (LAHSA), one research team seeks to develop a highly integrated package of outreach, data collection and modeling advancements that will mobilize an unprecedented humanitarian effort to protect vulnerable homeless clients. As the team provides LAHSA with technical advice on methods for remote screening, they will also develop tools to measure the social distancing practices, hygiene, well-being and social isolation of clients.
UC Merced: Researchers will survey Central Valley Latinx populations to better understand the social determinants of COVID-19 and links to tobacco.
UC Riverside: One UC Riverside project strives to help determine if vaping and nicotine increase the likelihood of COVID-19 infection and leverage that information in public service announcements and health care messaging. Their aim is to decrease infection through the reduced use of those products.
UC San Diego: Researchers plan to leverage the unique resources, data and comprehensive geriatric services available from UC San Diego's Senior Emergency Care Unit to care for elders and other at-risk groups.
UC San Francisco: One team seeks to provide California health care workers and patients with redesigned reusable respirator masks that may be used in perpetuity. Currently, there is a strain on national supplies, with health care workers across the country using vast quantities of personal protective equipment.
UC Santa Cruz: Researchers will investigate the impacts, resilience and stressors of COVID-19 in an urban environment to inform short- and long-term interventions and services to support vulnerable families.
For a full list and additional details on all of the projects approved, please visit: https://uckeepresearching.org/rgpo/.
A crucial consideration of selected applications was the ability of researchers to start work immediately, as COVID-19 continues to affect millions globally and requires urgent solutions. Despite the challenges posed by shelter-in-place orders, researchers have already begun research in special protocol labs, at home working with digital models and electronically by surveying populations.