A University of California Board of Regents special committee has nominated Alexis Atsilvsgi Zaragoza, a UC Berkeley undergraduate student, to be the 2021-22 student regent, UC announced today (June 5).
If approved by the Board of Regents at their July meeting, Zaragoza will become the 47th student regent, a position established in 1975. She will serve as the student regent-designate for the coming year, able to participate in all deliberations, and will have voting privileges when her one-year term as a regent begins in July 2021.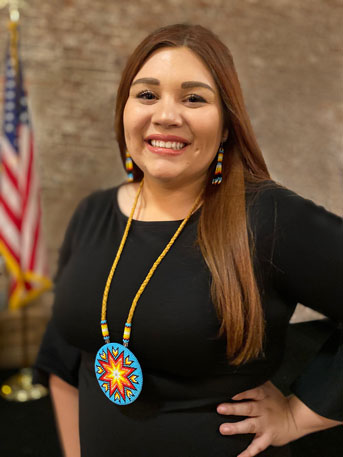 A citizen of the Cherokee Nation belonging to the Eastern Band of Cherokee Indians and daughter of a Mexican immigrant, Zaragoza transferred from Modesto Junior College to UC Berkeley, where she is a geography major. In June she completes her term as a trustee on the California Community Colleges Board of Governors, the equivalent of UC's Board of Regents.
"As an undergraduate transfer student I hope to advocate for all students, including not only transfers, graduates, and all undergraduates, but student-parents, previously incarcerated students, veterans, and students who are typically overlooked in our large systems,"
Zaragoza said. "I also plan on using my experience as a trustee of Calbright College, the first-ever online community college in the world, to bring us out of the COVID-19 crisis with equity at the center."
As student regent, Zaragoza wants to use her knowledge and experience on the California Community Colleges Board of Governors to help improve campus climate as well as student, faculty and staff diversity at UC, including admissions reform to make the University more inclusive of all Californians.
This year 83 candidates submitted applications to become the 2021-22 student regent. After panels appointed by the UC campus student body presidents and the UC Student Association and UC Graduate and Professional Council reviewed the applications and interviewed semifinalists, a special committee of the Regents interviewed the finalists and nominated Zaragoza.
Read more about the Board of Regents' policy on appointing a student regent here.