The University of California recognized today (May 24) two recipients of the 2018 President's Award for Outstanding Student Leadership, honoring the significant impact their work has made on local campuses and communities. UC President Janet Napolitano presented the awards during the UC Board of Regents meeting to a UC Santa Cruz student and a student-led organization at UC San Diego.
"Student activism and public service have been a hallmark of the University of California and its students for 150 years," Napolitano said. "This year's winners represent the best of that tradition."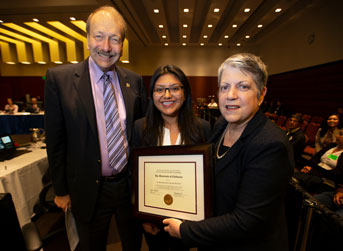 The honorees are Valeria Jacqueline Alonso Blanco, who supports underserved students as an assistant coordinator for UC Santa Cruz's Cultivamos Excelencia program, and the UC San Diego Student Foundation, a student-run nonprofit that raises money for scholarships and other campus community needs.
Through Cultivamos Excelencia, Alonso Blanco helped Latino and first-generation students at San Jose City College. She developed and implemented an undergraduate research program to boost students' confidence in their ability to excel in upper division courses before they transfer to UC. In addition, Alonso Blanco provides academic support to migrant youth in Watsonville through her work with the Educational Partnership Center at UC Santa Cruz. She is a senior majoring in intensive psychology with a minor in education.
This year the UC San Diego Student Foundation led a crowdfunding campaign to raise money for the student-run Triton Food Pantry, which helps ensure every student on campus has access to nutritious food. The organization raised more than $2,000, in addition to stocking the pantry with dry goods to last five months. UC San Diego Student Foundation President-Elect Rohan Bhargava and Vice President of Development Sara Tan accepted the award on behalf of their organization.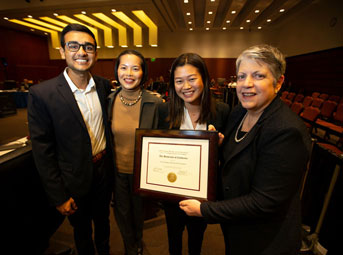 "We don't believe any student should suffer from food insecurity or have to wonder about when their next meal will be," said Tan. "Every gift counts whether it be a dollar, because if we come together as a community we can make a real change."
The President's Award for Outstanding Student Leadership is presented each spring to students and campus-based organizations that enhance multicampus collaboration, address systemwide issues and advance UC's mission of teaching, research and public service.