The University of California Board of Regents today (July 13) approved Alexander A. Bustamante as senior vice president and chief compliance and audit officer at UC's Office of the President.
Since 2011, Bustamante has been the inspector general for the Los Angeles Police Department (LAPD), where he was responsible for providing independent oversight of the department and its approximately 12,000 employees. He developed and implemented an integrated compliance program that reviewed all facets of the department's operations, enabling more comprehensive guidance to the Los Angeles Police Commission in its management of the LAPD.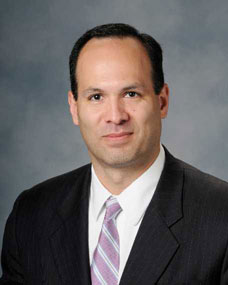 "Alex Bustamante was selected for this critical position at the university based on his impressive career focused on legal and compliance matters," said President Janet Napolitano. "I'm confident his breadth of expertise and leadership will further strengthen UC's oversight systems."
Bustamante's new role is responsible for developing and overseeing UC's compliance and audit program and reports directly to the regents and the UC president. Functioning as an independent and objective officer, Bustamante will review and evaluate compliance and audit matters, and will lead efforts to monitor and report adherence to rules and regulations of the university and regulatory agencies. Members of the search committee included former UC Regents Chair Monica Lozano, Compliance and Audit Committee Chair Charlene Zettel, as well as the UC president and representatives from the campuses.
"I am honored and excited about this opportunity, which allows me to return to UC, an institution that has been the foundation for my career and vital for my development," said Bustamante, who received his bachelor's degree in rhetoric from the University of California, Berkeley. "I look forward to ensuring UC's compliance systems are unequaled within academia."
Said Regent Lozano, "Alex brings significant expertise to a role that is absolutely critical to the university's public mission. Throughout his career he has demonstrated independent judgment and an adherence to transparency and accountability that will serve UC well."
Bustamante served as an assistant U.S. attorney for the Central District of California from 2002 to 2011, where he was the recipient of various local, state and national awards for excellence, including the United States Attorney General's Award for Exceptional Service, the Department of Justice's highest award. As an assistant U.S. attorney, Bustamante prosecuted complex, high-profile cases involving civil rights violations and organized crime groups, as well as a variety of white-collar crimes that entailed health care fraud, export controls and the Foreign Corrupt Practice Act.
He started his career in 1997 as a judge advocate general for the U.S. Army, where he provided legal advice to senior military commanders and their staffs and represented the Army in criminal investigations and prosecutions. He was deployed to Kosovo, where he assisted the United Nations and nongovernmental organizations in developing political and judicial infrastructure in the region.
He received his Juris Doctor degree from George Washington University Law School.
Bustamante replaces Sheryl Vacca, who left the university last year. John Lohse has held the position on an interim basis since November 2016.
Bustamante will assume the role on Sept. 5. More details may be found here.