UC raises record-setting $1.64B in private donations
The University of California raised a record-setting $1.64 billion in private donations over the past fiscal year, gifts that are enhancing virtually every aspect of the university, from faculty recruitment and student financial support to leading-edge research facilities.
It's the third year in a row that donations have surpassed $1.5 billion, according to the Annual Report on University Private Support, presented to the UC Board of Regents this week.
The number of contributors also continues to rise, said Daniel Dooley, senior vice president for external relations. Nearly 300,000 unique donors made gifts to UC last year, a sign of confidence in the university from alumni, foundations and other supporters, he said.
The report shows that donor giving is almost exclusively tied to specific projects and purposes, meaning that UC is restricted in how it can use the funds.
"It's hard to overstate the importance of philanthropic giving to the university," Dooley said. "But because the funds are restricted in nature, private support is unlikely to ever replace our reliance on state funding."
Dooley will discuss the report with the Board of Regents on Nov. 13. In it, UC President Janet Napolitano says that her initial visits to campuses and medical centers have given her a first-hand look at how philanthropy is helping further UC's status as the world's premier public university.
"While I have always had a deep appreciation for the University of California, I now have an even greater understanding of the contributions that Californians and others have made to attain this stature," Napolitano said. "The contributions of today are helping ensure that UC can reach even greater heights."
Among the report's highlights:
UC has made student financial support a fundraising priority — and is seeing results at both the undergraduate and graduate level. Project You Can, which aims to raise $1 billion for student support by 2014, has raised $744 million as of June 2013.
Donors have a big impact on UC's efforts to attract and retain world-class faculty by supporting endowed chairs across a variety of disciplines. In 1980, the entire UC system had just 81 endowed chairs. The number today approaches 1,700, and half of those endowed chairs were created since the year 2000.
Philanthropic support plays a major role in UC's research mission, with donors giving nearly $500 million in gifts and grants for that purpose.
The report provides an overview of philanthropic activity at the university, including summaries for each campus, but it is virtually impossible to capture the full impact that nearly 300,000 donors have on the university, Dooley said.
Private gifts, for example, often provide the impetus for new research initiatives, which in turn lead to additional grants and support.
"Philanthropic support makes a lasting impact on the university and is integral to its long-term success," Dooley said. "We are grateful to our alumni and friends for their support and for recognizing all the ways that the university is serving the people of California."
Ten-year summary of fundraising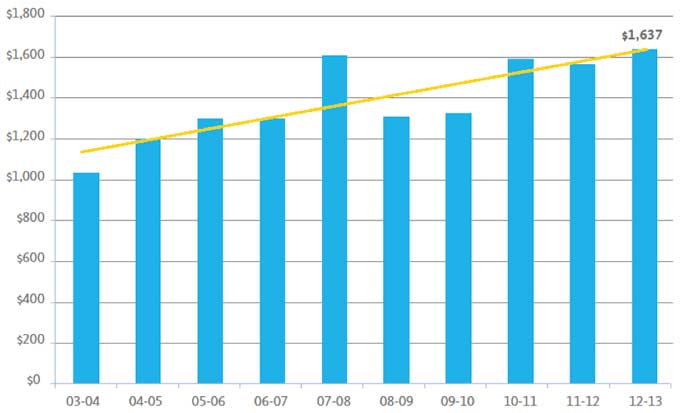 Gifts by purpose