UC Santa Barbara first-generation student Jamaal Muwwakkil nominated as 2020-21 UC student regent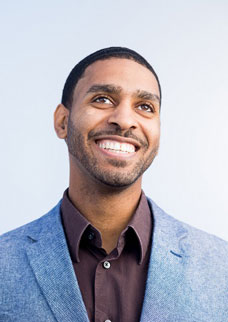 A University of California Board of Regents' special committee has nominated Jamaal Muwwakkil, a UC Santa Barbara doctoral student in linguistics, to be the 2020-21 student regent, UC announced today (May 29).
If approved by the full Board of Regents at their July meeting, Muwwakkil will become the 46th student regent, a position established in 1975. He will serve as the student regent-designate for the coming year, able to participate in all deliberations, and will have voting privileges when his one-year term as a regent begins in July 2020.
A first-generation college student, Muwwakkil transferred from Los Angeles City College to UCLA, where he earned his bachelor's degree in applied linguistics with college and departmental honors in 2016. He is currently in the M.A./Ph.D. program at UC Santa Barbara, where his research specializations include African American language and culture, sociocultural linguistics and political discourse.
"As a first-generation college student who transferred from a California Community College, my passion for equity and access in higher education is informed by my lived experience," Muwwakkil said. "I look forward to advocating on behalf of the students of the University of California, present and future."
As student regent, Muwwakkil wants to improve outreach and support programs for community college and transfer students, something he found instrumental when personally navigating the transfer process. He hopes to also be an advocate for UC's diverse student population — including nontraditional, underrepresented and first-generation students.
This year 113 students — a record number — applied to become the 2020-21 student regent. After panels appointed by the UC campuses' student body presidents and the UC Student Association reviewed the applications and interviewed semifinalists, a special committee of the regents interviewed the finalists and selected Muwwakkil.
Read more about the Board of Regents policy on appointing a student regent here.