The University of California Board of Regents today (July 13) approved Michael T. Brown, a veteran professor and administrator at UC Santa Barbara and former chair of the UC Academic Senate, as UC provost and executive vice president for Academic Affairs.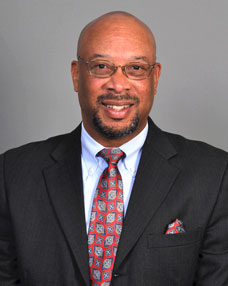 As provost, Brown will serve as the UC system's chief academic officer and lead efforts to further student success, support academic excellence and foster diversity across the 10 campuses. He replaces Aimée Dorr, who assumed the position in 2012 and is now retiring after serving the university for 36 years.
President Janet Napolitano selected Brown after a search that included consultation with a 15-member advisory committee of faculty, students, staff and senior academic leaders representing all UC campuses. He will assume his new responsibilities on or about September 5.
"Michael Brown is an exceptionally talented leader and scholar with the vision and experience to ensure UC's continued academic excellence and bring together diverse constituencies around our shared goals," Napolitano said. "His dedication to advancing excellence, fairness and equal opportunity will be a tremendous asset to the entire UC community."
Brown began his career at UC Santa Barbara in 1993 as an associate professor in the Department of Counseling, Clinical and School Psychology, and was appointed professor in the same discipline in 2000. In 2009, he became acting dean for Extension and Off-Campus Studies before being named to his present role as dean of UC Santa Barbara Extension. He has held numerous leadership positions within the UC system, including chair and vice chair of the UC Academic Senate, chair and vice chair of the Academic Senate's Board of Admissions and Relations with Schools (BOARS), faculty representative to the Board of Regents, and member of the Regents' Study Group on University Diversity.
"The people of the state of California have invested high hopes in the excellence and diversity of the University of California's faculty, students and staff, and have provisioned it through the regents to be the greatest public research university system in the world," Brown said. "It's an honor to be appointed by President Janet Napolitano, one of our nation's most accomplished leaders, to serve the great people of California as part of her team."
Jim Chalfant, chair of the Academic Senate and a member of the search committee, praised outgoing Provost Dorr and applauded the selection of Brown to succeed her.
"Provost Aimée Dorr set a very high standard as an advocate for preserving UC's academic excellence and in working very closely with the Academic Senate," Chalfant said. "Michael Brown brings the same commitment to shared governance and the academic mission, and I am confident he will have the same focus on maintaining and enhancing the qualities that distinguish UC as the nation's leading public research university system. His enthusiasm is infectious, as is his commitment to ensuring that the university's ability to transform lives remains as strong as ever."
Brown was elected fellow of the American Psychological Association in 2001. Over the course of his career, he has published numerous books, book chapters and articles focused on the cultural variables underlying career and educational choices, particularly among racial and ethnic minorities and women. His research also has focused on the importance of equity and diversity in freshman admissions.
Prior to joining the faculty at UC Santa Barbara, Brown was a faculty member at Ball State University and Wayne State University. He received his B.A. in psychology from UC Irvine, and his M.A. and Ph.D. in counseling psychology at Southern Illinois University in Carbondale, Illinois.
The regents' item on his appointment may be accessed here.