While firefighters battle raging wildfires in Northern and Southern California, the University of California is finding lifesaving solutions to stem the growing threat of fire by harnessing cutting-edge technologies to meet the state's frightening new reality.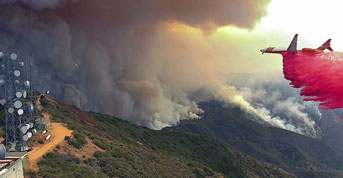 "The growing frequency and severity of California wildfires drive home the real climate crisis we face," said UC President Janet Napolitano. "This is why our experts are working on more than 100 innovative projects to help keep Californians safe in this new wildfire-prone era."
In addition to the Kincade, Saddleridge and Tick and Fires' heartbreaking loss of life and destruction of hundreds of structures, PG&E's unprecedented power shutoffs last month underscore the tangible impacts of climate change on our everyday lives. To highlight the critical need for solutions, former Gov. Gray Davis has thrown his support behind UC San Diego's development of high-definition, fire-spotting cameras.
"This technology is a gift from God," said Davis during an impassioned presentation at September's UC Board of Regents meeting. He has a family member who lost a home in Paradise's Camp Fire last year and is volunteering to help promote UC San Diego's cameras. "The sooner we get them up, the safer we'll be."
Here is a snapshot of the work across UC:
UC San Diego's swiveling infrared cameras can detect fires 80 miles away and send images to officials in the crucial early minutes of a wildfire. Since cameras were installed in fire-prone San Diego County in 2017, no fire-related fatalities have been reported. The goal is to install 900 of these devices around the state.
UC Santa Cruz and other campuses have developed Internet of Things-connected mini-weather stations to detect wildfires upon ignition. The solar-powered smart devices cost as little as $200.
UC Berkeley is developing data-gathering drones to predict a fire's path and exploring giant air scrubbers to suck smoke-filled air from the sky.
UC Riverside is ensuring first responders stay connected with wide area mobile communication and robust social media platforms when cellular service goes down in a disaster. The campus is also using virtual and augmented reality to aid firefighting operations and training.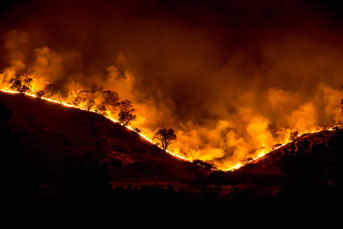 UC Berkeley professor of mechanical engineering Tarek Zohdi founded the school's Fire Research Group to encourage collaboration between firefighters, engineers, physicists, roboticists and other experts. He calls the group a "SWAT team."
UC experts like Zohdi understand the urgent need for effective prevention tools and practical solutions to stem the severity of wildfires and, by extension, lives lost and homes destroyed.
"There isn't going to be a silver bullet," he said. "It has to be a concerted effort and so people are definitely thinking outside the box."
---
California wildfires are getting larger, costlier and deadlier:
If you are interested in interviewing UC experts or learning more about these ongoing projects, please contact Stett Holbrook (stett.holbrook@ucop.edu).