UC student regent nominated for 2015-16
A University of California Board of Regents' special committee has nominated Abraham (Avi) Oved, a UC Los Angeles student majoring in economics with a minor in global studies, as the 2015–16 student regent.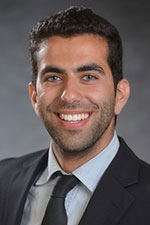 The Board of Regents will vote on the recommendation at its July meeting. If approved, Oved will become the 41st student regent since the position was established in 1975. He will then serve as student regent-designate for the coming year, able to participate in all deliberations. He will not have voting privileges until his one-year term begins in July 2015.
"I want to work with students on the ground, and that should be the focus of this position: empowering students and giving them the resources they need to be heard," Oved said. "I hope to educate students on why the Board of Regents is relevant to them, and strengthen communications between students and the board so we can become a more efficient and united university system."
Oved, who will enter his senior year at UCLA this fall, has been active in the Undergraduate Students Association Council (USAC) and the UCLA Jewish Student Union. He served as an intern in former Los Angeles Mayor Antonio Villaraigosa's office and with Hillel at UCLA.
As student regent, Oved said he hopes to focus on preserving access to the University of California, advocating for more state support for higher education, addressing sexual violence on campuses, and working on issues surrounding campus climate.
"I can't claim to understand everyone's experiences, but I will do everything I can to reach out and listen," Oved said. "I hope to be a liaison for students, faculty and administrators, and serve as their advocate."
The student regent for 2014–15 is Sadia Saifuddin, a UC Berkeley student majoring in social welfare, who said she will collaborate with Oved on issues of importance to students.
"Avi is an enthusiastic and capable leader, and an avid learner," Saifuddin said. "I'm looking forward to working with him next year on issues of accessibility, affordability and quality that are the hallmarks of UC."
Oved said he is eager to work with and learn from Saifuddin next year.
"We're both active in student government, and we champion different stances on certain issues," Oved said. "It's a beautiful statement on behalf of UC to have a Muslim and a Jewish student working together, regardless of political or cultural differences, in order to improve higher education. I hope this serves as an example for communities on campus that they can focus on the similarities between one another rather than their differences."
Oved's nominating committee included regents George Kieffer (chair), Cinthia Flores, Norman Pattiz, Fred Ruiz and Charlene Zettel. The policy on the appointment of the student regent is available here.
This year, 38 students from nine UC campuses applied for the position. In accordance with its policy, the regents' committee interviewed three finalists after the UC Student Association interviewed 10 semifinalists.
Oved can be reached at oved.abraham@gmail.com.