UC student regent nominated for 2016-17
A University of California Board of Regents special committee has nominated Marcela Ramirez, a UC Riverside graduate student in higher education administration and policy, as the 2016–17 student regent.
The Board of Regents will vote on the recommendation at its July meeting. If approved, Ramirez will become the 42nd student regent since the position was established in 1975. She will then serve as student regent-designate for the coming year, able to participate in all deliberations. She will not have voting privileges until her one-year term begins in July 2016.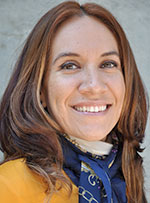 "As a member of the UC community, it's important to me to effect growth and change in a positive way," Ramirez said. "I'm here to serve. I want to hear what students' concerns are. I want to build a bridge of communication between students, staff, faculty and the board."
Ramirez earned her bachelor's degree in economics and French from California State University, Fullerton, and her master's in counseling, with an emphasis in student development and higher education, from California State University, Long Beach. She's expected to complete her graduate program at UC Riverside in June 2017.
Ramirez is currently serving as the graduate student representative on the UC Office of the President LGBT Advisory Committee and previously served as a member of the Undocumented Student Task Force at UC Riverside. She has also served as the founding director of the Middle Eastern Student Center and as the diversity initiatives coordinator in the Dean of Students Office at UC Riverside.
As a student regent, Ramirez hopes to focus on issues related to diversity, access and efforts to maintain UC's excellence. She wishes to address campus climate issues and promote culturally sensitive care, advising, mentoring and professional development to enhance the quality of services for all students.
"I've been in school for a long time. I've also been working to pay for my education," Ramirez said. "I understand the hardships one must overcome to stay in school, and the trials and tribulations that come with pursuing an academic degree and establishing yourself. I'm in tune with student concerns and challenges across the system."
The student regent for 2015–16 is Abraham (Avi) Oved, a UCLA student majoring in economics with a minor in global studies.
Ramirez's nominating committee included Regents Eddie Island (chair), Sheldon Engelhorn, Hadi Makarechian, Eloy Ortiz Oakley and current Student Regent Sadia Saifuddin. The policy on the appointment of the student regent is available here.
This year, 46 students from all 10 UC campuses applied for the student regent position. In accordance with regental policy, the committee interviewed three finalists after the UC Student Association interviewed 10 semifinalists.