Veteran communications executive appointed to lead external relations at UC Office of the President
The University of California Board of Regents today (Sept. 27) approved UC President Janet Napolitano's selection of Claire Holmes, a veteran communications and public relations leader, as senior vice president of External Relations and Communications at UC's Office of the President.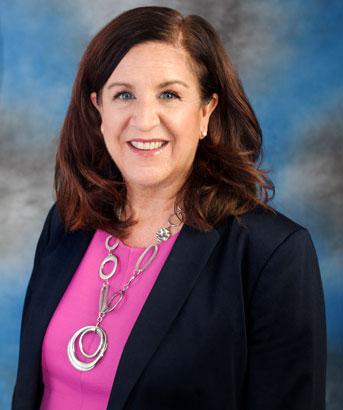 Holmes has been serving in an interim capacity in the position since it was created earlier this year by combining several departments — including government relations, public affairs and communications — as part of an ongoing restructuring of the UC system headquarters.
"Claire has more than proved herself to be an adept and innovative leader in this crucial role," Napolitano said. "Her collaborative nature and deep experience in communications and stakeholder relations — as well as her extensive and first-hand knowledge of the university — will continue to serve us well. I'm delighted she has agreed to stay on."
As senior vice president, Holmes will work with other senior UC leaders to build public understanding and support for the university's mission. She will oversee federal and state governmental relations, marketing communications, strategic communications and media relations, institutional advancement, executive communications, internal communications and UC Health communications.
"I am honored and privileged to be a part of this great institution that has contributed so much to California and the world," Holmes said. "As a California native, I'm especially proud to work in partnership with our campuses, medical centers and national labs to further UC's education, research and public service missions."
Holmes has been a communications and public affairs leader in the UC system for a decade, having held the top communications and marketing positions at UC Davis Health and, before that, at UC Berkeley. She joined the Office of the President as interim senior vice president, Public Affairs in March 2017 and this July, she was appointed interim senior vice president of External Relations and Communications. Throughout her career at UC, Holmes has collaborated extensively with colleagues in government relations.
Prior to joining the university, Holmes worked as a consultant, preceded by 10 years with Kaiser Permanente in communications leadership roles. She holds a bachelor of arts degree in journalism from San Francisco State University.
Holmes will receive an annual base salary of $360,000 as senior vice president of External Relations and Communications, a role classified as a level one position in the Senior Management Group. More details on the appointment may be accessed here.