You have the power, use it!
Get ready
Voting may be a little different during a global pandemic — but it's as important as ever. Here's how to safely cast your ballot and make your vote count.
Check if you're registered!
New voter? Register now by October 19.
Already registered? If you've moved or returned home from school during the pandemic, you may need to update your registration to receive a mail-in ballot and be assigned a polling place near where you live.
Brush up on the ballot
Along with candidates for office, your ballot will include local and state measures that directly affect your community.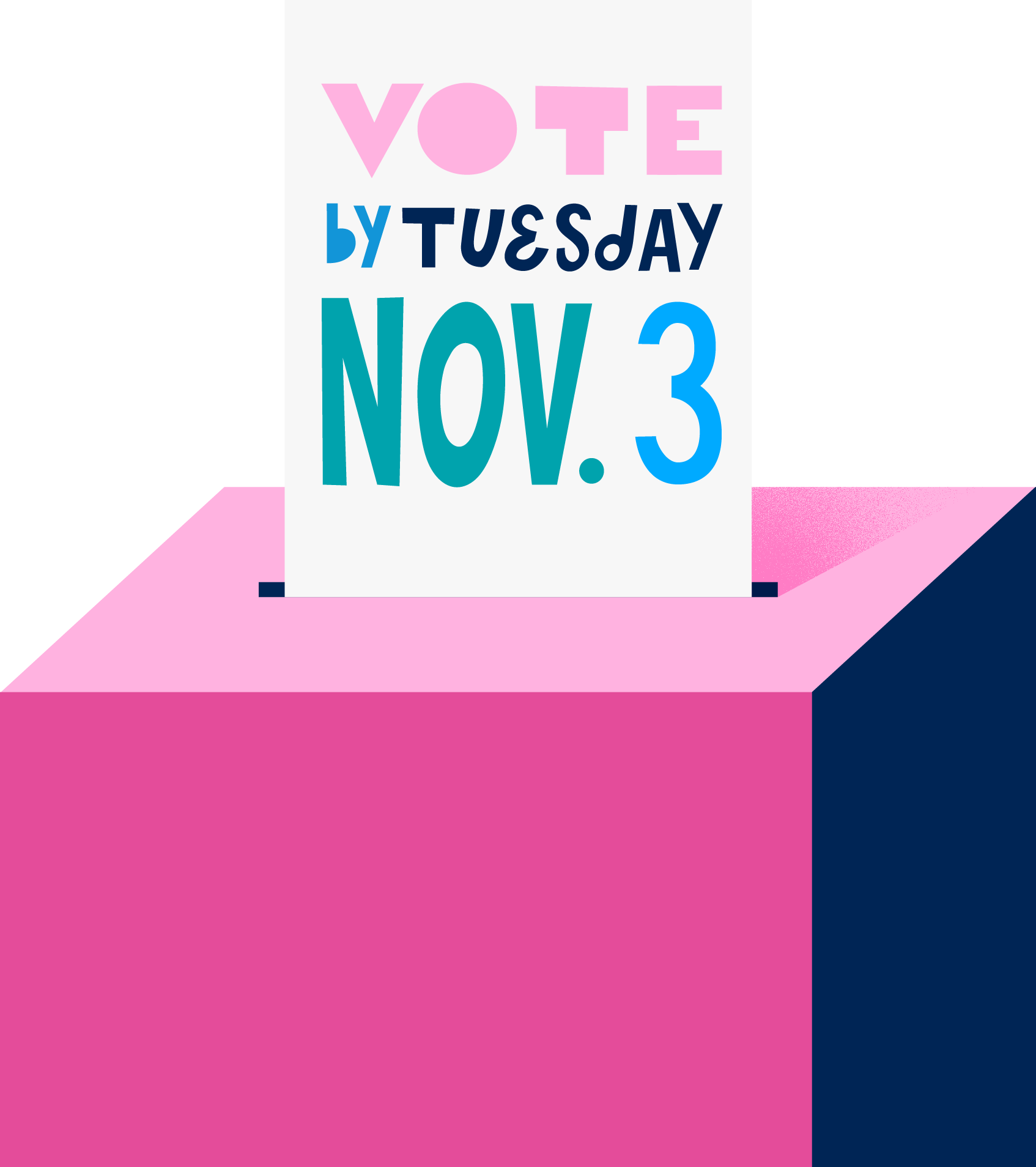 Go vote
By mail
There are several ways to submit your completed mail-in ballot:
Put it in the mail, as soon as October 6 and no later than Election Day, November 3.
Drop it off at an official mail-ballot drop box by 8 p.m. on Election Day. Find a drop location near you.
Drop it off at any polling place before the polls close at 8 p.m.
Not a California resident? Learn how to vote by mail in your state.
In person
You can still vote safely in person during the pandemic. Here's how:
Vote early! To minimize lines at the polls, many California precincts are allowing early voting starting from October 31. Learn about early voting near you.
Vote on Election Day, November 3. The polls are open from 7 a.m. to 8 p.m. Polling locations may change, so double-check before you go. Find your polling place.
Vote conditionally if need be. If you missed the October 19 registration deadline or go to the wrong polling place, you can still vote conditionally in California. Your ballot will count like any other once officials determine your eligibility to vote.
Find voting locations and resources by campus:
Davis
Vote Center
ARC Ballroom
760 Orchard Road, Davis, CA 95616
10/31 – 11/2, 10 a.m. – 6 p.m.
11/3, 7 a.m. – 8 p.m
Irvine
Vote Center
Student Center Ballrooms
Ballot drop off
Corner of Campus Drive and West Peltason Drive (near the bike repair shop)
UCLA
Vote Centers
Ackerman Union (11/3)
Bradley International Hall (11/3)
Hammer Museum (10/24, 11/3)
Ballot drop off
Ackerman Union, USPS Post Office
USPS Blue Box on Westwood Blvd.
Official LA County drop box on Westwood Blvd (next to the Information Booth)
Ackerman Union, Bradley International Hall, Hammer Museum
Riverside
Ballot drop off
Palm Desert
75080 Frank Sinatra Drive
Palm Desert, CA 92211
Santa Barbara
Vote Center
Santa Catalina Residence Hall
Ballot drop off
Isla Vista (outside Isla Vista Foot Patrol)
Santa Cruz
Vote Center
Cultural Center at Merrill College
Ballot drop off
Quarry Plaza
San Diego
Vote Center
RIMAC Arena
9730 Hopkins Drive, La Jolla, CA 92093
San Francisco
Vote Centers
Mission Bay Campus
UCSF Housing – Community Room
1505 4th St, San Francisco, CA 94158
Parnassus Campus
Lobby – UCSF Parking Garage
1 Irving St., San Francisco, CA 94122
Resources
Key dates
October 5, 2020 Mail-in ballots mailed to CA voters
October 19, 2020 Registration deadline
October 31, 2020 Early voting begins in eligible precincts
November 3, 2020 National Election Day
Got questions?
Call California's toll-free voter hotline:
(800) 345-VOTE