4 UC campuses ranked in Princeton Review's top 50 green colleges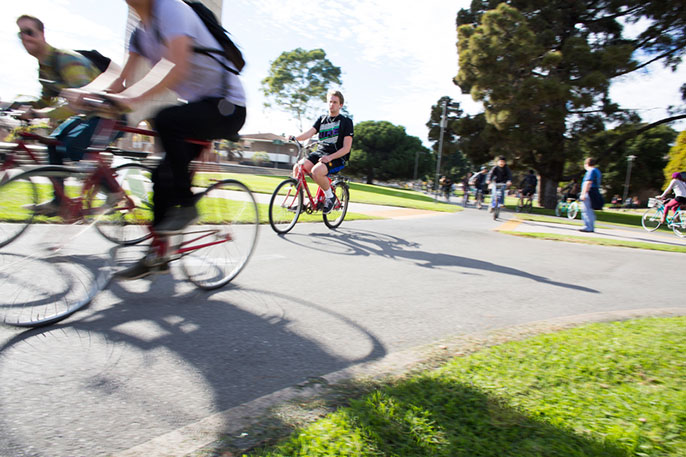 UC Santa Barbara is the third "greenest" college in the country, and UC Irvine, UC Santa Cruz and UC Davis are among the nation's top 50, according to new rankings by the Princeton Review.
In fact, all nine UC undergraduate campuses merited inclusion in the 2015 edition of the Princeton Review's guide to green colleges, naming UC Berkeley, UC Merced, UCLA, UC Riverside and UC San Diego.
The green rankings are just the latest environmental accolade for UC Santa Barbara, which in March won a friendly UC-wide student competition to reduce electricity use in the residence halls. Santa Barbara students cut their power use by nearly 8 percent.
Student environmental activism runs deep at UC Santa Barbara. In 2014, the campus received recognition for more than doubling its onsite renewable energy generation by completing the largest student-funded solar array in the country. And with a severe statewide drought underway, UC Santa Barbara has been a model of water conservation, reducing its potable water use in 2014 by 21 percent.
"That UCSB is ranked as the No. 3 green university campus in the nation — and the No. 1 public university — is a testament to the endeavors of generations of staff, students and faculty who have collectively worked to bring such a large and complex institution to its position of preeminence in sustainability," said Bruce Tiffney, co-chair of the Chancellor's Sustainability Committee and dean of UC Santa Barbara's College of Creative Studies.
The Princeton Review developed its rankings using data from its survey of university administrators on sustainability practices and polices from 861 colleges and from surveys of students attending the colleges.
Data from the student survey included student ratings of how sustainability issues influenced their education and life on campus, administration and student support for environmental awareness and conservation efforts, and the visibility and impact of student environmental groups.
Based on those factors, the rankings placed UC Irvine at 16th, UC Santa Cruz at 32nd and UC Davis at 40th in "The Princeton Review's Guide to 353 Green Colleges: 2015 Edition."
The Princeton Review began publishing the green rankings because of student interest in enrolling at colleges that demonstrate a commitment to the environment, said Robert Franek, The Princeton Review's senior vice president and publisher.
"Among nearly 10,000 teens who participated in our 2015 College Hopes & Worries Survey, 61 percent told us that having information about a school's commitment to the environment would influence their decision to apply to or attend the college," Franek said.
"We strongly recommend the schools in this guide to environmentally-minded students who seek to study and live at green colleges."