October 5, 2020
UC Newsroom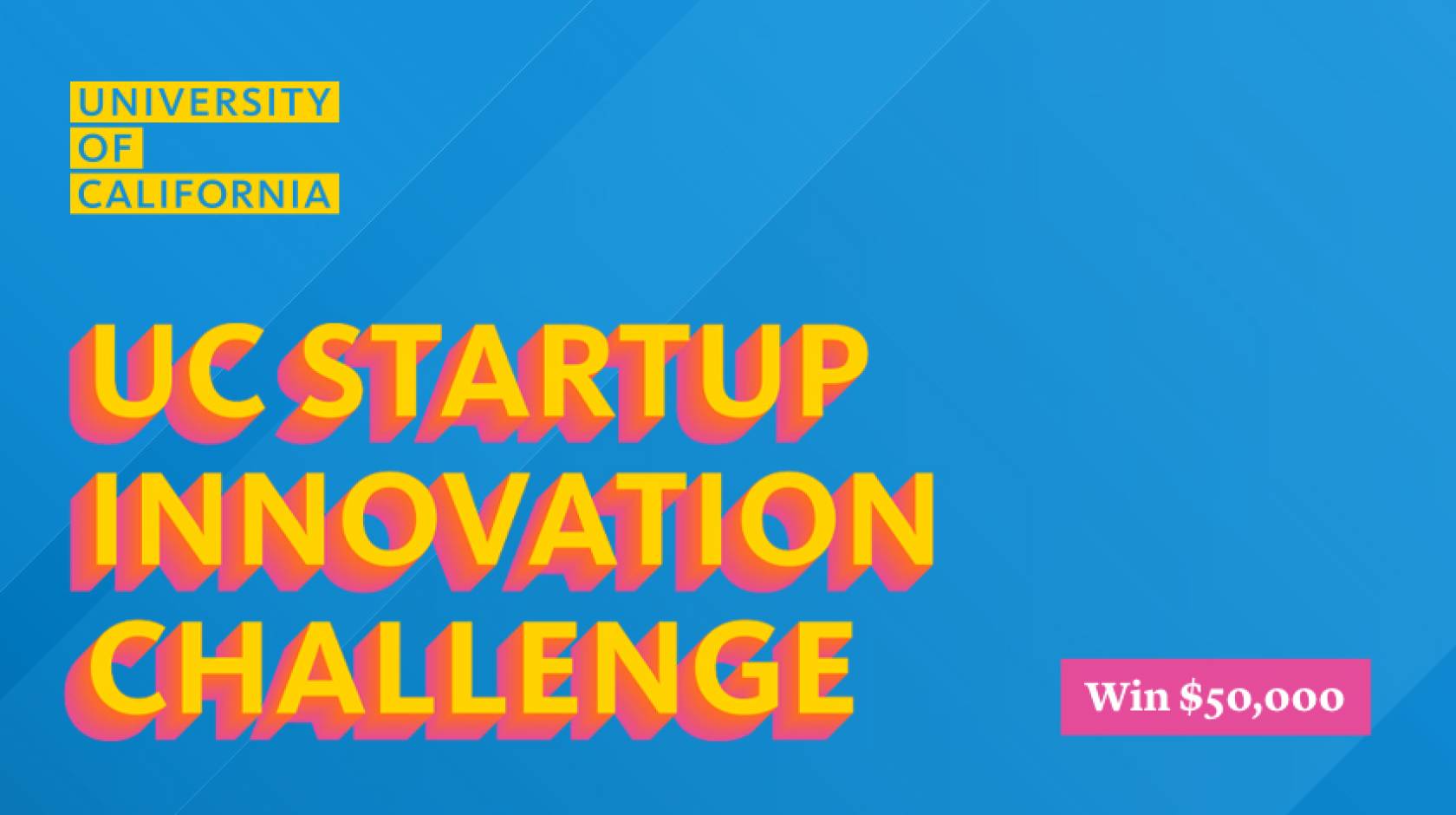 Credit: University of California
Calling all entrepreneurs: The University of California has just launched its annual UC Startup Innovation Challenge, which aims to help early and growth stage startups grow and thrive.
Two winners will each take home a $50K cash prize, receive pro bono legal help and get access to a global network of industry partners and investors.
The Startup Challenge, now in its 5th year, is open to virtually anyone with a UC connection, including students, alumni, faculty, staff, postdocs and visiting scholars across the 10-campus university system, its medical centers and affiliated national labs.
UC launched the competition to celebrate the entrepreneurial spirit of the university community, and to connect UC-affiliated startups with investors and others who can help their fledgling companies scale up, said Victoria Slivkoff, global head of Innovation and Entrepreneurship for the University of California system.
"I'm continually inspired and impressed by the ingenuity of our entrepreneurs," Slivkoff said. "If this year's competition is anything like last year's, we will see an incredible array of startups coming forward with great ideas for solving problems that could profoundly improve the world. I'm thrilled to be partnering again with Extreme Tech Challenge and Global Corporate Venturing to create better pathways for UC founders to scale their world-changing startups."
All applicants will also be entered in XTC's regional competition
The contest is being held in partnership with Extreme Tech Challenge (XTC), the world's largest startup competition for entrepreneurs addressing global challenges. All applicants to the UC Startup Innovation Challenge will be automatically entered into XTC's regional startup competition.
"XTC is committed to partnering with top institutions and organizations across the globe to promote world-changing startups wherever they are," said Young Sohn, Co-Founder of XTC, President and Chief Strategy Officer, Samsung Electronics and Advisor for the University of California Innovation Council. "XTC is proud to once again join forces with University of California and Global Corporate Venturing on the annual UC Startup Innovation Challenge. This is a great program that taps into the huge amount of innovation originating from entrepreneurs across the UC system, and we are excited to engage with this emerging talent to tackle the challenges of the 21st century.
The challenge is also supported by sponsorships from Ford Motor Company, the law firms of Orrick, Herrington & Sutcliffe LLP; Carr & Farrell LLP; and Ontier LLP, and product launch consultancy SkaleUP.
"By sponsoring the UC Startup Innovation Challenge, we believe ideas coming out of this competition will closely align with Ford's vision for smart vehicles in an increasingly smart and connected world," said Ken Washington, chief technology officer, Ford Motor Company. "We're enthusiastic to learn about, but more importantly support, the projects that will come from these bright minds aimed to help create a better society."
Early stage and growth stage tracks
Contestants are invited to apply for one of two tracks: an early stage track for startups that have not yet raised Series A funding and are in the pre-product-market stage; and a growth stage track for startups that have proof points in product-market fit or have already raised Series A funding.
UC leaders and a panel of industry judges will select 5 finalists in each of the two categories by mid-December, and provide mentoring and other help as part of an invitation to pitch their startup at the 2021 Global Corporate Venturing Digital Forum in late January.
One winner from each track will ultimately take home $50K in prize money, receive pro bono legal services, and advance as a finalist in XTC's regional competition process.
The deadline to apply is 11:59 PM November 10, 2020. Application details are online at: www.UCInnovationChallenge.org.