June 23, 2023
Kelly Anne Brown
,
UC Irvine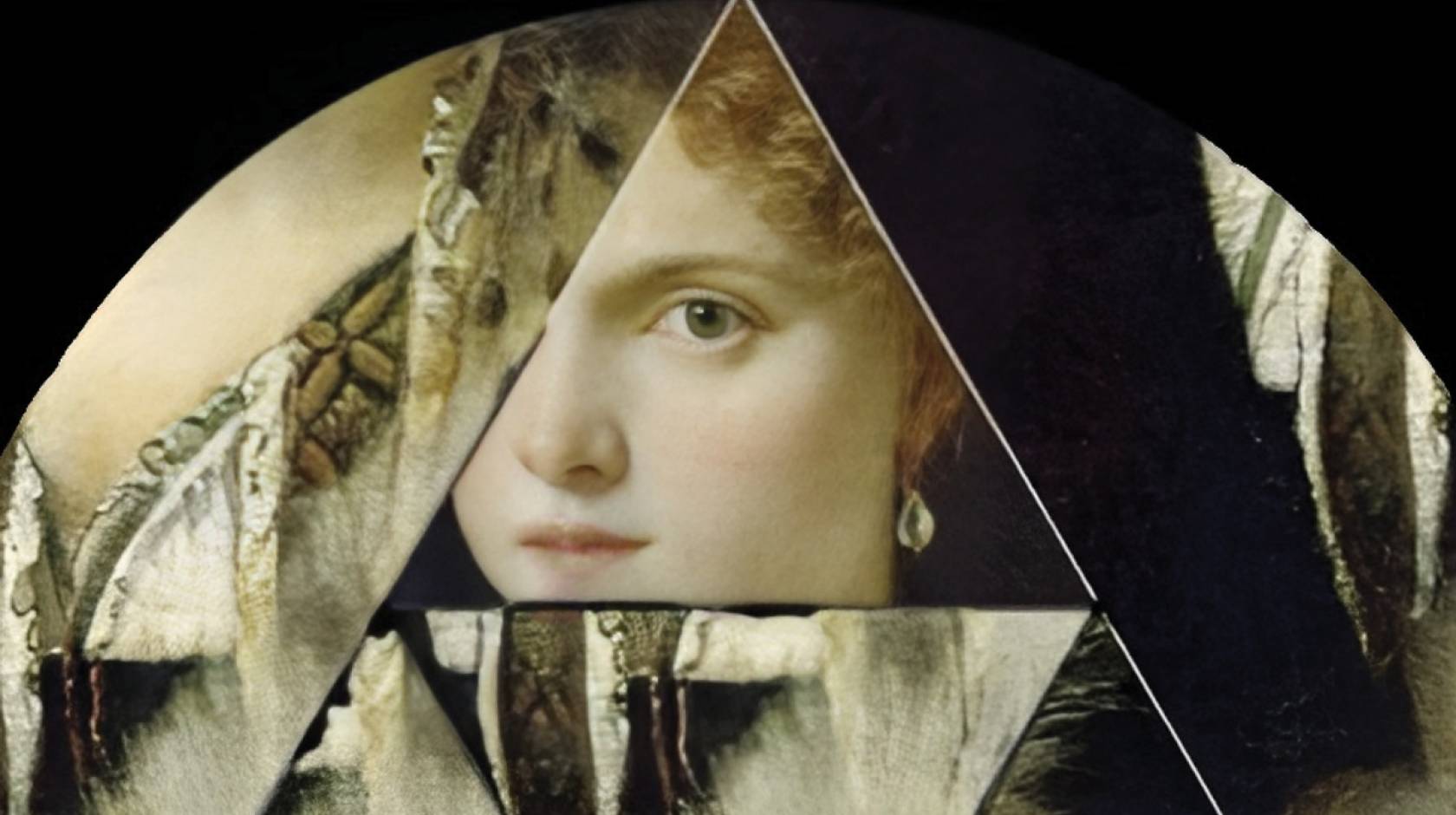 Credit: Lisa De Luigi via www.isabelladestearchive.org
Imagine an early 16th-century Italian studio fashioned by the most famous woman of the Italian Renaissance. Who is she, and what does her studiolo (study) look like? What kind of objects did she collect, and how were they displayed?
If you are having a hard time imagining what this might look like, a newly released open-access education and research environment lets you venture, virtually, to Renaissance Italy and see for yourself.
Deanna Shemek, UC Irvine professor of European Languages and Studies, leads a group of international scholars and digital designers developing a multimedia platform dedicated to the life, letters and spaces of the Italian Renaissance princess Isabella d'Este. Re-launched in January 2023 after a major reconstruction, the Isabella d'Este Archive (IDEA) offers users around the world new ways to encounter the history and culture of early modern Italy.
Reflecting on the scope of the project, Shemek emphasizes that "IDEA is important as an example of how to illustrate and engage with the multi-faceted world of another time and place, and in particular with one important female figure from an age that is most celebrated for male geniuses, 'Renaissance men.'"
The multimedia archive (isabelladestearchive.org) focuses on five key values that guide users' engagement with the material: creativity, connectivity, searchability, interactivity and augmented experience. IDEA houses a vast trove of material, including multimedia projects on discrete topics like Isabella's narrative-painted maiolica (hand-painted ceramic tableware), her fashion (clothing and textiles of the period), and high-resolution images of the 30,000+ pieces of her correspondence, through which she managed her political and cultural power. However, IDEA is far more than an archive of materials; the Virtual Studiolo transports 21st-century readers to an immerse, 3D environment that is a reconstruction of two rooms from Isabella's life.
Isabella d'Este, a lover of arts and luxury
Born in 1474 to the Este dukes of Ferrara, Isabella became the Marchioness of Mantua when she married Francesco II Gonzaga at the age of fifteen. Dedicated to putting Mantua on the cultural map, Isabella was known as a patron of the arts and a trendsetter in her consumption of luxury commodities. She was also a keen politician and accomplished diplomat. When Isabella's husband was captured by the Venetians in 1509 during the Italian Wars, for example, she navigated grave threats from France, the Pope, Spain, and Venice itself for nearly a year, in the end helping to negotiate his release and preserving their state. Her understanding of political strategy in this situation — including a misinformation campaign designed to undermine her husband's trust in her — was astounding.
Shemek further details that most historians haven't fully appreciated Isabella's political acumen; her most admiring historian referred to her as a "Machiavelli in a skirt." "Isabella d'Este's story allows us to explore the differences between men's and women's experiences in that period and offers ample documentation of what one woman might achieve, and at what cost," Shemek explains. "She was not unique; she is only better documented and more visible than many other women. For this reason her legacy opens up questions that can be pursued regarding other women as well, whether they were more, or less, extraordinary than she was."
Institutional support, and a bit of luck
Shemek and her colleagues began working on discrete aspects of IDEA in the early 2000s, though in multiple layers and over time. IDEA began as a way to digitize Isabella's correspondence, which is exceptional for its abundance. Shemek worked closely with the then-director of the State Archive of Mantua, Dr. Daniela Ferrari, to identify a digital platform that would host and support the kind of scholarly activities associated with the letters and manuscript sources. During that time, Dr. Ferrari also secured funding to support the photography of over 30,000 letters and engaged a tech team in Pisa to do that work. Shemek's 2021 book "In Continuous Expectation: Isabella d'Este's Reign of Letters" explores these letters and the ways in which they served as an early technology to persuade, report, investigate, and communicate a public persona.
Thanks in part to the support of the UC-wide Humanities Research Institute (UCHRI), Shemek and her international team spent a quarter in residence at UC Irvine, where they worked on the design of the platform. It was in Irvine that they began to dream big about the possibilities of extending IDEA to incorporate other facets of Isabella's life at the Mantuan court. With a bit of luck and serendipitous timing, they discovered that professor Kevin Franklin, of the Institute for Computing in Humanities, Arts, and Social Sciences at the University of Illinois, Urbana-Champaign (and former director of UCHRI) was in town.
Franklin inspired the team to consider developing IDEA in new ways and connected them with a colleague who wrote a textbook on augmented reality. This colleague then connected Shemek and her team to the VisITlab at Cineca, Italy's supercomputing center and also a consortium of Italian universities. These fortuitous connections, as well as institutional support from UC Irvine, UC Santa Cruz and the National Endowment for the Humanities (NEH), among many others, made IDEA possible.
Bridging time and space
The studiolo is a physical space that continues to exist in Mantua today, though it has been architecturally altered over the centuries. Shemek and her team were intrigued by the possibility of reconstructing the original space of the studiolo by drawing upon its earliest contents, most of which were either lost or dispersed across the world in various museums and private collections. Primarily a showcase for Isabella's humanist taste and learning, her studiolo and grotta (cave or grotto) were designed as spaces to display one's culture and also to retreat in solitude.
Most scholars and students of the Italian Renaissance know Isabella d'Este as the first woman in Europe to design and realize her own display space for art and antiquities. And Isabella's studiolo and grotta were important models for American female art collectors of the nineteenth and twentieth centuries, including famous collectors like Isabella Stewart Gardner, Peggy Guggenheim and the Cone sisters. Acknowledging that the space had most prominently figured only in art history textbooks and courses through photographs, Shemek and her team "wanted to know what more could be understood about the experience of the Studiolo as an immersive space if we could harness digital technology to create an online version of it."
A bridge across time and space, the Virtual Studiolo allows users to visit spaces that existed hundreds of years ago. The Virtual Studiolo environment utilizes a variety of cutting edge digital humanities tools to bring the space to life. Drawing upon a photogrammetric record of the existing space, visitors can navigate through the virtual rooms utilizing measuring tools, a historical timeline, and even links to a searchable catalog of scholarly resources. Within the space are 3D models of seven different objects from Isabella's original collection. And those users who have access to a VR headset can immerse themselves in the VR prototype model of the space.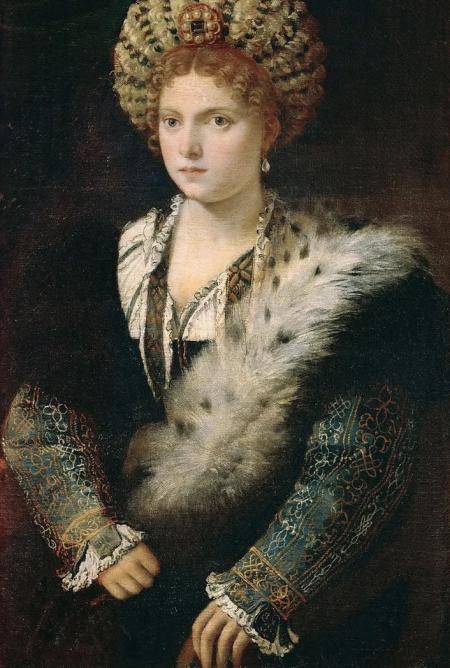 Courtesy UC Irvine
DEA's projects are diverse, and encompass multi-media engagements beyond the Virtual Studiolo. For students and scholars interested in the narrative-painted maiolica, Valerie Taylor created the Illustrated Credenza, which describes the production and meaning of illustrated ceramics in the Italian Renaissance. Catherine Kovesi's project, Fashioning Isabella, takes as its starting point the renowned Venetian painter Titian's portrait of Isabella, and includes essays from scholars and curators working in Renaissance studies. This particular project is well utilized by students of art history and fashion. As IDEA promotes, all of these resources "map a world where politics, art, music, family life, business, and social relations often intertwine." IDEA gives modern visitors the opportunity to explore these many facets of Isabella's life, guided by their own interests and curiosity about Isabella's time and place.
Dr. Matteo Al Kalak, Associate Professor at the University of Modena, describes IDEA as "an ambitious project that shows how digital humanities can really contribute to an increase in knowledge: the epistolary corpus of Isabella d'Este is a unique testimony that allows us to enter the Italian Renaissance in an extraordinary way. The richness of the documentation allows for a privileged viewpoint on the power dynamics, sentiments, and emotions that ran throughout 16th-century Italy."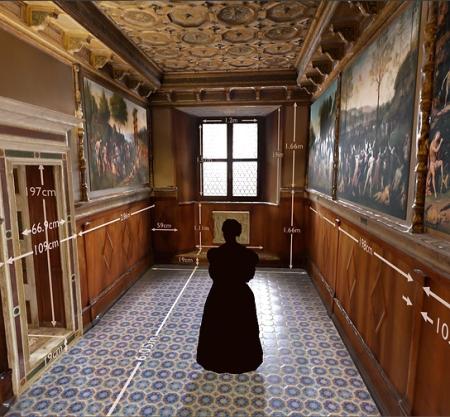 Courtesy UC Irvine
Open to all inquisitive explorers
As a scholarly resource, IDEA is deeply invested in issues of access and inclusivity. Even for those scholars who have resources, visiting archives is a costly endeavor, necessitating both time and money. The State Archive of Mantua is particularly challenging to access, as it's not centrally located or easily reached by train and has extremely limited hours of operation. IDEA makes possible the exploration of these archival documents for scholars worldwide, acting as a bridge across economic barriers that might preclude some researchers and students from access to the archive. Shemek has heard from scholars throughout the world, including China, Latin America, and Australia who are working on topics related to Isabella. For them, IDEA's online access is essential to their projects.
But IDEA is not just about accessibility: It also promotes connectivity through a chat feature that allows scholars and users to engage with one another. This feature will be available once the letters are fully accessible online and has been critical for scholars at all levels to share and learn with one another.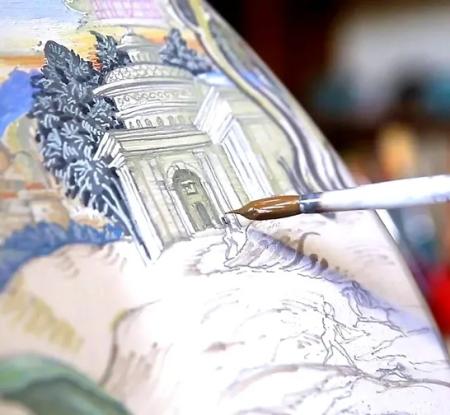 Shemek and the team are continuing to build out IDEA in ways that incorporate important new materials and that speak to different users across the globe. Currently awaiting authorization from the Italian Ministry of Culture and the director general of the State Archives in order to relaunch d'Este's letters, they are exploring whether AI can help automate draft transcriptions of the manuscripts. This would represent a significant breakthrough in the arduous process of transcribing historical manuscript texts that utilize not-yet standardized script, spelling, and vocabulary. Insights gained in working on these Italian Renaissance texts could prove valuable for scholars working in a wide range of historical periods and languages.
Shemek and her team are also in negotiation with the Louvre Museum to obtain a high resolution image of at least one of Isabella's studiolo paintings. But as Shemek reflects, some of the most critical work to be done concerns the "building of networks among different digital archival projects in Italy. This is important because so many digital humanities projects are siloed; the different tech tools they have chosen don't 'talk to each other.' We are looking for ways to bridge among projects. But all of these things move slowly!"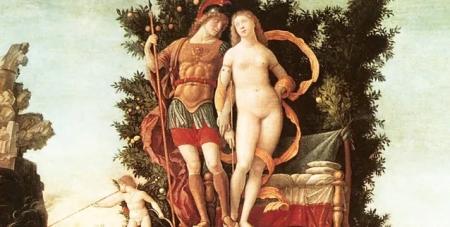 Courtesy image