October 22, 2015
Gretchen Kell
,
UC Berkeley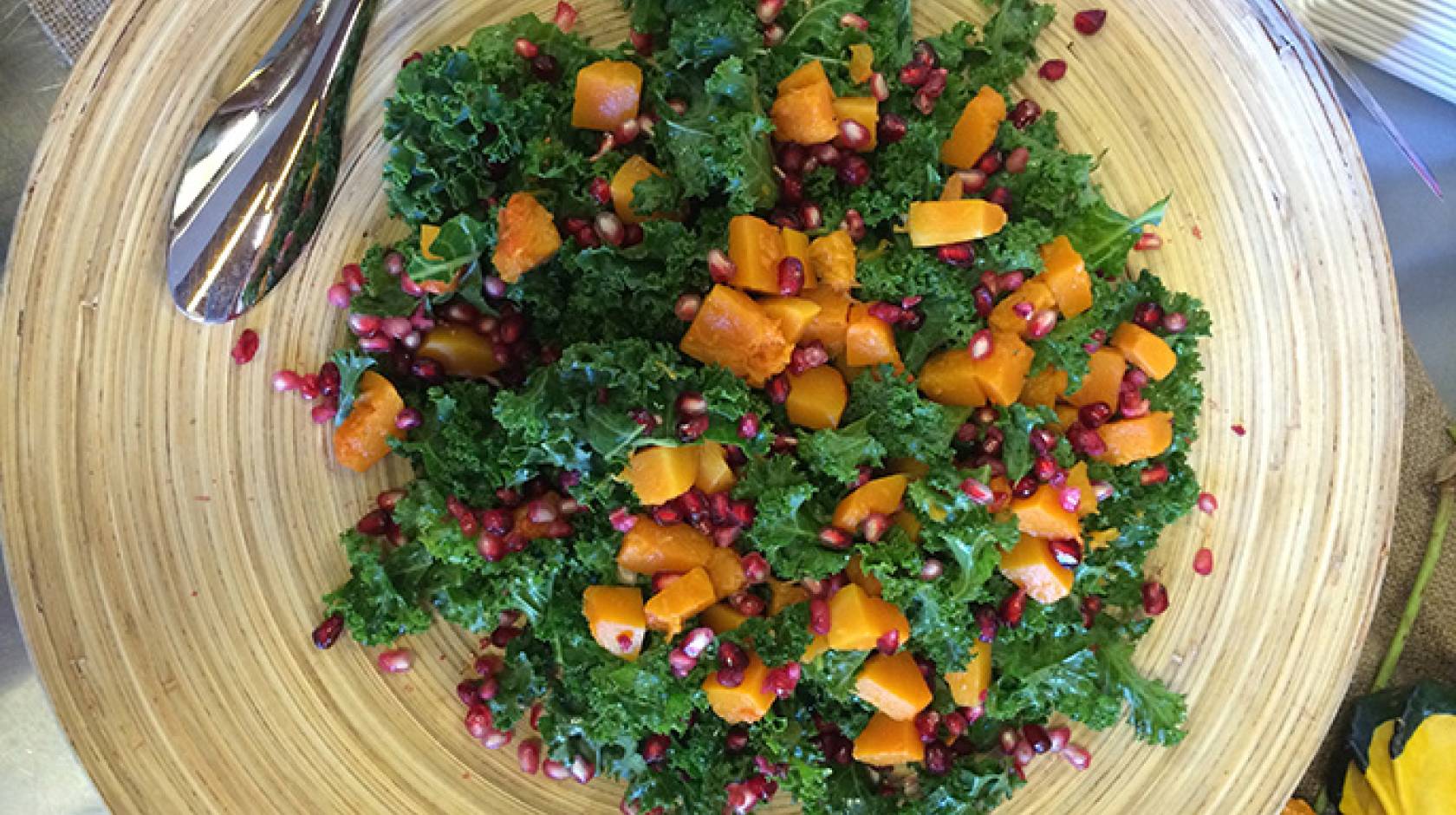 Credit: Kristen Rasmussen/UC Berkeley
Honey from American Canyon. Olive oil from Chico. Brown rice from Richvale. Goat cheese from Sonoma. Lean lamb bacon from Dixon. White beans from Half Moon Bay.
At a Food Day celebration Wednesday at Brown's, the UC Berkeley eatery formerly known as Pat Brown's Grill, students, faculty, staff and a farmer from Free Spirit Farm in Winters who supplies Cal Dining with butternut squash got a taste of items from the café's new menu and a glimpse of the renovated space.
World Food Day (Oct. 16) and National Food Day (Oct. 24) are being observed at all 10 UC campuses with a weeklong series of special activities.
Brown's menu consists almost entirely of local foods that are grown, milled, preserved and processed within 250 miles of the Berkeley campus. A map of California displayed at the event displayed the more than 20 cities from Chico to Monterey where the ingredients are sourced.
"The other night, one of our chefs was excited to discover a pink peppercorn that's grown in California," says Shawn LaPean, director of Cal Dining, adding that spices usually come from overseas. "Everything on our menu is as local as you can get."
Over the summer, Berkeley nutritional science and toxicology lecturer Kristen Rasmussen led the Cal Dining effort to visit farms and producers throughout Northern California, develop recipes and assemble Brown's first locally themed menu, with the top priority being "deliciousness," she told guests at the Wednesday afternoon event.
Brown's fare will change with the seasons. Its current menu includes organic fried eggs, frittatas and both sweet and savory polenta for breakfast, a focus on the "flipped plate" for lunch — two vegetarian or vegan plant choices and one animal-protein entreé, such as organic herb-roasted chicken or grass-fed sirloin with paprika — as well as panini, sandwiches, soup, salads and both grass-fed beef and seared sriracha tofu burgers.
But don't expect a sliced tomato on that burger this winter. "We're trying to be seasonal, moving away from tomatoes in January," says Samantha Lubow, Cal Dining's new environment initiatives coordinator. "The same with avocados, which are only grown locally five to six months of the year."
She is quick to add that the fare is inexpensive, compared to the marketplace — for example, soup is $4, salads $6 and a flipped plate or a burger $8 — "and in some cases, because we're buying in large quantities locally, items cost less than what used to be served at the former Pat Brown's Grill."
Moving 'plant forward'
For the past year or two, Berkeley students increasingly have been requesting food that's "fresh from the farm. They know the taste is better, but they also have access to information on the Internet about food and want to know where it comes from," says Lubow, whose job includes locating ingredients that are locally, organically and sustainably sourced.
"Our access to online information also has taught us that we're part of a food system, and that what we eat doesn't just affect us as individuals," adds senior Sarah Atkinson, an environmental science student who attended the grand opening.
In ongoing Food Day events this week, students involved in the food movement will be tabling on Dwinelle Plaza on Friday from 10 a.m. to 2 p.m. as part of a fair that also will feature local food vendors.
On Friday evening, in all four Berkeley dining halls, the campus's second annual "Extreme Local Meal" will be served, with only ingredients sourced from within a 250-mile radius of Berkeley.
"Soda fountains will be shut off, and the cereal bar will be closed, as those are not local items," says Lubow. Last year, the event won the grand prize from the National Association of College and University Food Services.
At the Brown's event, LaPean described the café as a "research and development location" for Cal Dining, which for years has racked up accolades for sustainability, food waste reduction, vegetarian-friendly meals, organic certification and other green practices.
It will be the only eatery on campus with a "plant forward" food experience, where meals are 50 percent plants, 25 percent grains and 25 percent protein. That dietary balance also recognizes the environmental degradation that comes from animal production, adds Lubow, particularly by intensive farming.
To cut back on waste as well as sugar, the only bottled beverages sold at Brown's are 100 percent juice or milk. A hydration station offers plain or sparkling water, and customers can buy coffee at the Peet's counter.
Brown's new executive chef, Jon Avalos, says he doesn't even throw away the ends of sweet potatoes or stems of herbs. "I use all aspects of plants in my cooking," he says.
LaPean says Brown's is an example of his effort at Cal Dining to "stay in tune with the current changes in the marketplace and with priorities of the UC Global Food Initiative and the Berkeley Food Institute. And to always try to push the envelope."