November 9, 2023
Heather Ashbach and Sheri Ledbetter
,
UC Irvine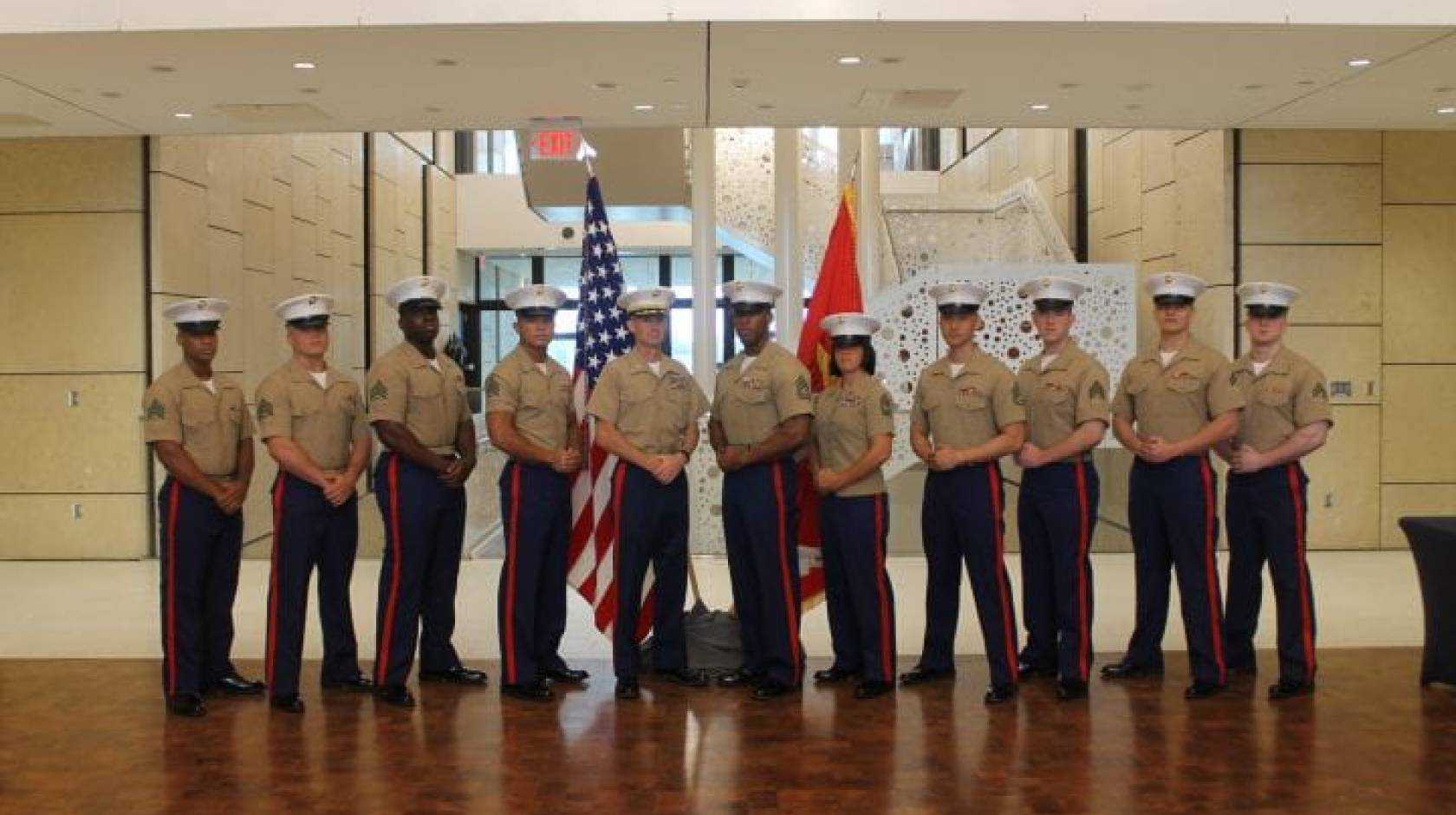 Credit: UCI School of Social Sciences
After serving nine years in the United States Marine Corps, including multiple deployments and posts at four embassies around the world, Andrew Truong returned to college with a purpose: earn a degree that would put him in a career helping others. What he didn't expect to find was a course that gave voice to his experience as a veteran transitioning back to civilian life.
"I saw an announcement about the UCI Veterans Studies Certificate Program in the school's monthly e-newsletter, and it caught my attention," says Truong, who earned a bachelor's degree in sociology earlier this year. "The word 'veteran' isn't something you see a lot on college campuses."
Indeed, UCI's Veterans Studies Certificate — launched in 2019 and available to all students — was the first to be offered in California and is one of only four such university-level programs in the U.S. Despite numbering more than 18 million and representing 7 percent of the nation's population, U.S. veterans continue to be an underrepresented and understudied group in academia, says Bill Maurer, UC Irvine dean of social sciences. By creating the certificate program, he and director Anita Casavantes Bradford, professor of Chicano/Latino studies and history, are working to change that narrative.
"What we deem worthy of academic study — and how we approach that — says a lot about what our society values," Maurer says. "By providing a space for studying and learning about veterans, we are validating this UCI student community. We're saying to them, 'You are important.'"
That point is particularly poignant for Casavantes Bradford. As both the daughter and spouse of service members from different eras and a scholar of immigration and ethnic studies, she's passionate about elevating under- and misrepresented voices. Casavantes Bradford brings a critical lens to bear on the curriculum she helped craft, which draws upon insights from disciplines like Chicano/Latino studies and gender and sexuality studies, as well as more broadly from across the social sciences.
"In both my professional and personal worlds, I've seen how U.S. military veterans are simultaneously hypervisible yet frequently misunderstood," she says. "Too often, veterans are represented as politicized symbols of what people imagine them to be. By providing space for scholars and students to explore the diversity and complexity of veteran experiences and identities together, we're challenging these misrepresentations and encouraging a deeper understanding of veterans' actual experiences."
Overall, Casavantes Bradford hopes the program will raise awareness of the veteran community while helping vets feel more included on campus.
"Like all communities who have been underrepresented, veterans deserve to have classes that help them to see themselves in the curriculum. It's a way of recognizing that they matter, that their experiences are worthy of serious study and reflection," she says.
The program's three courses, which can be taken individually or as a series, are open to both veteran and nonveteran students. Fulfilling UCI general education requirements, they're designed for anyone seeking to develop a deeper understanding of veterans' issues and experiences, as well as those aspiring to careers working with this unique community. All classes are instructed by veteran or military-connected faculty.
This past year, veteran studies lecturer Mariana Grohowski taught the "Veterans' Voices" and "Veterans in History and Society" courses. She drew from her doctoral research on the missing voices of female veterans and from her dad's time in Vietnam. In 2015, Grohowski launched the Journal of Veterans Studies to give the field a scholarly home and an outlet for the dissemination of research, and she continues to serve as editor-in-chief.
"A lot of students have stereotypes of veterans; they think they know 'veterans' when they likely only learned something from movies or hearsay," she says. "My goal is to help students understand how many veteran experiences there are. We work to challenge stereotypes and open the door to the diversity, complexity and history of veteran experiences."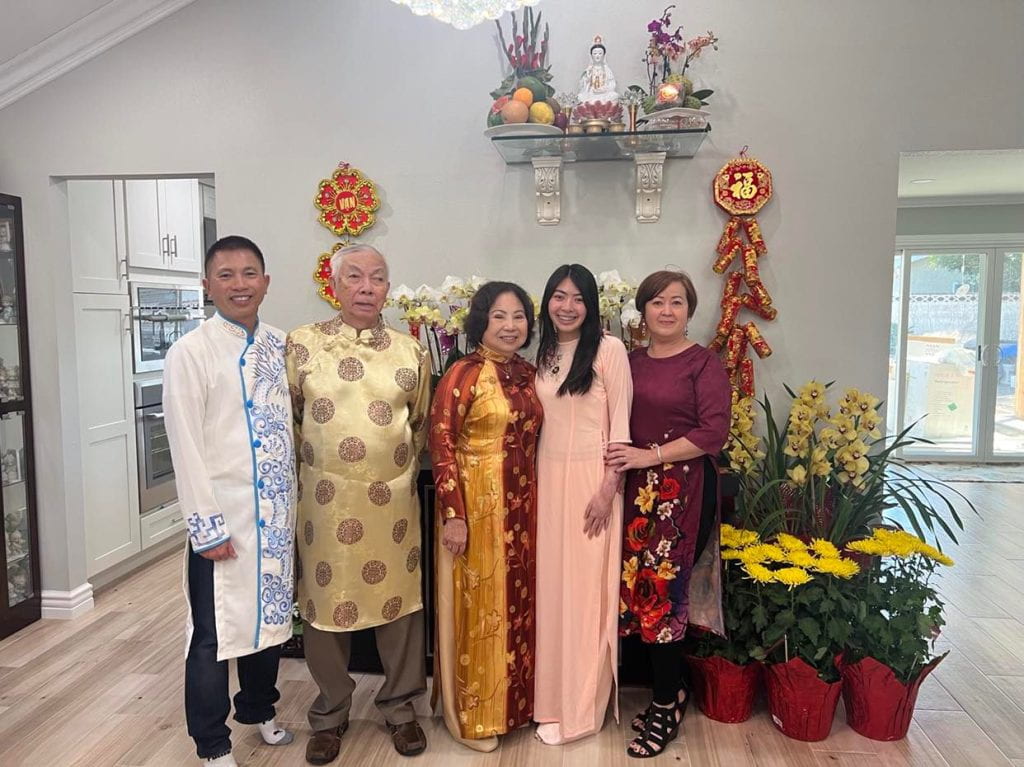 That message resonated with Chelsey Nguyen, a nonveteran who took both courses in hopes of better connecting with her grandfather's experience in and after the Vietnam War.
That message resonated with Chelsey Nguyen, a nonveteran who took both courses in hopes of better connecting with her grandfather's experience in and after the Vietnam War.
"Growing up, my grandfather told us many stories about his time in the war, and when I saw this program and these courses, I was intrigued and happy that I had the opportunity to gain greater perspective," says Nguyen, who graduated from UCI this year with a bachelor's degree in psychology.
As she completed her classwork, she shared what she was learning with her grandfather. The conversations provided a unique link between his past and her present.
"I'm lucky to have Grandpa still here with me so I can continue listening to his stories and, now, better understand his experience adjusting back into society," Nguyen says. "All of this has helped shape me into a more compassionate person who better understands other peoples' experiences."
Veteran studies lecturer Pauline Lubens, who earned a Ph.D. in public health at UCI in 2018, taught the third certificate course, "Veterans' Transitions," for the first time during the 2022-23 academic year. She drew from her UCI doctoral research on war and public health and her 35-year career as an award-winning photojournalist documenting the personal impact of war and disasters, humanitarian responses and global health crises. Lubens coupled this with her experience as a policy analyst for Swords to Plowshares, a veterans rights organization and community-based nonprofit, to bring in real-life examples of the daily triumphs and struggles veterans undergo after separating from the military.
"I was in Iraq a few times and spent a lot of time in the Bay Area working on stories about veteran recovery. I became embedded in this community, and it's been a big part of my world," she says. "When I talk to my students about issues like veteran homelessness and mental health, it comes from firsthand knowledge."
In her class, Lubens leaned heavily into her journalism background by conducting and sharing one-on-one interviews with veterans who'd transitioned out of the military – some long ago, others more recently.
For Truong, who'd been in a previous section of "Veterans' Transitions," the course proved life-changing.
"It was incredible being in a class where veterans like me got to share their experiences while also learning about the different aspects that make up the unique identity of each veteran, knowing there's no 'one' experience," he says. "I highly encourage all students to take this course, especially veterans. It helped me to learn a lot more about myself, and it was a key that'd been missing as I tried to find my way back."
To learn more about the UCI Veterans Studies Certificate Program offered through the School of Social Sciences, visit https://www.undergrad.socsci.uci.edu/certificate_veterans.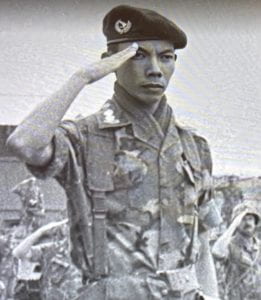 UCI School of Social Sciences