Good news for students: California has made it super easy to vote in Tuesday's election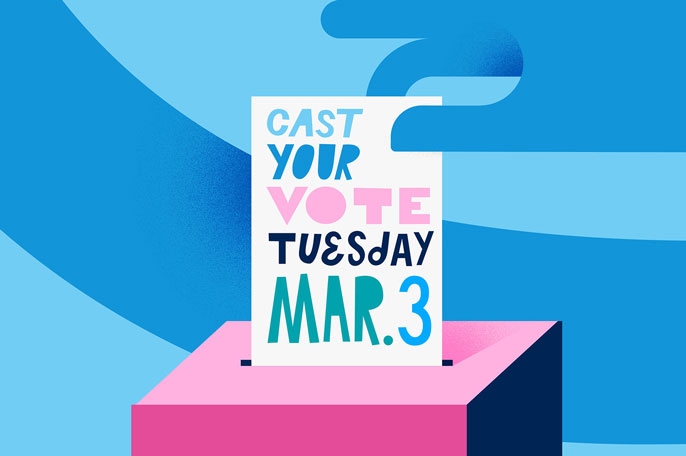 Vote in the California Primary March 3
Check out the UC vote website for polling sites, ballot tips and more.
Whether you're a first-time voter or a seasoned veteran, the big day is nearly here, so get ready.
The first step? Make a plan!
Deciding ahead of time when and how you'll get to the voting booth makes it more likely that you'll follow through — and less likely you'll forget or have life get in the way.
Getting sidelined by last-minute issues is more common than you might think: Just over half of UC students who had registered to vote in the 2018 midterm elections actually cast a ballot.
Hopefully, this year will be different: California has made participating easier than ever.
Did you forget to register, or maybe you want to update your party affiliation or address? No problem. You can take advantage of same-day voter registration.
Worried that you don't have time to get to a polling place on March 3? Don't stress. Just drop in at an early voting location — including three on UC campuses: Irvine, UCLA and Merced.
Or take advantage of polling locations on every UC campus to drop off a mail-in ballot. Just be sure you get it in before the polls close at 8 p.m. on March 3.
"We're the ones who will experience the future 50 years from now, so it matters that politicians hear us — that we are voting, that we are out there," said Maurice Armstrong, an environmental engineering major at UC Riverside. He is among hundreds of UC students working to spur a surge in student voting.
Their message: Don't let others decide for you! Show up Tuesday, March 3 and make your voice heard.
Voting in person?
Check your polling place. You'll find it on the voter guide you got in the mail or look it up right here.
Get to the polls by 8 p.m. You can cast your vote as early as 7 a.m. Check your schedule and decide what time you'll go to vote, so you don't get tripped up by class schedules or other plans. (If class times are a problem, check with your professor. Some will excuse students to vote.)
Can't make it? Vote early. California has opened dozens of early voting locations — including three on UC campuses — where you can cast your vote starting Friday, February 29, or even sooner. Find an early voting location near you.
Voting by mail?
There are several ways to submit your completed mail-in ballot:
Put it in the mail, and make sure it is postmarked by March 3. California ballots do not require postage — but some states do, so check it before you send.
Drop it off at any polling place before the polls close at 8 p.m. on March 3. (And as a bonus, get your "I voted" sticker.)
Drop it off at an official mail-in ballot drop box by 8 p.m. on Election Day. Find a drop location near you.
Forgot to register? You can still vote!
Vote at a site with same-day registration
California recently implemented same-day voter registration as a safety net for those who have missed the deadline to register (or to update their registration with their desired party or voting address.)
Simply go to a designated same-day voting location between now through Election Day and officials will process your registration and hand you a ballot right there.
Cast a provisional ballot at the polls
If all else fails, California voters can register and cast a provisional ballot at any polling place on Election Day. You may not be eligible to vote for certain local candidates and issues, but your votes for statewide and national races still count.
Trouble with voting? Call this hotline
Call 800-345-VOTE — California's voter hotline, staffed by actual humans — if you have questions or to report problems at the polls.