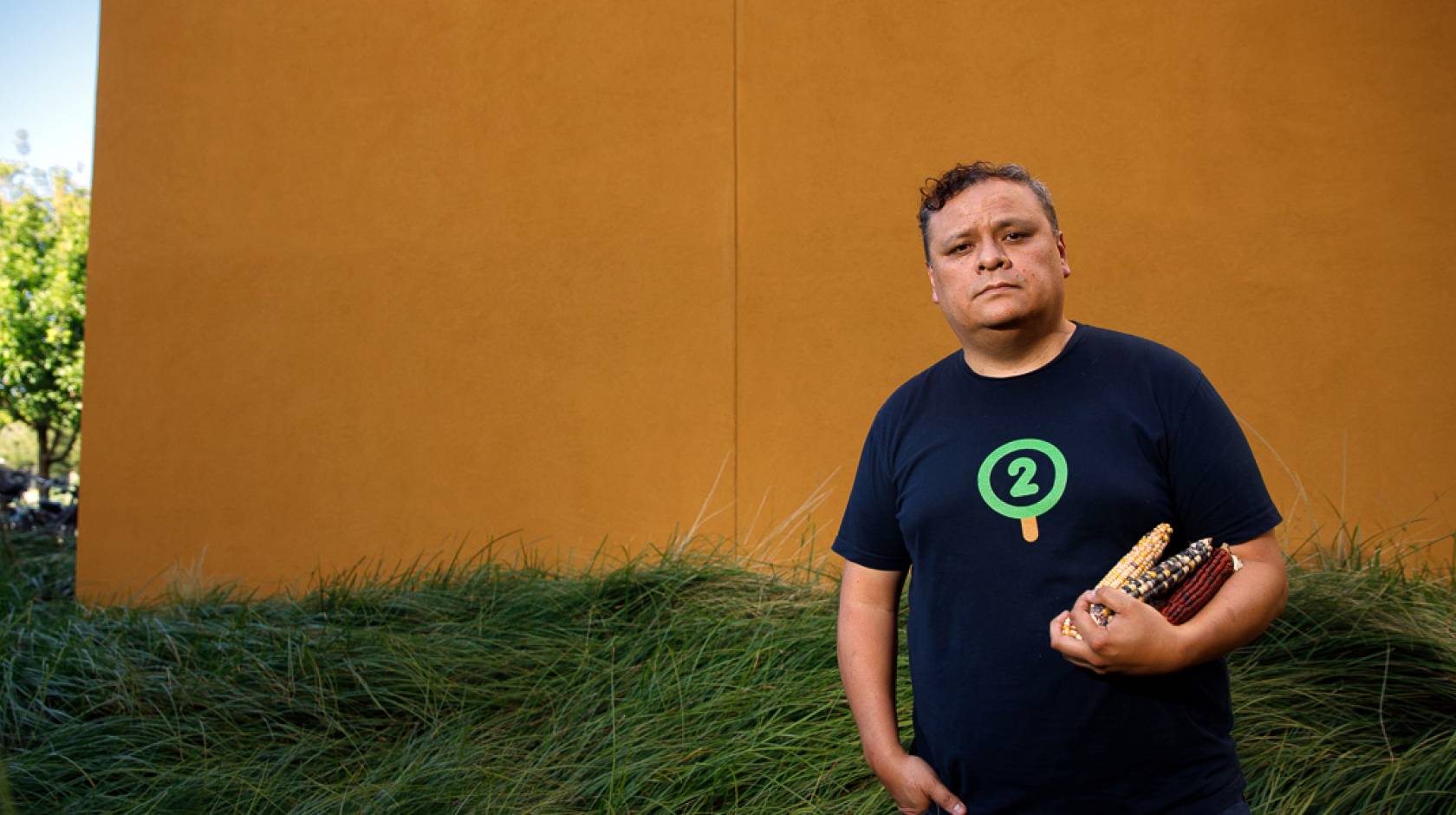 His friends used to call him Little Einstein. In the rough barrios of Corona, Calif., where Edwin Solares grew up, he was known as a tough but brainy kid. He'd tutor gang members in math and science — and even sparked their interest in Shakespeare and poetry.
"People would tell me, 'The 'hood's not for you. You're smart. You need to get out of here,'" Solares said. He put off his dreams of attending UC Riverside when he couldn't get a ride to the test center to take the SAT. Instead, he taught himself about computing and ran a business setting up servers and networks. But years later, when his business faltered, he returned to pursue higher education, studying at several Orange County community colleges before transferring to UC Irvine to major in computer science.
Since then, Solares has earned a Ph.D. from UC Irvine as one of 29 inaugural fellows in the UC President's Pre-Professoriate Fellowship Program, which provides Ph.D. students from underrepresented backgrounds opportunities and resources to help launch their academic careers.
As a grad student, he mentored dozens of minority students, including Latino, first-generation and low-income undergraduates, some of whom are now in graduate school or working at Intel, Space X and Google. He's also worked to light the educational spark for kids in Compton and East Los Angeles as a tutor at the local continuation high school.
Today, as a postdoc at UC Davis, Solares does research in crop population genomics as part of a prestigious fellowship aimed at cultivating scientists and scholars from underrepresented backgrounds to careers in the professoriate.
His goal now is to get a job as a professor at a California public university. "I've helped students who felt like dropping out to keep going," he said. "My students tell me, 'You understand me.' I've come from the same backgrounds and experiences as they have. They can see themselves in me."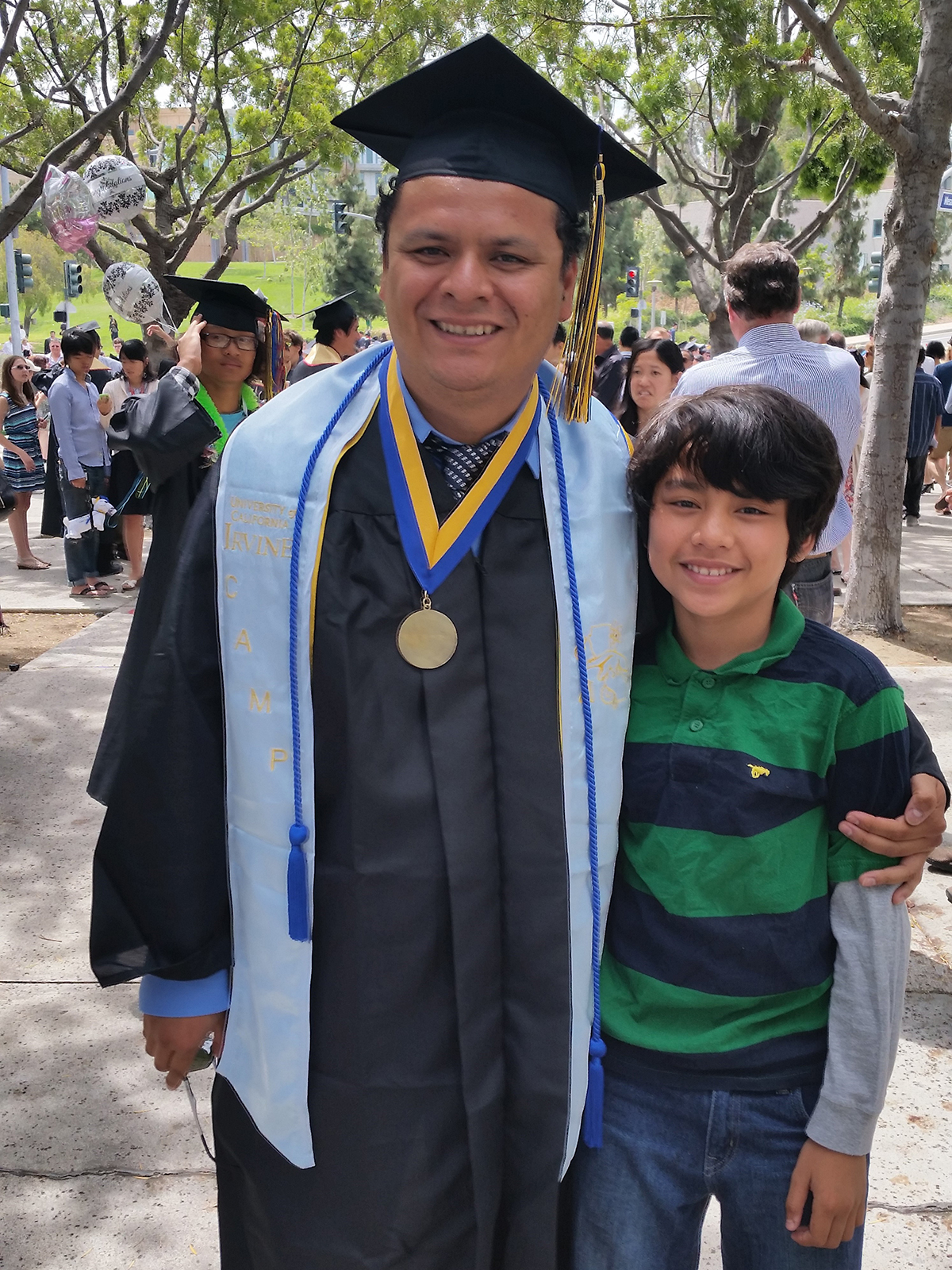 Courtesy photo
Solares is just the kind of new faculty that the University of California is looking to nurture through an ambitious initiative aimed at attracting more underrepresented minority students to graduate school and the professorial ranks — and to do so largely by tapping the pool of talent within California's own systems of public higher education.
Called "Growing Our Own," the effort aims to create mentors, teachers, and ultimately, a new generation of faculty that more closely reflect the diversity of California itself.
The need is clear: At UC, for example, less than 10 percent of faculty identify as Latino or Hispanic, yet Hispanic and Latino students account for a quarter of all UC undergraduate students.
More students earn advanced degrees at UC than at any other university in the state, putting it in a prime position to move the needle on faculty diversity. But the first key step to diversifying faculty at California colleges is to diversify the ranks of graduate students. This requires expanding and creating new pathways to academic doctoral programs.
"My students tell me, 'You understand me.' They can see themselves in me."
Edwin Solares, postdoctoral fellow, UC Davis
The Growing Our Own program will focus on recruiting UC graduate students from the many UCs and CSUs that are classified as minority-serving institutions, as well as other institutions with a history of attracting highly diverse student populations, such as California Community Colleges, Tribal Colleges and Universities, and Historically Black Colleges and Universities (HBCUs).
"We're the No. 1 producer of faculty in California higher education," said Pamela D. Jennings, UC executive director of Graduate Studies. "Nearly 25 percent of UC faculty and 20 percent of CSU faculty earned their Ph.D.s at UC, as have many community college faculty. Through the Growing Our Own initiative, we have the opportunity to really make a difference in California achieving faculty ranks that are more inclusive of all of the talent this great state has to offer."
Nurturing a new generation of faculty
As a college student, Solares didn't encounter many Latino professors — and took notice. "If you look at the student body, it looks completely different from the faculty you see at some of these institutions," he said.
And representation matters. It's hard for students to envision a future for themselves when they see so few role models. As more low-income, first-generation and underrepresented minority students seek out higher education, college students as a whole are becoming more diverse. But that diversity has yet to ripple upward to graduate school and the professoriate.
In addition to racism and other structural barriers and disadvantages that many students from underrepresented groups face, students often don't know how to pursue graduate school and faculty careers and never really consider it as a goal.
Growing Our Own looks to change that by helping more non-traditional students consider graduate school — starting with understanding what it is, how to pay for it and what career paths exist for students with graduate degrees.
It then gives students real-world opportunities to see what it is like: From summer research to professional development, students get experiences that can help them compete for admission to graduate school and, ultimately, for faculty jobs — ideally within the very public higher education systems that nurtured them.
Through the initiative, UC leaders have identified existing programs that have been shown to work and could be built upon, especially those that involve partnerships with the California State University system and California Community Colleges. There are also some efforts to support innovative pilot projects, such as new programs that might serve as proof-of-concept to help faculty get longer term federal grants.
"This initiative has great potential for California public higher education, but additional resources and support will be needed by UC, CSU and the community colleges to best support diversifying the California professoriate and meeting the state's advanced workforce needs," Jennings said.
Getting a jump start on grad school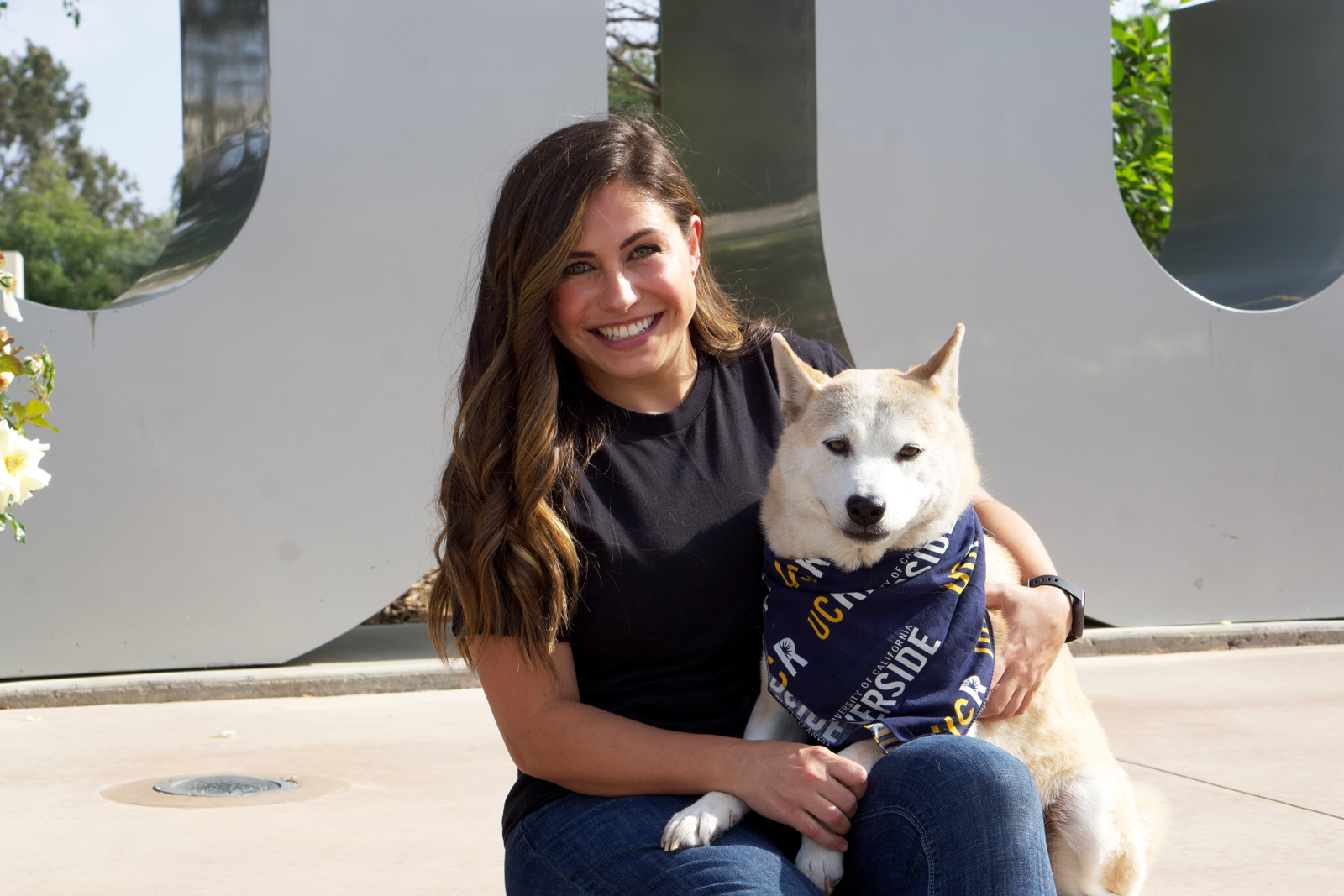 "Some people dream of getting a Ph.D. from Day 1. I just stumbled into it," said Courtney Scaramella, a first-year graduate student studying neuroscience at UC Riverside.
After graduating high school, Scaramella went to work as a health aide for young adults with autism and other neurological differences. Ultimately, that led her to want to learn more about the brain and what was happening to cause those conditions.
She took courses at a number of community colleges before transferring to Cal State Fullerton. While there, Scaramella participated in a research program where she discovered there was such a thing as grad school, and — even more surprising — that funding was available to help her study neurological issues.
But adjusting to graduate school was a heavy lift. "As a first-generation student and not coming from a research university, there's a lot to catch up on," she said. "You don't know what you don't know. You don't even know what to ask."
Luckily, she got a running start through a program established with a grant through the UC-HSI Doctoral Diversity Initiative, part of Growing Our Own.
Before starting their studies, students come to campus for a statistics boot camp, networking opportunities and a crash course in basic lab and research practices. The three-week summer program is open to students who are graduates of California public colleges and universities designated as Hispanic-Serving Institutions.
"As a first-generation student and not coming from a research university, there's a lot to catch up on. You don't know what you don't know. You don't even know what to ask."
Courtney Scaramella, first-year grad student, UC Riverside
Through the program, Scaramella was able to start grad school with a solid grounding in how to dissect and present a research article, the procedures for working in a lab, grant writing, research ethics, and how to cultivate mentors and manage data. She also received funding to attend a leading research conference in neuroscience — something few students get to do until they are much further along in their studies.
"Here, they are learning among peers, the [research director] isn't looking over them and they can get a good sense of what is going on well before they join a lab," said UC Riverside psychology professor Khaleel Razak, who developed the program. "Otherwise, they are slowly learning on the job and the pressure of figuring it all out, while you're already in graduate school and doing daily research, is intense."
Building a bridge to the professoriate
As students get closer to completing their Ph.Ds., Growing Our Own includes a variety of efforts that provide students with coaching and skills development to help them land postdoc appointments and faculty jobs.
"We're trying to demystify the professoriate and how you get there," said Jesús Cisneros, assistant dean of graduate education at UC Merced, who himself was among the campus's first group of graduate students.
The son of farmworkers with an elementary school education, Cisneros had to figure out how to navigate the culture of academia on the fly. Now, he's trying to make it easier for students from similar backgrounds with Adelante, a program funded through the UC-HSI Initiative.
Now in its second year, it prepares doctoral students to be competitive applicants for the academic job market and offers training on understanding academic career pathways, interviewing and thriving in academia.
It also offers a concentrated summer boot camp to help students who are finishing their doctorates polish their resumes with an eye toward a position at a community college, UC or CSU.
The program was a game-changer for Geraldy Martin Gutierrez Eisman, a Cal State Dominguez Hills graduate who recently got her Ph.D. in psychology from UC Merced. After doing well in graduate school, she struggled to navigate the job market.
"I looked good on paper, but once in job interviews, I struggled with how to present myself," she said. Last summer, she participated in Cisneros's program. A workshop on interviewing for posts at community college "was the missing piece of the puzzle," she said.
Now, the former transfer student from Los Angeles Harbor College is a full-time faculty member at Clovis Community College, where she is thrilled to be teaching and supporting students who can see themselves in her.
"I make sure I tell my students my story," she said. "I let them know I'm here to be part of their academic support system and network as much as they need me to be."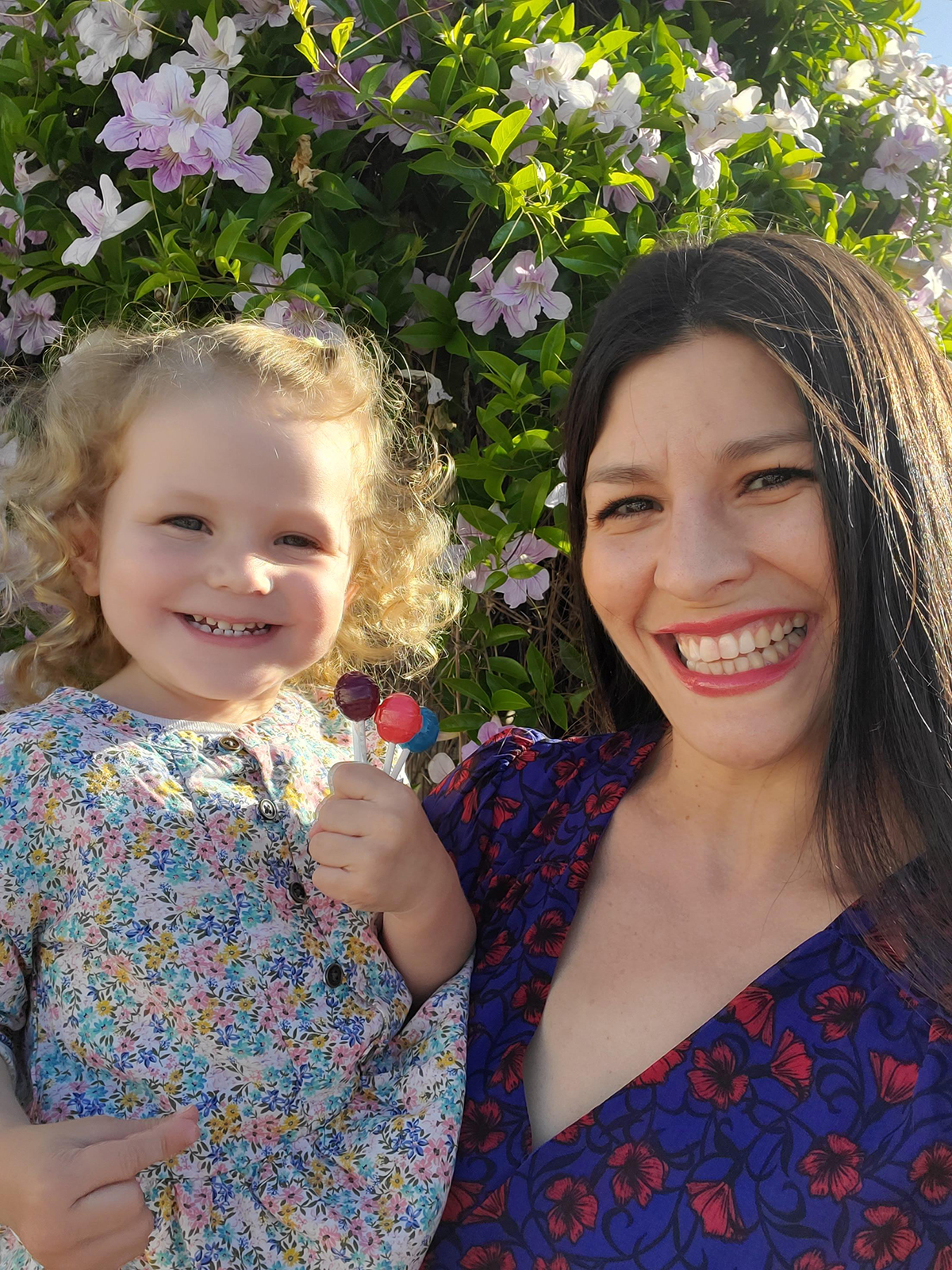 Courtesy photo