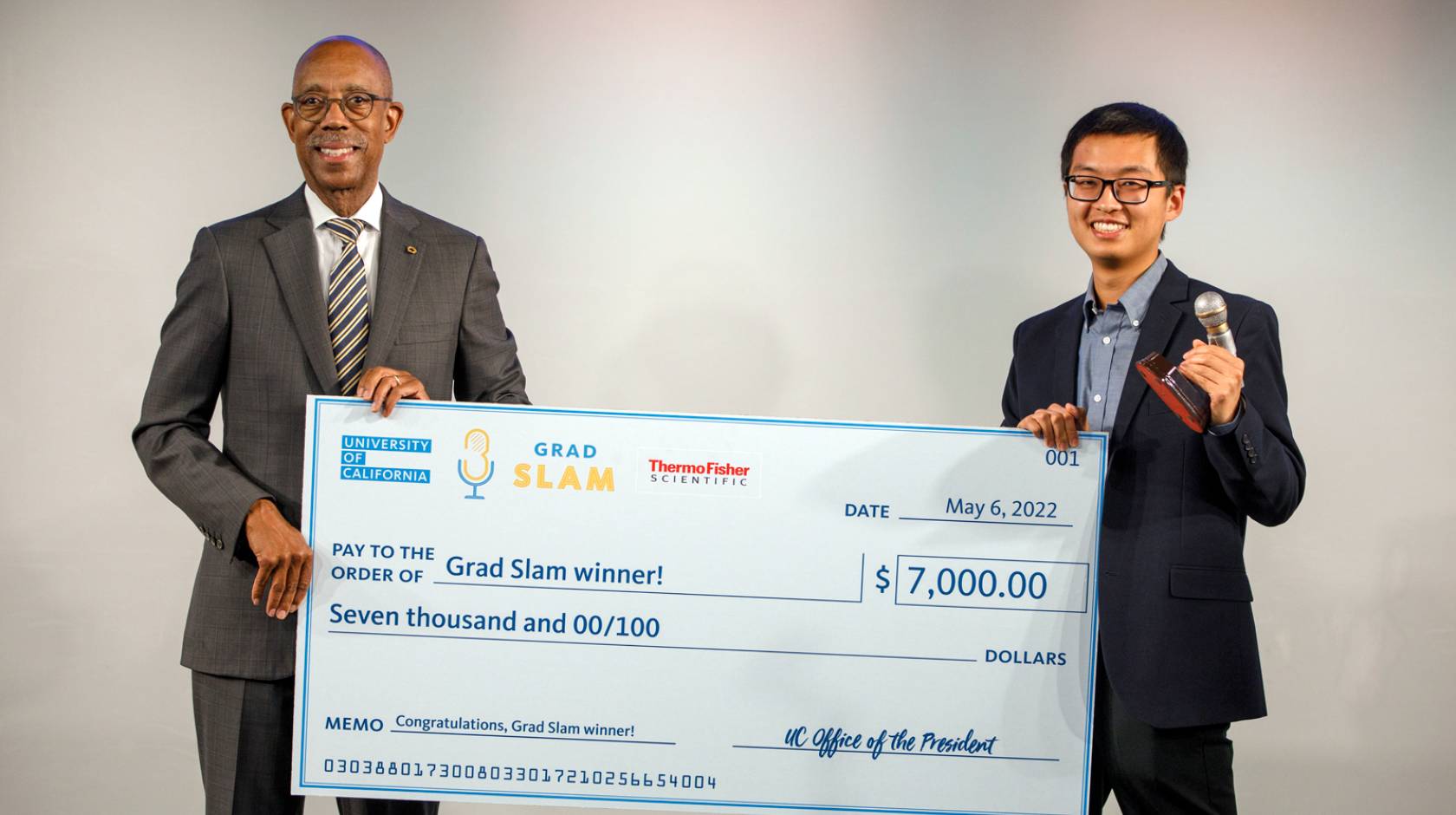 UC Berkeley graduate student Justin Lee beat out nine other talented contestants at this year's Grad Slam competition, taking home the top prize for his three-minute talk on how genetic engineering could be used to stop COVID from replicating inside the body.
The annual contest, now in its seventh year, challenges grad students to sum up their research in three pithy and jargon-free minutes that a non-research audience can understand.
Viewers who tuned into the livestreamed event on May 6 learned about a new way to dry food that cuts both food waste and carbon emissions; the health benefits of CBD; and how mutations in a single protein can influence circadian rhythms and health.
But it was Lee's three-minute talk, on the development of an inhaled COVID treatment, that snagged the top prize: $7,000 in award money and the coveted systemwide trophy, or Slammy.
As is often the case with research itself, the inspiration for Lee's winning talk came by accident. He had been practicing his pitch for months when a version of the talk got stuck in the copy machine.
That's when the lightbulb went off: "I realized that was just like my research," he said. "I was talking about how we stop the virus from making copies of itself within the body."
Lee explained how the virus enters the body and hijacks our own machinery to replicate itself. He and his colleagues have identified the key code in the virus RNA that "allows the copy machine to run."
Also taking home prizes for their outstanding talks were Amanda Quirk of UC Santa Cruz, who won second place for explaining her research into how galaxies collide; Rachel Sousa of UC Irvine, who snagged third place for her talk on how math can help us find a cure for cancer; and Wei Gordon of UCSF, who won the People's Choice award for a talk on mutations that help fruit-eating mammals metabolize sugar.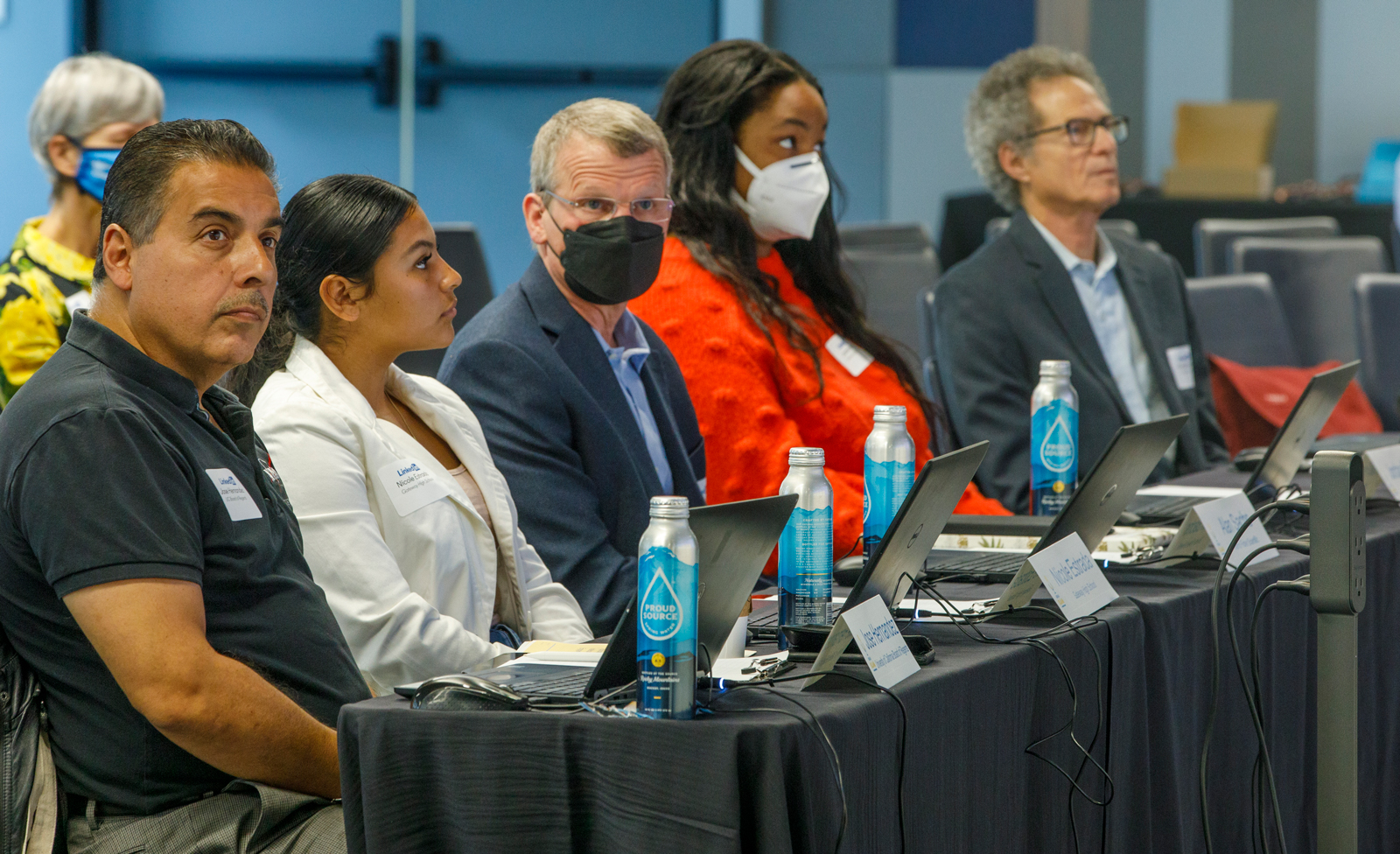 "I was surprised about how much I learned and all of the research happening in topics I'd never thought to venture into," said Grad Slam judge Jordan Felder, a UCLA-bound senior and student leader from San Francisco's Gateway High School. Together with the audience, who voted for the People's Choice winner, Felder was part of a distinguished panel of judges who rated the contestants on how well they engaged and enlightened observers.
Jamming the virus copy machine
The Grad Slam finale is the culmination of campus contests that took place across all 10 UC campuses in March and April, drawing hundreds of hopefuls in pursuit of prize money and glory. Contestants also get training on how to communicate the value of their research to the public.
Competitors often practice for months, training with fellow contestants and drawing on the goodwill of roommates, family and friends as they hone their talks to a fine point.
"In breaking down my research, I really try to think about how I can relate it to common issues that people see and experience every day," Lee said. "If you can build on that and relate it back to your research, you can build on your understanding from there."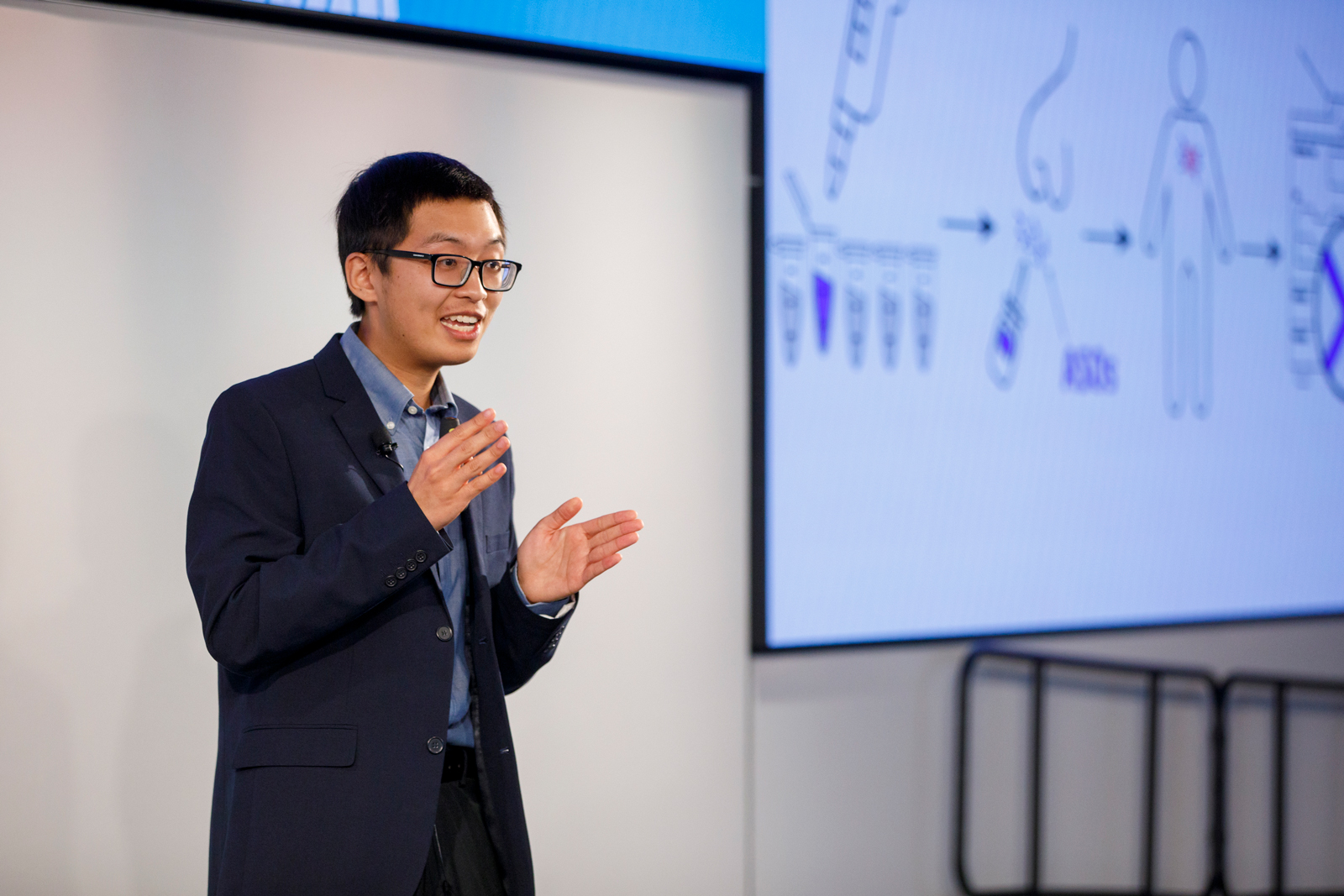 As a metabolic biology Ph.D. student, he and others in his lab at UC Berkeley have isolated a molecule that could be inhaled through the nose to enter the lungs and disable the virus's replication system.
Early tests in mice have shown extraordinary results. The best part: because the molecule interferes with the way the virus replicates, it would be equally effective against any variant.
"We still have a lot of research to do," Lee explained. The findings are still in peer review but could eventually be tested in clinical trials.
"Can you imagine what a gamechanger it would be if we could fight this virus just by taking a breath?" he asked the audience.
Watching galaxies collide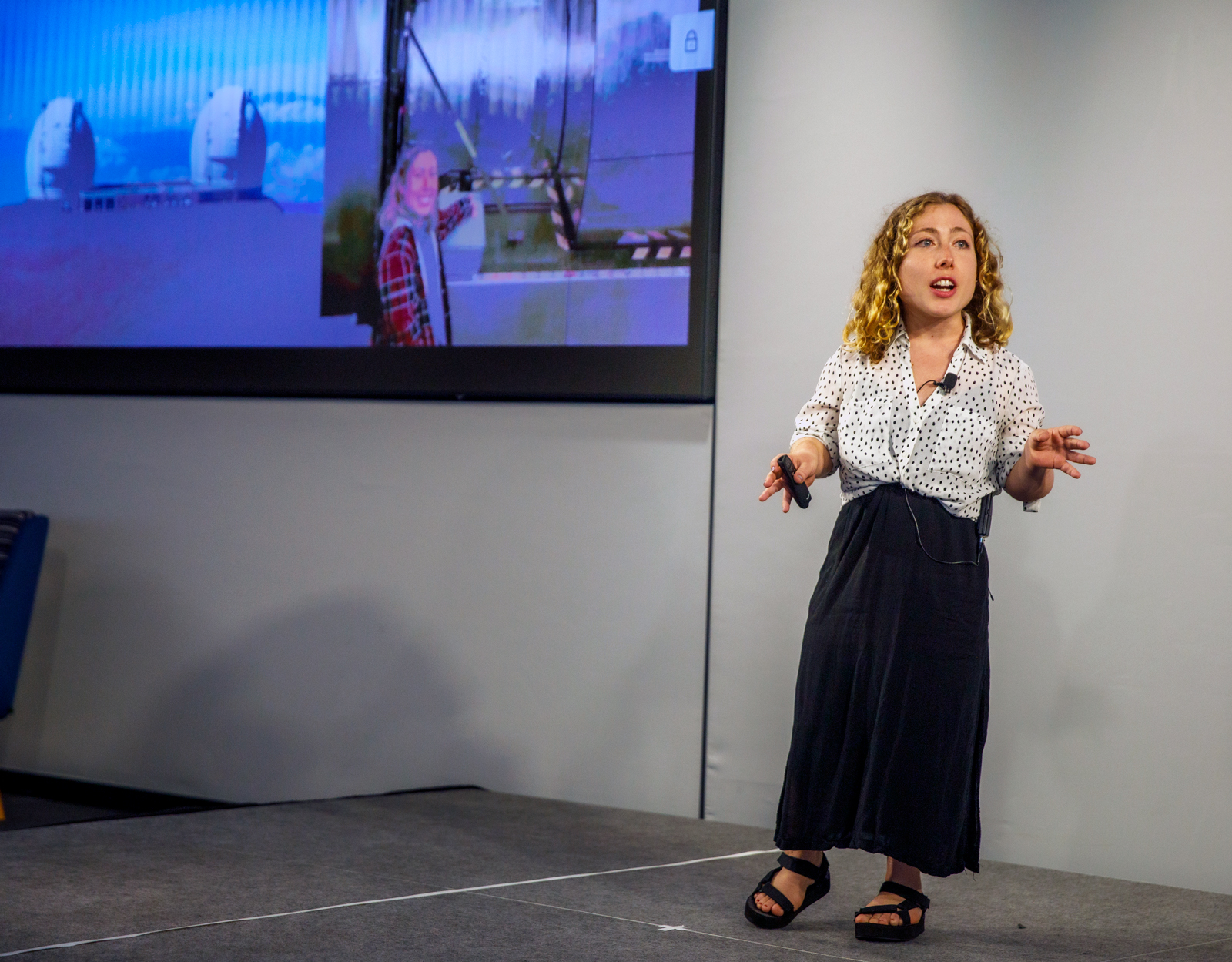 Second-place prize winner Amanda Quirk first fell in love with astronomy when she saw Saturn through a telescope on a fourth-grade field trip.
Today, she is doing her dissertation in astronomy and astrophysics, studying the dramatic lives of galaxies and what happens when they collide.
"The thing about stars is, they're gossips. They give away many of their secrets just through their light," Quirk said in her talk.
Her observations show that about four billion years ago, a short time in star terms, the Andromeda galaxy survived a collision with another star system. The observations she has documented "change what we know about the kinds of mergers star systems can survive."
For Quirk, the challenge in mastering Grad Slam was figuring out how to explain far-out astronomy concepts in terms the average human could understand.
"It doesn't matter how cool our research is if we can't tell people about it and how they can use it," Quirk said.
"In science we tend to use a lot of fancy terms to communicate things, but I discovered that you can describe what you do without doing that. I learned that jargon just isn't that important."
What fruit eaters can teach us about processing sugar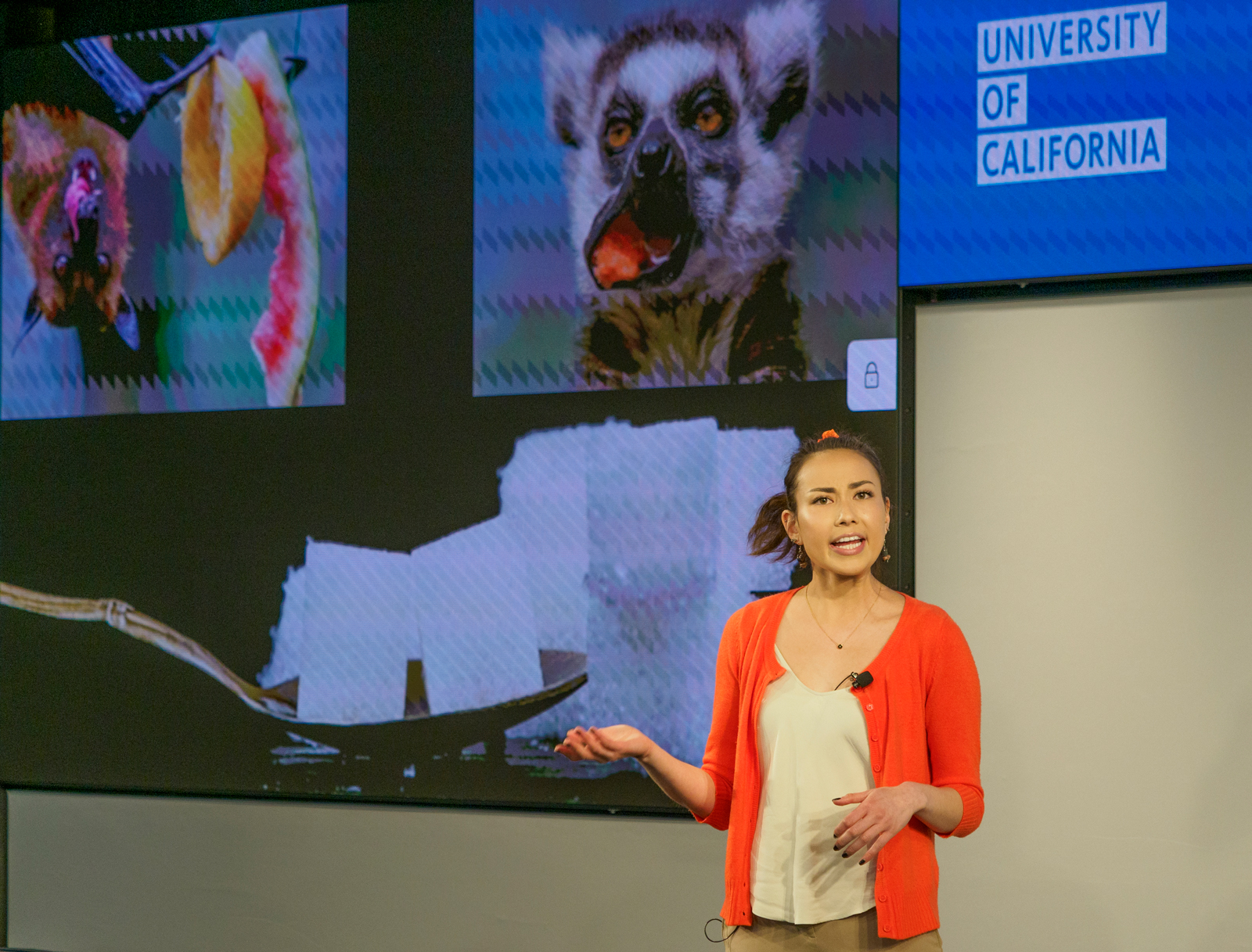 When it came time for online voting for a favorite talk, the audience was drawn to Wei Gordon's presentation and its promise of therapeutics that could counteract some of sugar's harmful effects.
"I'm not saying I've found a reason for us to eat as much cinnamon toast crunch as we like, but I may have found a reason life can be a little sweeter," Gordon said.
Her research looks into the gene-level mutations that let fruit-eating mammals metabolize sugar and whether those mutations could hold clues for developing new therapeutics for diabetes and other metabolic diseases.
Her research centers not on genes themselves, but on mechanisms known as gene regulatory regions. She focused on using a metaphor. "If genes are the orchestra in the symphony that creates a living being, then gene regulatory regions are the conductors that control when, where and how much an instrument is played," Gordon explained.
Gordon received $1,000 in prize money as the People's Choice award winner — but said she was going home with a whole lot more. The months of practicing her pitch, she said, gave her new tools to collaborate with colleagues and teach others about her work.
Even at prestigious research conferences, Gordon said, people often struggle to understand one another's work.
"Not enough researchers think about communication. But when you can explain what you do, you can find those collaborations and your research can advance much faster," she said.
"You may have this cool discovery, but if it's really going to be able to change the world, you need to be able to communicate it to people who don't do this every day."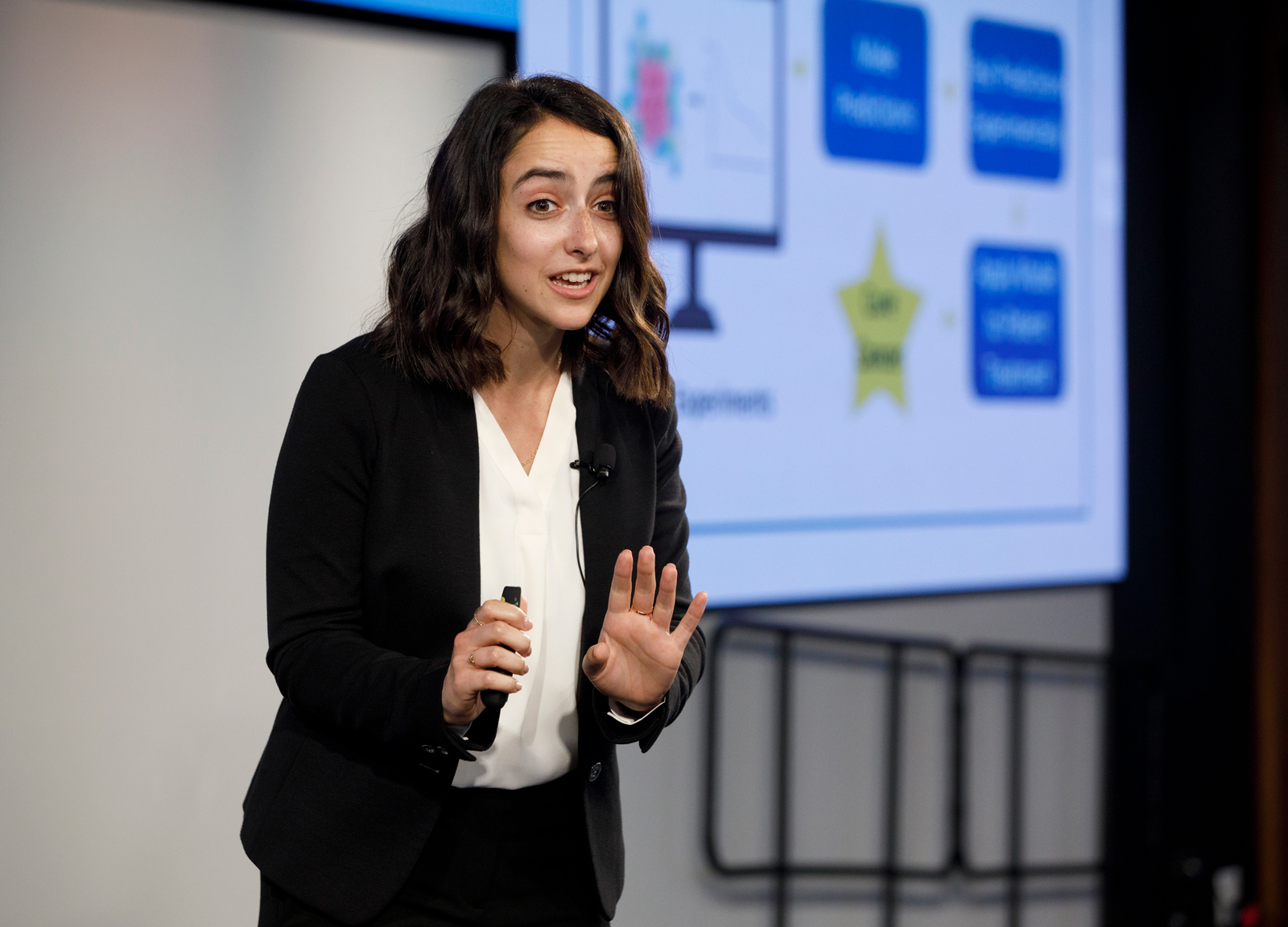 —
Congrats to our 2022 Grad Slam winners!
1st place: Justin Lee, UC Berkeley ($7,000)
2nd place: Amanda Quirk, UC Santa Cruz ($4,000)
3rd place: Rachel Sousa, UC Irvine ($2,000)
Audience choice winner: Wei Gordon, UCSF ($1,000)
Special thanks to Thermo Fisher Scientific for furnishing the prize money.
—