September 10, 2015
Melissa De Witte
,
UC Santa Cruz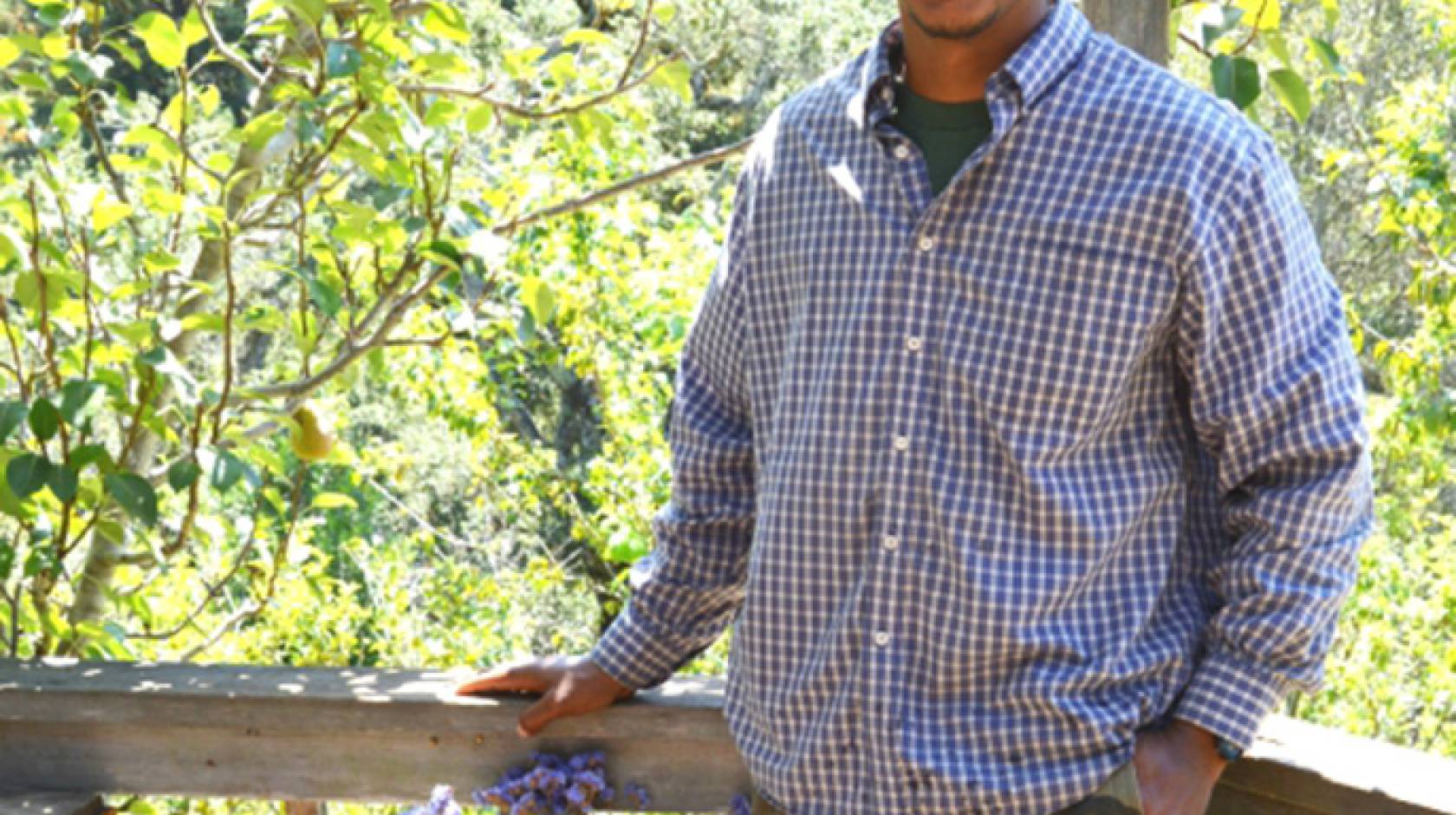 Credit: Melissa De Witte/UC Santa Cruz
"I want to continue to serve. I want to add value to someone's life," says James Harris, a U.S. Army veteran, now an apprentice at the Center for Agroecology and Sustainable Food Systems (CASFS), the farm program at UC Santa Cruz.
Harris is one of three former service members enrolled in the internationally recognized Apprenticeship in Ecological Horticulture this year. Others are Jose Ortega, who served in the Air Force in Afghanistan, and Margaret Goolsby, who retired from a successful career in the Army.
For many soldiers transitioning to civilian life, agriculture is an appealing career option. Farmers and soldiers share many of the same character traits: They are disciplined, resolute, determined, purposeful, and resilient.
But to Harris and other veteran farmers, including notable CASFS alumnus and a vet himself, Matthew Raiford (2010), a career in agriculture allows them to continue serving their country by working the land they once protected.
"You are serving the community in a similar way," Goolsby observes.
"Feeding people is a cause bigger than yourself," says Michael O'Gorman, founder of Farmer Veteran Coalition (FVC), a nonprofit now in Davis that helps former soldiers acclimate to post-military life through agriculture.
Harris and Ortega came to CASFS because of FVC, originally organized in Santa Cruz and with close ties to the UC Santa Cruz farm. FVC also encouraged Raiford to enroll in the program and has given scholarships to Harris and Ortega.
Post 9/11 world
The Farmer Veteran Coalition legacy grew from the people they now help.
On Sept. 19, 2001, a week after the 9/11 attacks, Harris enlisted in the U.S. Army. He was 19 and living in South Carolina. "I knew I had to do something bigger with my life," he says. "Everything was different. You knew you were going to war. You had to prepare for that."
O'Gorman's son also joined the military after 9/11. O'Gorman's daughter was at Ground Zero when the World Trade Center towers were hit. She witnessed the devastation and was left traumatized, O'Gorman says. It impacted the family deeply.
O'Gorman, who describes himself as a lifelong pacifist, was a farmer for nearly 40 years in farms across California, including Jacob's Farm in Pescadero. He does not have a military background but, like many people during the height of the Iraq and Afghanistan wars, was emotionally impacted by the combat overseas. It troubled him and he wanted to do something for soldiers like Harris and his son who returned from war needing work.
O'Gorman found his calling during a visit to New York City in 2005. He was at the United Nations headquarters and saw Let Us Beat Swords into Plowshares, the famous bronze sculpture that shows a man molding a sword into the blade of a plow. Biblical in origin, the concept is a call of action to end war and to create instead of destroy. O'Gorman was inspired by the statue's fighting to farming allegory.
O'Gorman called his agricultural allies into action. A small group gathered one afternoon a few miles north of the UC Santa Cruz campus at the Swanton Berry Farm in Davenport. In attendance was UC Santa Cruz alumnus Mark Lipson (Merrill '81, environmental studies). Like O'Gorman, Lipson felt a similar urgency. "I felt compelled to find a way of responding constructively to the consequences of U.S. wars in Afghanistan and Iraq."
Healing mission
For many veterans, agriculture offers a purposefulness that can be profoundly healing. "Farming offers a satisfying mission, one integrating multiple skills, self-reliance, and for many a therapeutic effect," Lipson says.
"Farming is about nurturing," says Raiford. "Part of healing is a process of nurturing."
After leaving the Army, Harris had problems with depression and post-traumatic stress disorder. "I was hit by a lot of IEDs (improvised explosive devices)," he recalls about his time in Kirkuk, a city in the north of Iraq. It was hard for Harris to adjust to civilian life.
But it was in farming that Harris found peace. He volunteered at an elderly facility and noticed that when he would take disabled residents into the garden he'd see their faces "light up."
"If it works for them, it will work for me." Harris remembers thinking. The rest is history.
"Farming (especially organic farming) needs these people, who understand a mission-driven approach, appreciate the uses and limits of machinery and technology, and are not daunted by the difficulties and setbacks that farming inevitably brings," Lipson says.
To Harris, it's more than being in the dirt. "It's taking a seed, putting it in the ground and watching it grow. The change is tangible. To be part of that is amazing."