February 20, 2020
Nicole Freeling
,
UC Newsroom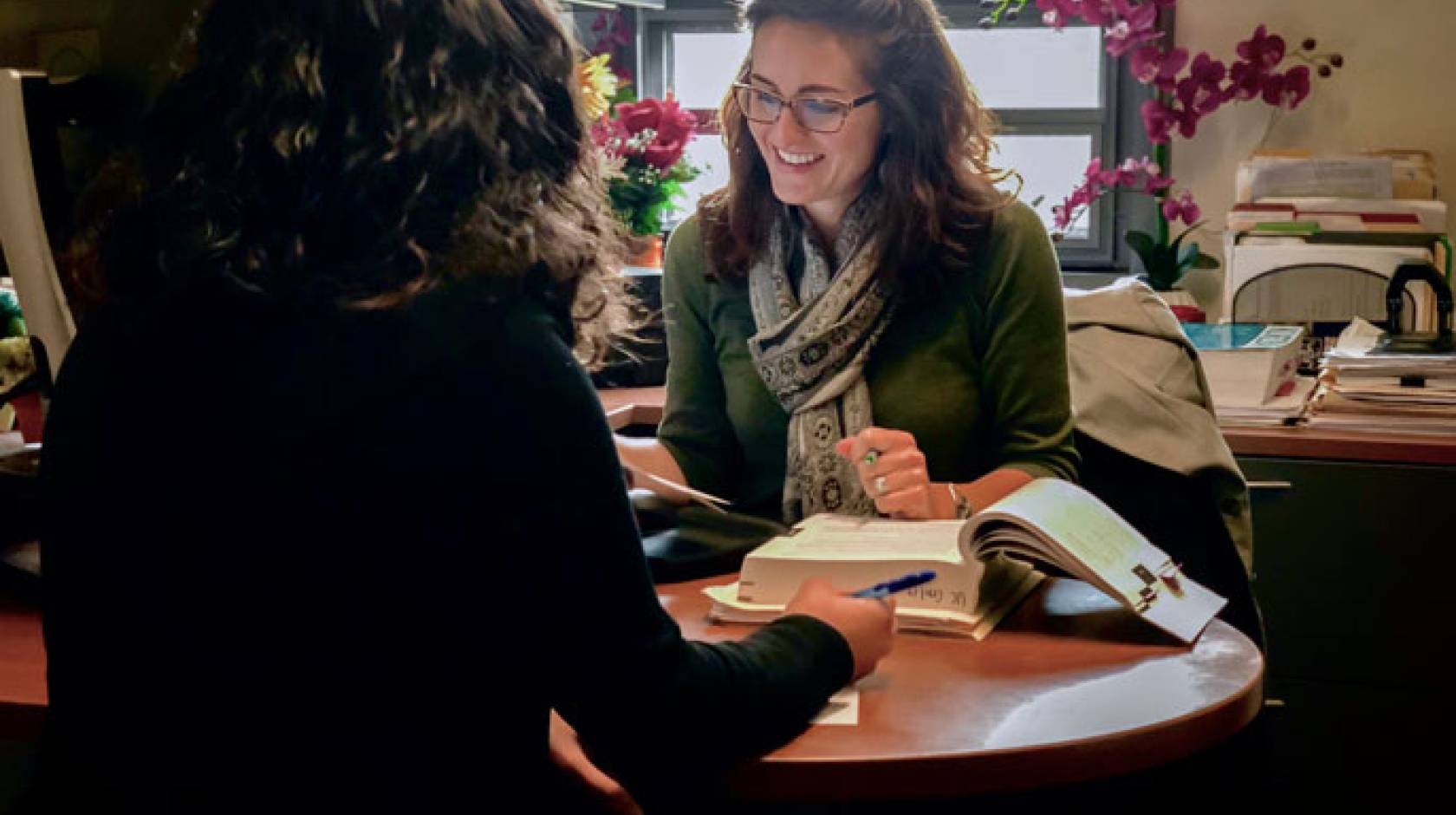 In the past two years, the free UC Immigrant Legal Services Center has become a lifeline for students facing threats to their ability to legally stay and work in the U.S.
The center has seen a flood of emails, phone calls and visits since the Trump administration announced it would end the DACA program, which has allowed young people brought to the U.S. as children to live, work and study here.
With 10 laywers serving students across nine campuses, the caseload of 1,500 is now nearly double what it was before Trump's announcement, said immigration lawyer Rachel Ray. Students seek help on everything from whether they should seek a DACA renewal to helping family members who have been detained.
Over the last year, the center has helped some 220 students and their immediate family members pursue paths to permanent legal residency, in many cases identifying options for relief that they might otherwise have missed out on.
Now, as the Supreme Court prepares to rule on UC's challenge to the Trump administration's DACA decision, students are more anxious than ever about what the future holds.
Ray spoke to UC Newsroom about the center's services, the changing legal landscape and what students can do to best protect themselves and their families.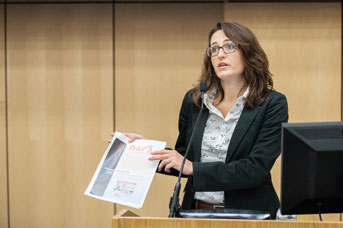 Q: I need help with an immigration issue. What do I do?
A: UC students can contact us via email or phone to set up an appointment. One of the first things we do whenever a student or their family member reaches out to us is do a full immigration intake. That intake is designed to identify any form of what we call long-term relief — essentially, a path to lawful permanent residence (also known as a "green card"). In some cases, we are able to identify opportunities the students or family members might not have been aware of to get on a path to lawful status.
No matter what their options might be, we get their full immigration history and provide them with information about their options.
The aim of our center is to give students the knowledge about how to open doors for themselves. We're a gateway, to arm them with the information and legal resources to gain more security and therefore thrive in their lives and be able to give back to the world in the ways in which they want to give back.
Q: How vital are these services?
A: I think it's critical that our services are free and are also viewed as a student service. That changes the way folks feel about approaching an attorney. It adds a layer of comfort, whereas sometimes students are very scared about speaking with a lawyer and don't understand what it might mean and who they can trust.
It's a great resource, if nothing else, for students to better understand their own situations so they can make better informed decisions about their lives. It's also safer to do things with a lawyer. For those who file for immigration relief without fully understanding the risks, there's the danger of getting put into removal proceedings.
(Note: The center do not cover filing fees for immigration-related paperwork. Students seeking financial assistance should inquire with undocumented student services on their campus.)
Q: What kinds of things do students come to you for help with?
A: It's a wide range. Someone might have a green card and want to become a citizen, or might be a citizen and want to submit a petition for a spouse or family member. Many of our students have DACA.
Q: Should those with DACA renew their status?
A: Like anything, it's an individual decision [that] should take into account whether the applicant has something in their history that would make it unsafe for them to renew DACA.
In general, we recommend renewal if you have a year or less of validity on your DACA. Even some folks who have more than a year of validity on their work authorization are electing to renew because it could be the last time they are able to do so.
Q: Say more about the paths to lawful permanent residency. Are your clients sometimes surprised to discover there are options available to them that they didn't know about?
A: I am often surprised by the level of knowledge many of our students have. Many students have taken a big interest in their own lives and in immigration and so do understand some of what's available.
Special Immigrant Juvenile Status is a lesser-known form of relief with which we assist folks. Students who are eligible for this can only access it until they turn 21, so it's important for them to find out early if they qualify. We have also helped students with the U visa, which provides a potential path to lawful permanent residence for certain survivors of particular crimes, and other forms of relief.
Q: What can undocumented students who don't qualify for this kind of relief do to protect themselves?
A: There's huge power in knowing your rights. We recently saw a family member detained who might not have been detained if everybody in their household understood how to deal with an encounter with an immigration official. So, one of the most important things people can do is go to a Know Your Rights presentation and get educated about their rights when interacting with ICE. (See UC's Know Your Rights brochure.)
It's sort of like flood insurance on your house. You don't need it until you need it and then you're really glad you have it.
There's something called family preparedness planning. If there's someone in your family who is undocumented, have a plan for what to do if that person is detained. Students should talk with their families to understand their immigration history, such as how often they've crossed the border, which could affect their options.
Knowledge can be power. Just be informed about your own history and your family's history. Know your rights, and be able to exercise them.
Also, acknowledge the need for mental health services, and access those services while you can —because the services available on our campuses are good, they are free, they are here for the students, and they are ways to deal with the enormous pressure of being undocumented or having undocumented family members.
Q: Are there other common questions you get from students?
A: We get a lot of questions about traveling domestically and how safe it is. When you're in an airport your rights are slightly different. The government has the ability to ask you who you are, and what you are doing in the U.S. Some students elect not to travel because of the risk involved, and some do — that's their personal choice.
The one thing that we're very clear on is if you're undocumented and you want to stay in the United States, don't leave the United States.
Q: How do you help students' families?
A: We help them in the same ways we help students. We do complete intakes with them. A lot of times intakes are over the phone because of family members' jobs or geographic limitations. We assess forms of immigration relief for them, and then for most of our cases, we do background checks to better understand an individual's immigration history.
There are lots of things that might affect what choices are available and what the risks might be. We get documents to help them better understand their immigration situation and to make informed choices.
Q: Is the center able to assist family members in detention?
A: Yes — about once a month or less, we see a family member detained. We typically assist them in the immediate aftermath. We can help them get bond, and we connect the students and family with someone who can represent them throughout removal proceedings. If we can, we'll visit the detention center.
Representation is critical in avoiding actual removal. Nationally, people who are represented by an attorney are less likely to be removed.
Q: What can others do to help?
A: Perhaps as with any social justice issue: Be educated, be mindful and donate if you're able to.
We have a student legal fees fund where people can help UC students cover the cost of DACA renewals and other paperwork.
If you're not able to donate your money, donate your time.
And be knowledgeable. Use language that is conscientious. People have a lot of misconceptions about immigration. Many UC campuses have an Undocu Ally training (see list below) folks can attend.
In the educational context, professors can be aware that there might be undocumented people in their classes and so don't make assumptions about people's ability to travel outside the country or outside the state or even obtain a driver's license or work.
And if you can, vote. Vote in line with your values. Don't take your citizenship for granted. Know that it's a huge privilege to have been born a citizen and not have to worry about being removed from the U.S.
Campus Undocu Ally Trainings: