June 9, 2016
Nicole Freeling
,
UC Newsroom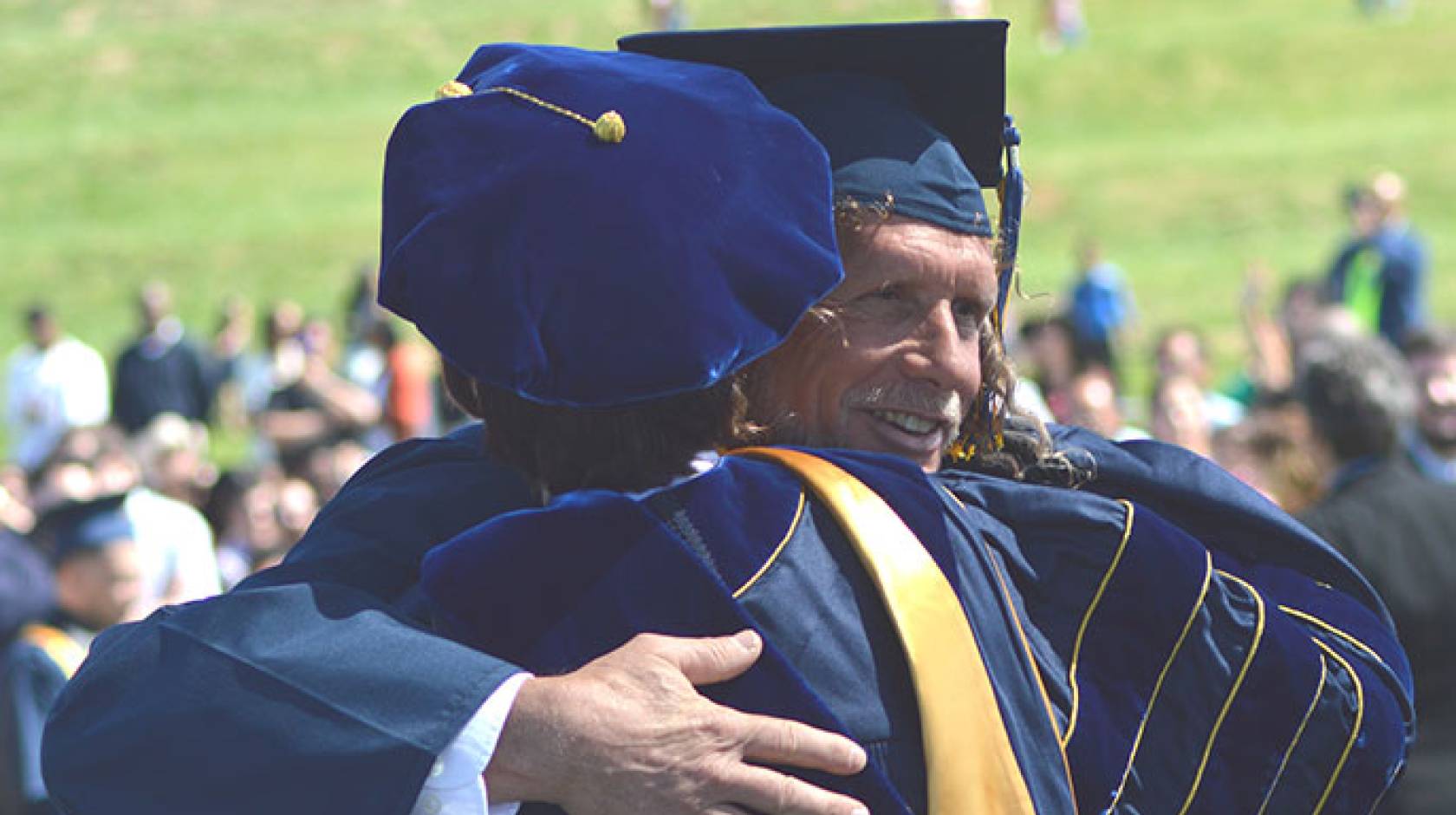 Credit: Photo courtesy Stephen Maxey
Struggling with meth addiction since he was a young man, 52-year-old Stephen Maxey never saw himself as college material. The people of Merced saw otherwise.
Maxey landed in the Central Valley town six years ago, an out-of-work drifter, with nothing but the clothes on his back and a bus ticket back to Texas. Despite living on the streets, he enrolled in Merced College, part of the California Community College System, and ultimately transferred to UC Merced.
In May, cheered on by faculty, community leaders and members of the shelter he once called home, Maxey donned cap and gown and crossed the stage as part of the 2016 graduating class, the proud recipient of a bachelor's degree in psychology.
"The whole town kind of got behind me," Maxey said. "That I've gotten where I have is more a reflection of them than me."
During Maxey's odyssey through college, he became an advocate and role model for countless others. And he is set to do even more. The new college grad is about to begin work managing a project to turn an old downtown hotel into a housing and counseling facility for the city's homeless.
As someone equally comfortable speaking with the regulars at a soup kitchen as he is speaking to leaders at City Hall, it's a job for which Maxey is uniquely qualified.
"It's like a dream job for me," he said. "I'll be finding my friends a place to live."
His turnaround story has a long list of heroes: From the guys living in the park who would help him study to his UC Merced classmates who organized food drives and pizza parties for shelter residents.
And then there were the faculty who believed in him, and residents in town who helped him find housing and pay his bills.
"The people of Merced earned this degree with me," he said. "On graduation day, that was the whole community sitting on my shoulders and perched on my hat."
A jail stay – and a lucky break
Six years ago, Maxey was just one of the countless individuals struggling against seemingly intractable poverty and addiction.
It all began to change, improbably, with a stay in the clink.
Maxey had been staying in Modesto with his girlfriend when he was picked up for disorderly conduct and spent four nights in the Merced county jail. It was, he likes to say, his lucky break.
When he was released, he made his way to the local rescue mission. During the day, in an effort to stay sober, he wandered around town in search of something to keep him out of trouble.
It was on one of these walks that he ended up at Merced College – and in the office of an academic counselor named Amir Falahi.
Fahali directed Maxey to a teacher, Jeannie Clifford, who signed him up for her psychology course, and sent him home with a pile of material to study. "I remember it was a Wednesday, because there was a test on Friday," Maxey said.
Before Maxey could change his mind, Falahi sat him down.
"He said: 'Here's what's going to happen. You are going to graduate from here, and then you are going to go to that new university they just built down the road.'"
Over the months and years that followed, there were many times when Maxey wanted to give up. But the support of the community saw him through.
"The guys on the street, they all got behind me," he said. "When I would screw up and use, they would pick me up and help me to make sure I got back on track."
"The people of Merced earned this degree with me. On graduation day, that was the whole community sitting on my shoulders and perched on my hat."

— Stephen Maxey, UC Merced '16
If he needed help in algebra, they would find someone in their ranks who was schooled in math. If he didn't show up at the mission for a few days, they would track him down.
"Even if I was in some junky motel, they would come and find me, and they would say – get your behind back in school."
There were others, too, who always had his back, including Falahi and a local couple, Daniel and Natalie Boehs, who helped Maxey find a place to live and assisted with rent payments.
"I got loved for some reason, where a lot of people wouldn't have."
Building a bridge to the campus community
Just as Falahi predicted, Maxey earned his associates degree in 2013, and was accepted to UC Merced. His tuition was fully covered under UC's Blue and Gold Opportunity Plan, available to students from low-income households.
Once on campus, Maxey quickly became a link between the campus and the local homeless community.
He learned about the Blum Center, part of a multicampus initiative to identify and alleviate causes of poverty in local communities and around the world.
At that time, the center was not specifically engaged in research involving Merced's homeless. "There was no way they could get someone immersed enough in the community to ask the questions and get the answers we need," Maxey said.
"So I said — maybe I can help you. I was homeless for two and a half years."
He learned to work with local leaders to get needed city services for Merced's homeless population. He also engaged students and others on campus in efforts to provide food and clothing.
One effort with fellow classmates generated 250 meals, coats and piles of toys at Christmas for families staying at the Merced Rescue Mission. Another collected 700 pounds of dog food for homeless peoples' pets.
Together with UC Merced professor Steve Shackelton, a researcher at the Sierra Nevada Research Institute, he organized a program that takes shelter residents on trips to Yosemite. "It's the awe factor that gets them – to see that there's something beyond the streets," Maxey said.
Next up: helping others find housing
A few months ago, with graduation fast approaching, Maxey learned about a project to turn an old hotel into a facility that would provide housing and counseling to the homeless. He called up the company, Kazakos Consulting, to see about volunteering.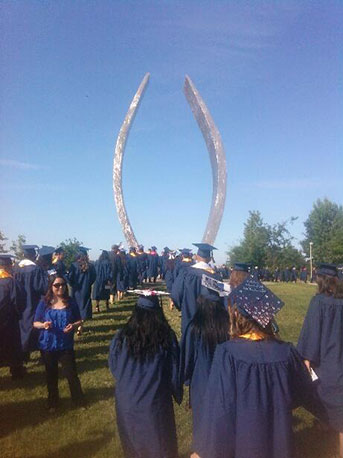 Director Daniel Kazakos had a better idea: "After about five minutes, he was like: Do you want a job?"
Hardly a day goes by, he said, when he doesn't feel amazed at the direction his life has taken.
Perhaps most surprising is the fact that in spite of — or perhaps because of — his own struggles, he now has the means to help others.
"I wish I could have known when I was 20 years old how really simple it is to make a difference for someone," said Maxey.
"I'm not paying anybody back. There's no way I could pay everything back," he said.
"But when you can go and make something happen that helps someone, it feels good – and it's not that hard. We don't have to move mountains to make a difference."