Match Day's defining moment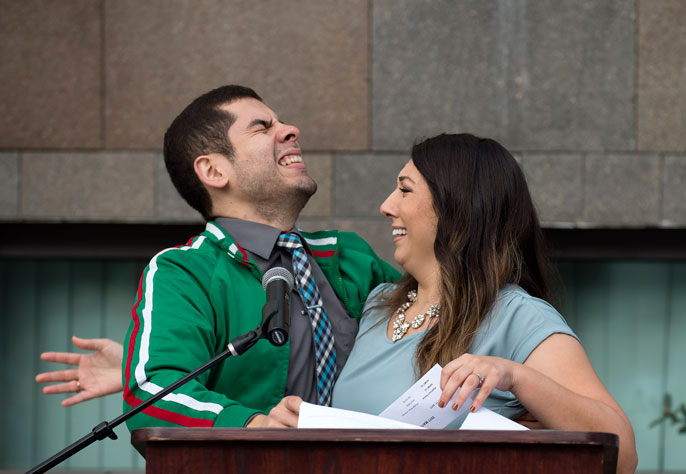 About Match Day
Match Day is when graduating medical student applicants learn the location and specialty of the U.S. residency programs where they will train for the next three to seven years.
Match Day caps a process that begins in fall for applicants. Using a computer algorithm, the nonprofit National Resident Matching Program matches the preferences of applicants with those of residency programs at teaching hospitals throughout the country. The tradition dates back to 1952.
Overall, more than 43,000 individuals (a record) applied this year for nearly 32,000 residency slots across the country.
For aspiring doctors, Match Day is a tradition like no other.
At the same time, thousands of graduating medical students nationwide open their envelopes to learn where they have matched for residency to spend the next phase of their training as physicians.
This Match Day, March 17, held extra meaning across the University of California: For the first time, UC Riverside medical students joined colleagues at UC's five other medical schools in the joyous event.
"I am so excited to be going to UC Davis and staying in California," said UC Riverside medical student Jaire Saunders, who matched with the physical medicine and rehabilitation residency program. "It is where my family wanted me to go and where I wanted to go. I couldn't be happier."
Overall, nearly 700 UC medical students matched, including 108 at UC Davis, 97 at UC Irvine, 170 at UCLA, 40 at UC Riverside, 130 at UC San Diego and 152 at UC San Francisco. More than 70 percent will continue their training in California, and many will pursue residencies in primary care.
Celebrating UC Riverside's inaugural class
The first public medical school created in California in more than 40 years, the UC Riverside School of Medicine will graduate its inaugural class of students this summer. Thirty-three of the 40 students who matched March 17 will be staying in California for their residency; 10 matched in residency programs in inland Southern California.
UC Riverside student Sarah Gomez was thrilled about having been accepted into the family medicine residency program at Desert Regional Medical Center in Palm Springs.
"That residency program also has amazing faculty and residents who, I feel, will really support my learning and this journey I am about to embark on," she said.
For student Leila Magistrado, Match Day was "the most amazing day" of her life.
"I am so proud to be a part of the UC Riverside School of Medicine inaugural class and I feel well prepared for my ob-gyn residency program at Baylor," she said.
Serving the state
At UC Davis, more than 70 percent of the class will stay in California, with 17 percent doing their residencies at UC Davis.
"Being the first person in my family to attend and graduate from college and soon become a physician is a dream come true," said Lisandra Franco, a fourth-year medical student who's staying at UC Davis for an internal medicine residency. "This journey has been a challenging and rewarding one, and with the support of family I was able to keep pushing forward."
Fellow UC Davis medical student Sophie Rosseel will begin her residency in psychiatry this summer at UCLA.
"I was feeling a mix of nerves and excitement," Rosseel said. "For the past four years, we have seen that white Match Day tent go up outside, waiting for the day when it would be our turn!"
From local to global impact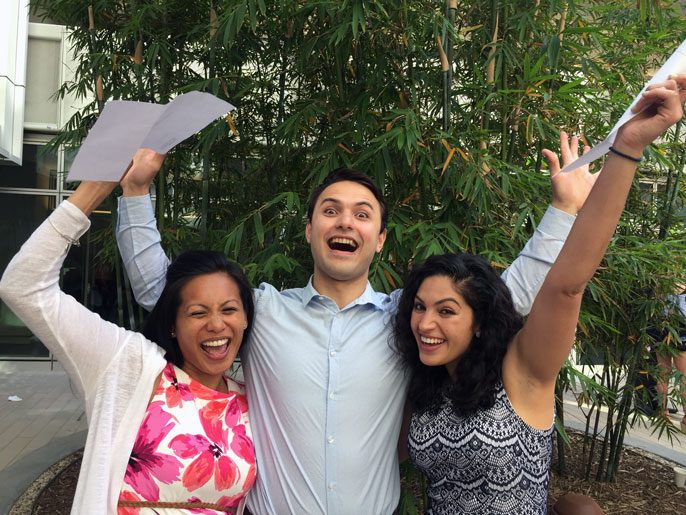 At UCLA, almost 70 percent of the class will remain in California, with one-third staying at UC hospitals.
Razmik Ghukasyan, 26, grew up in war-torn, post-Soviet Armenia, where essential resources like natural gas, electricity, running water and food were scarce. When he was 14, his family won the green card lottery and emigrated to the U.S. He quickly progressed in high school from English as a second language classes to advanced placement, and graduated with honors from UCLA. In medical school, he was named a Leader of Tomorrow and was awarded a four-year scholarship. He will graduate in June with a joint M.D./MBA degree. Inspired by his uncle, who died at age 48 of pancreatic cancer, he plans to pursue a career in surgical oncology at UCLA.
Pooja Upadhyaya, 28, launched a global health nonprofit called Mobilizing Health in college. She and her team helped 5,000 rural patients in India communicate with their local doctors via text messages. Midway through medical school, she also earned a master's degree in public administration. She will pursue a residency in general surgery at Brigham and Women's Hospital and aims to increase patients' access to care by working to improve the health care system.
Cultivating social justice
At UCSF, more than 70 percent of the class will stay in the state for residency training.
Fourth-year medical student Colette DeJong saw UCSF as fertile ground to cultivate her drive to connect health with social justice, joining UCSF's Program in Medical Education for the Urban Underserved (PRIME-US), part of a UC-wide initiative to provide services to California's underserved populations. She and her classmate Michael Mensah have been involved in PRIME-US community engagement projects that directly brought services such as nutrition improvement, hepatitis B treatment, improved water access and equitable care for people in LGBT communities to residents across the city. She is committed to carrying her vision forward when she starts her residency in internal medicine at UCSF.
"I'm thrilled to be training at UCSF. I have so many mentors here who think about health equity and social justice," says DeJong. "It's in the bones of UCSF as the first responder to the AIDS epidemic, for example. People are committed to making health better for everyone."
"I believe that health care is a right and not a privilege for a special few," says Mensah, who will train in psychiatry at UCLA. "It can change the course of one's life, and seeing that in my own life has propelled me along this path. The PRIME program has given me the opportunity to be an advocate for patients, and the courage to do so."
Transcending borders
At UC San Diego, 74 percent of the class will stay in California for residency training, including 18 percent at UC San Diego.
UC San Diego medical student Rene Garcia matched to Kaiser Permanente San Diego Medical Center in family medicine.
Garcia was born in a rural community in Tijuana, Mexico. His family immigrated to the San Diego area when Garcia was 5 years old. Garcia is in the first generation of his family to go to college. He earned his bachelor's degree at UC Berkeley. Garcia was then inspired to earn his master's of public health at UCLA and apply to medical school, in part because of his childhood experiences.
"I witnessed firsthand how socioeconomic factors can so often lead to health disparities in many communities," he said.
Garcia's father died of cancer during his second year of college.
"During that difficult time, I learned how physicians can influence lives not only through direct clinical care, but also through advocacy and compassion," he said.
Garcia is a member of the UC San Diego Program in Medical Education — Health Equity (PRIME-HEq). He said one of the greatest highlights in medical school was working with a small team of fellow students to co-found the Border Health Program, which brings mobile clinics — health screenings, as well as dental and pharmacy support — to migrant farmers in the San Diego area.
"I want to be a family physician, working for the underserved, hopefully here in San Diego," Garcia said.
A perfect match
More than two-thirds of the UC Irvine class matched with programs in California; 15 will be staying home, having landed residency positions at UC Irvine.
For UC Irvine's Krystal Jimenez and Miguel Alvarez-Estrada, Match Day was especially memorable. They went to both college and medical school together and plan to become doctors as a team.
But first they'll be getting married, on May 28, and graduating, on June 3. And then, on July 1, they will begin family medicine residencies at Scripps Mercy Hospital in Chula Vista — their first choice of programs.
"We've had an amazing and unbelievable experience in medical school," Jimenez says. "Now we want to realize our dreams."
After earning bachelor's degrees at UCLA, Jimenez and Alvarez-Estrada entered UC Irvine's Program in Medical Education for the Latino Community. A joint five-year master's-M.D. program, PRIME-LC is the first of its kind specifically designed to meet the distinctive needs of Latinos, and it's a model for similar endeavors across the country.
PRIME-LC students are expected to become physician-leaders, a role Jimenez and Alvarez-Estrada hope to fulfill in family medicine. Besides medical degrees, she will soon complete a master's in biomedical and translational science, while he's finishing up an MBA, and they look forward to merging these research and leadership skills in a medical practice.
"We love the full-spectrum opportunities that family medicine provides," Alvarez-Estrada says. "We can treat all walks of people, from children to the elderly, and through family medicine we can make a bigger impact in community outreach and social justice."