Medical students celebrate Match Day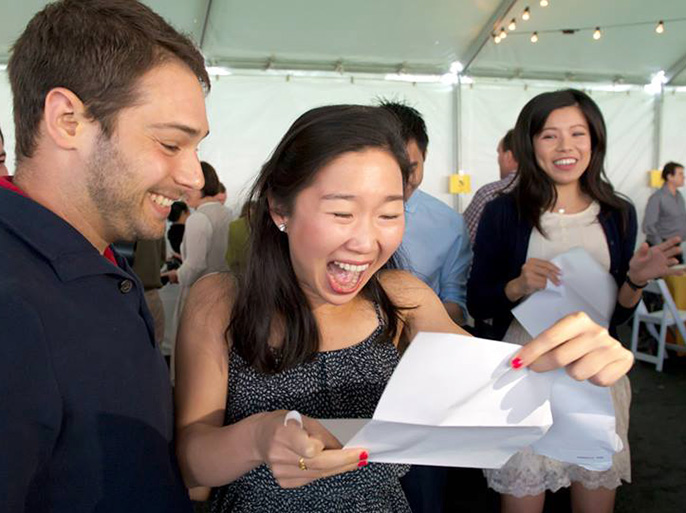 For graduating medical students, Match Day is the Academy Awards without the red carpet, March Madness without the brackets. It's a thrilling time when the nation's future doctors learn which hospital has accepted them for residency to get advanced training in their chosen specialty.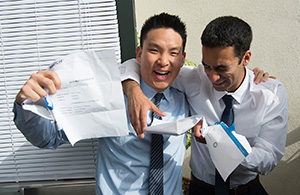 On March 20, more than 650 UC medical students were among the nearly 17,000 seniors at traditional U.S. medical schools who learned where they were matched.
UCLA graduating medical students Abinav Baweja and Jiwoon Chang couldn't wait to tell each other where they were matched. The friends were overjoyed to find out that they matched together to their first choice — a top East Coast program in internal medicine.
"NYU: We said it at the same time. We burst into tears and laughter. It was a big moment for both of us," Baweja said. "There is no better feeling than this … we made it!"
Virtually all UC graduating medical students matched, including 105 at UC Davis, 96 at UC Irvine, 161 at UCLA, 115 at UC San Diego and 177 at UC San Francisco. Most will continue their training in California.
"It's a little hard to put into words," said Agustin Morales, a fourth-year UC Davis medical student from Salinas who was part of the first San Joaquin Valley PRIME cohort — a collaboration between the UC Davis School of Medicine, UC Merced and UCSF Fresno that trains medical students with a special emphasis on patients in underserved communities.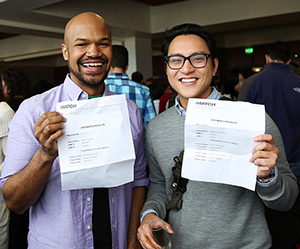 "It's been an amazing journey, and I matched to my No.1 pick, UCSF Fresno," added Morales. "It's a gem of a program in internal medicine and I'm excited about the next three years."
Fourth-year UCSF medical student Aaron Smith, was excited to be graduating and begin his residency program in internal medicine at Oregon Health & Science University.
"My dream growing up has always been to become a doctor," Smith said. "Now when people call me a doc, I'm actually a doc! This is the fulfillment of what I've always wanted to do."
At UC Irvine, Match Day is an emotional, festive event during which the future doctors are called to a podium one at a time to open an envelope and read aloud before hundreds of family members, friends and classmates the name and location of the hospital where they'll spend the next three to seven years pursuing postgraduate medical training as a resident physician.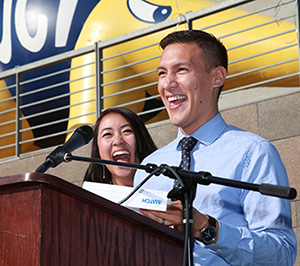 A former elementary school teacher, Marcella Torres, 40, used her experience volunteering with the Peace Corps in Panama and helping Burmese refugees in Northern Thailand to enter UC Irvine's PRIME program for the Latino community, the first medical training program to address the specific needs of America's largest and fastest-growing community. She matched with a family medicine residency program at Contra Costa Regional Medical Center in Martinez and next month plans to go Cuba with another PRIME student to observe its community-based primary care health system.
Among the UC San Diego participants was Thomas Onyia, an immigrant from central Africa who plans to be an anesthesiologist and participate in surgical outreach missions in Africa and other developing countries.
"I feel great," said Onyia, after his envelope revealed that he got his wish to do his residency at UC San Diego. "The best thing about it is that I have great mentors here who have supported me throughout the process."
With a match rate of 93.9 percent, nearly all of the nation's seniors at traditional medical schools landed a first-year residency.
A computer algorithm from the National Resident Matching Program matches the preferences of applicants with the preferences of residency programs at teaching hospitals throughout the country. The students from traditional medical schools such as UC apply for the available residency positions along with thousands of independent applicants, including osteopathic students and graduates of foreign medical schools. Overall, more than 41,000 individuals applied for more than 30,000 residency slots across the country.
"We are extremely proud of this year's Match Day group," said Mark Servis, professor of psychiatry and behavioral sciences and senior associate dean for medical education at the UC Davis School of Medicine. "This is the future of medicine, caring individuals with a passion for health care and a desire to develop their clinical skills to the very best of their abilities. As I told them before they opened their envelopes, 'It's not where you match that is most important, it's what you do in caring for your patients and working with others that is the key to your success and the ultimate accomplishment as a physician.'"