Mobile app targets elder abuse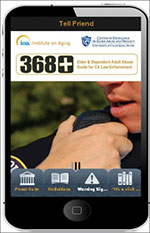 One in 10 older Americans experiences abuse or neglect each year, and the number of reported cases is growing at a time when resources necessary to properly respond are shrinking.
To assist California law enforcement personnel in dealing with this problem, the UC Irvine Center of Excellence on Elder Abuse & Neglect has partnered with the Bay Area's nonprofit Institute on Aging to develop a mobile app called 368+ Elder & Dependent Adult Abuse Guide for CA Law Enforcement.
"We want to provide law enforcement agencies and emergency first responders with a 'cheat sheet' about the signs of elder abuse and neglect, the penal code and other resources," said Dr. Laura Mosqueda, chair of UC Irvine's Department of Family Medicine and director of the university's geriatrics program and Center of Excellence on Elder Abuse & Neglect.
The resultant app – achieved with input from colleagues in law enforcement, civil law and medicine – features:
Warning signs of abuse, neglect and financial exploitation – what to look for in the home environment, caretaker behavior, senior or dependent adult with a disability;
An easy-to-reference summary of California Penal Code 368 (concerning the abuse of elder and dependent adults) and other common crimes/charges that may accompany a PC 368 arrest;
Quick tips on memory loss, people with dementia as witnesses, documenting the caretaker's role, and assessing such injuries as bruises and pressure sores;
Agency contacts for cross-reporting and victim assistance;
Short training videos; and
A way to sign up for bimonthly elder abuse news.
For a limited time, the app – designed to run on iPhones, iPads and Droid devices – is available at no cost, thanks to supporters including the Archstone Foundation, UniHealth Foundation, and the San Francisco Department on the Status of Women. It is also viewable on mobile Web browsers. To download a free app or learn more, visit www.centeronelderabuse.org/368ElderAbuseCA.asp.