September 21, 2016
Robert Monroe
,
UC San Diego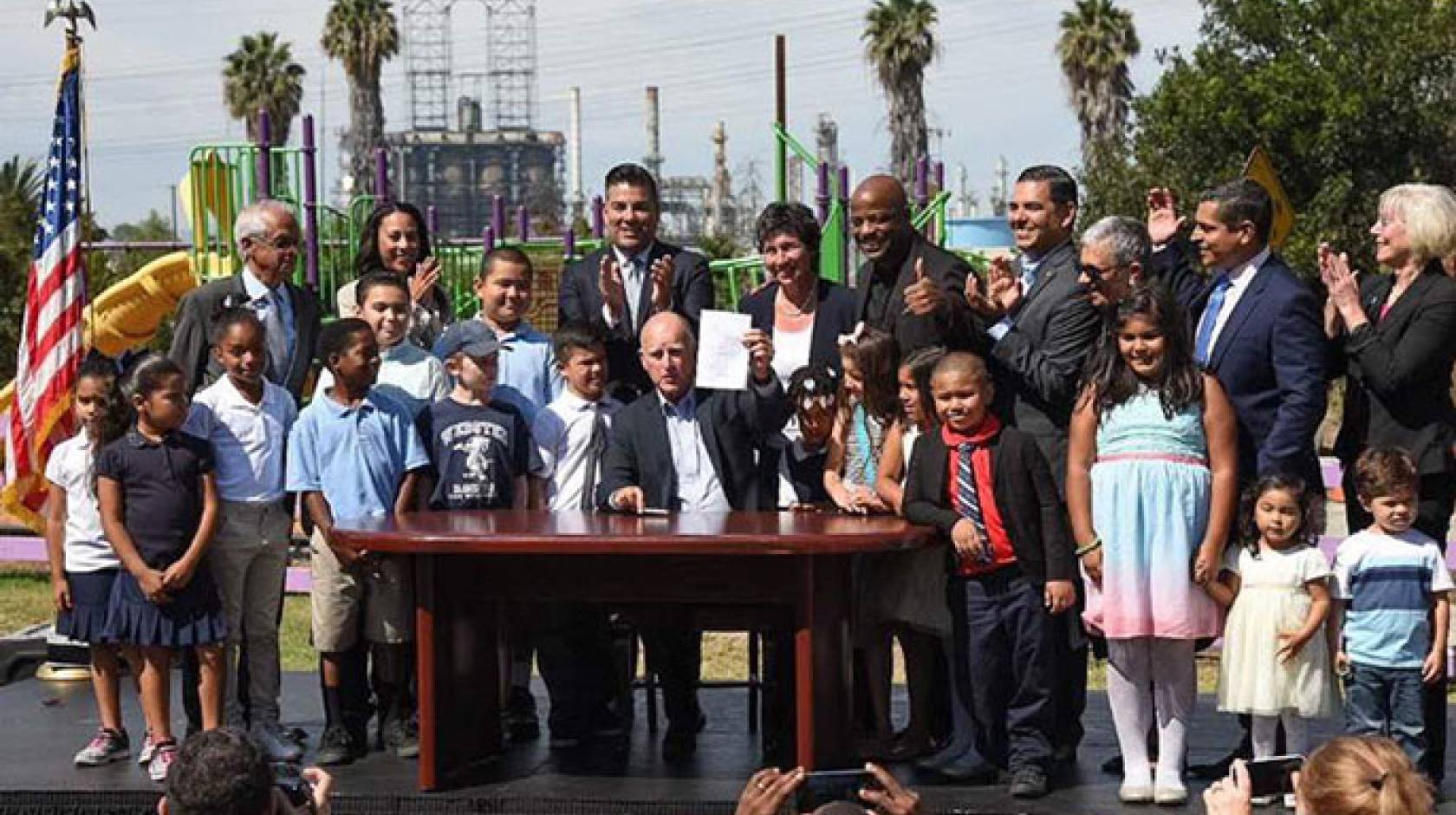 California Governor Edmund "Jerry" Brown signed into law today new state restrictions on the emissions of so-called short-lived climate pollutants such as methane, hydrofluorocarbons (HFCs) used in refrigeration, and soot and other forms of black carbon. The new law was inspired by decades of research by Scripps Institution of Oceanography at UC San Diego climate and atmospheric scientist Veerabhadran Ramanathan. The work uncovered the potential for such curbs to have a nearly immediate effect in slowing the pace of global warming.
Ramanathan attended the ceremony in Long Beach at which Brown signed state Senate Bill 1383, which requires a 40 percent reduction of HFCs and methane, and a 50 percent reduction of black carbon below 2013 levels by 2030.
"Through SB 1383, the State of California has thrown a lifeline for its people and to the 7 billion people on the planet," Ramanathan said. "The policies that California is implementing, if achieved worldwide, would cut the expected rate of global warming in half by 2050, save millions of lives, avoid millions of tons of crop losses per year, and slow down dangerous climate feedbacks such as melting ice caps and rising sea levels. The cost benefits of such a policy can far exceed the cost of enacting it."
The signing reflects Ramanathan's ongoing advisory role to Brown that has developed since Brown began his second stint as California's governor in 2010. Brown has articulated many of Ramanathan's research conclusions about the efficacy of controlling various forms of pollution and both have engaged religious leaders such as Pope Francis, who has framed environmental stewardship as an issue of social justice in his statements. Last year, Brown addressed the Pontifical Academy of Sciences, the Vatican organization of global science leaders of which Ramanathan is a member. He also came to the Scripps campus in October 2015 to attend the release of the University of California's plan for achieving carbon neutrality. The creation of the plan's executive summary, "Bending the Curve," was spearheaded by Ramanathan.
Curbing greenhouse gases beyond carbon dioxide
In 2013, Ramanathan and Brown traveled to India to help establish the India-California Air-Pollution Mitigation Program, in which the state exports emissions control technologies to subnational governments within India.
"Cutting black carbon and other super pollutants is the critical next step in our program to combat climate change," said Governor Brown at the signing ceremony. "This bill curbs these dangerous pollutants and thereby protects public health and slows climate change."
Ramanathan's research on the greenhouse effects of agents besides carbon dioxide ­– the main human-caused climate change agent – dates back to the 1970s. In the past decade, he has advanced the argument that carbon dioxide controls must be augmented by controls of other pollutants that accelerate the planet's greenhouse warming. In many cases, these pollutants are present in the atmosphere in much smaller quantities than carbon dioxide but their properties enable them to trap heat more efficiently than carbon dioxide. Some industrial gases, for example, have greenhouse effects hundreds or thousands of times greater than carbon dioxide.
Additionally he has found through field studies such as Project Surya in India that controls of some of these greenhouse agents – particularly the black carbon-infused smoke created when biomass is burned – have the potential to broadly improve public health and improve agricultural yields in regions that control emissions.