Praise from the Under Secretary of Education: Clone UC Riverside
Ted Mitchell, the U.S. Under Secretary for Education in the Obama White House, traveled to UC Riverside for a Friday afternoon talk on Oct. 14. And what he said was a challenge to the rest of the nation.
"I wish we could clone what is happening at UC Riverside and bring it to every college and university in the country," he said. "You are showing the kinds of partnerships, the kinds of commitments, that need to be made if we are going to reach President Obama's goal, to have the kind of higher education system that supports a diverse democracy."
He noted that his own time in office was coming to a close; he only has 98 more days before the inauguration of the next president. But he said during his tenure he is proud that the Department of Education has made college-going simpler.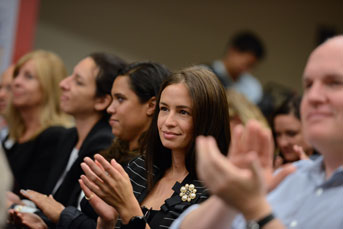 He pointed with pride to the creation of a federal College Scorecard that uses data that is comparable from college to college and lets prospective students search for the factors that are important to them. "Diversity and inclusion matter to today's students," he said, because they know that "this is their world."
He pointed to a simplified form for financial aid, a form known as the FAFSA. He said he and his daughter filled out the form in 29 minutes, tweeting their success to stir competition. He also said the Department of Education introduced America's College Promise, which would provide low income students to up to two years of college tuition free. While Congress has not funded the program yet, local communities have already begun implementing it, with 160 "promise" programs in operation so far.
Proud to talk about UC Riverside
He said federal scrutiny of for-profit college operations has increased, and those that do not provide good value to students will not be able to access federal student aid. He said he is grateful to the Riverside Community College District for working to take in students who were displaced by the recent closure of ITT Tech.
"But we also try to shine the spotlight on instititutions who are doing the right thing, and that is why I'm so proud to talk about UC Riverside everywhere I go," he said, standing near a proud Kim Wilcox, who has been the chancellor of UC Riverside since 2013.
He said UC Riverside is doing a lot of things well, including offering peer mentoring, academic support, and opportunities for research with world class faculty. "Living the Promise of higher education means not just getting into college, but walking across the stage," he said.
He noted UC Riverside's graduation parity. Students from all incomes and ethnic backgrounds graduate at approximately the same rate. And UC Riverside's graduation rates are better than the national average in every category. He looked at the audience of staff, faculty, and community members in the Highlander Union Building, and proclaimed, "That is extraordinary work. Those are extraordinary outcomes. Those are numbers to be proud of."
Mitchell pointed to UC Riverside's participation in the University Innovation Alliance, a group of 11 public universities sharing data and successful techniques to increase student success, as proof that the campus is willing to do the hard work of supporting the student population.
Diagnosing specific deficits in college preparation for specific students is the new holy grail for higher education, he said. "We need to embrace all the tools at our disposal." He pointed to child care centers, tutoring centers, and very specific mentoring and support programs like one at the City University of New York (CUNY) called "ASAP."
The increasing importance of partnerships
He also pointed to the importance of partnerships between four-year schools, state community colleges, and the K-12 system, because they align courses and make the path to college smooth. He visited with the Riverside County group earlier in the day, and he lauded the efforts of the Riverside County Education Cooperative.
"I know the work is hard, and it seems endless, and it probably is. But that shared commitment to create a large, diverse college cohort is necessary. The future is always invented in California, and to me that future looks pretty bright."
Mitchell said one of the things he likes best about the University of California, is the emphasis on entrepreneurial activity, including research into new technology. "It's not about filling jobs, it's about making jobs," he said.
Despite his short time left in office, he said he is convinced that higher education is just beginning on its glory years. He said investing in higher education is the best possible investment, not only for individuals, but for the government as well. He bemoaned the reality that California is disinvesting in higher education right at the time when people of color are the ones who are most hurt by tuition increases.
And at a symposium celebrating the launch of a UC Riverside campaign called "Living the Promise," he said that the federal government is trying to spread that philosophy nationwide. "Living the promise is good policy, and it is our moral responsibility," he said. "We must build a higher education system for America, and not just any America, but a diverse America."
Chancellor Wilcox, in remarks before the talk, said he felt immensely grateful for the leadership of Ted Mitchell, a former faculty member from Dartmouth College who was a dean at UCLA and president of Occidental College before he was nominated to the federal role by President Obama in 2013.
"He has three degrees from Stanford. He knows California, he loves California. He knows the University of California," Wilcox said. Mitchell is not just knowledgeable, but also a man of integrity. "He does good things for the right reason," Wilcox said. "To have someone like that willing to serve our government in a time like this in higher education, we are blessed."