President Obama honors 3 UC professors with national medals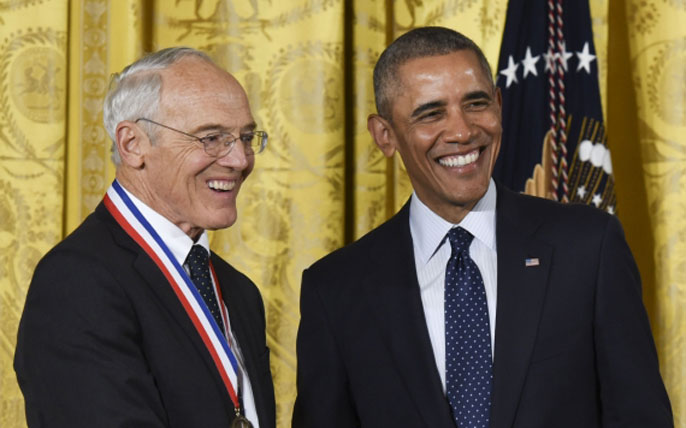 President Obama presented the nation's highest honors for advancing science and technology to three University of California faculty on May 19 at a special White House ceremony.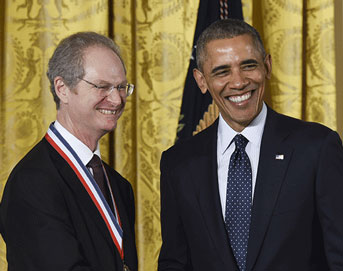 Paul Alivisatos, the former director of the Lawrence Berkeley National Laboratory and a professor of chemistry at UC Berkeley, received the National Medal of Science for his foundational contributions to the field of nanoscience, for the development of nanocrystals as a building block of nanotechnologies and for his leadership in the nanoscience community.
Two UC engineers received the National Medal of Technology, which acknowledges those who have made lasting contributions to the country's competitiveness and quality of life and helped to strengthen the nation's technological workforce.
Chenming Hu, a professor emeritus of electrical engineering and computer science at UC Berkeley, was honored for pioneering innovations in microelectronics, including reliability technologies, the first industry-standard model for circuit design, and the first 3-D transistors, which radically advanced semiconductor technology.
Arthur Gossard, a professor emeritus of materials science and of electrical and computer engineering at UC Santa Barbara, was recognized for innovation, development and application of artificially structured quantum materials critical to ultrahigh performance semiconductor device technology used in today's digital infrastructure.
"Science and technology are fundamental to solving some of our nation's biggest challenges," President Barack Obama said in a statement. "The knowledge produced by these Americans today will carry our country's legacy of innovation forward and continue to help countless others around the world. Their work is a testament to American ingenuity."
Alivisatos, a member of the National Academy of Sciences, is the Samsung Distinguished Chair in Nanoscience and Nanotechnology and the director of the Kavli Energy NanoSciences Institute.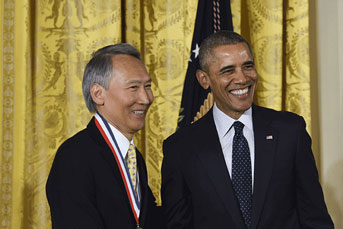 Hu is the Taiwan Semiconductor Manufacturing Company Distinguished Professor Emeritus and a member of the National Academy of Engineering and the National Academy of Inventors.
Gossard is a member of the National Academy of Engineering and of the National Academy of Science.
"I am honored to join the group of other scientists, engineers and technologists who have previously received this award," Gossard said in a statement. "I want to thank my family, teachers and colleagues for their huge contributions. And I am pleased by the recognition that the award brings to UC and especially to UC Santa Barbara."
Watch the full White House ceremony for the National Medals of Science and National Medals of Technology and Innovation, starting at 43:10. Paul Alivisatos receives his award at 53:55; Arthur Gossard at 1:03:00; and Chenming Hu at 1:04:45.