May 26, 2016
Andy Murdock
,
UC Newsroom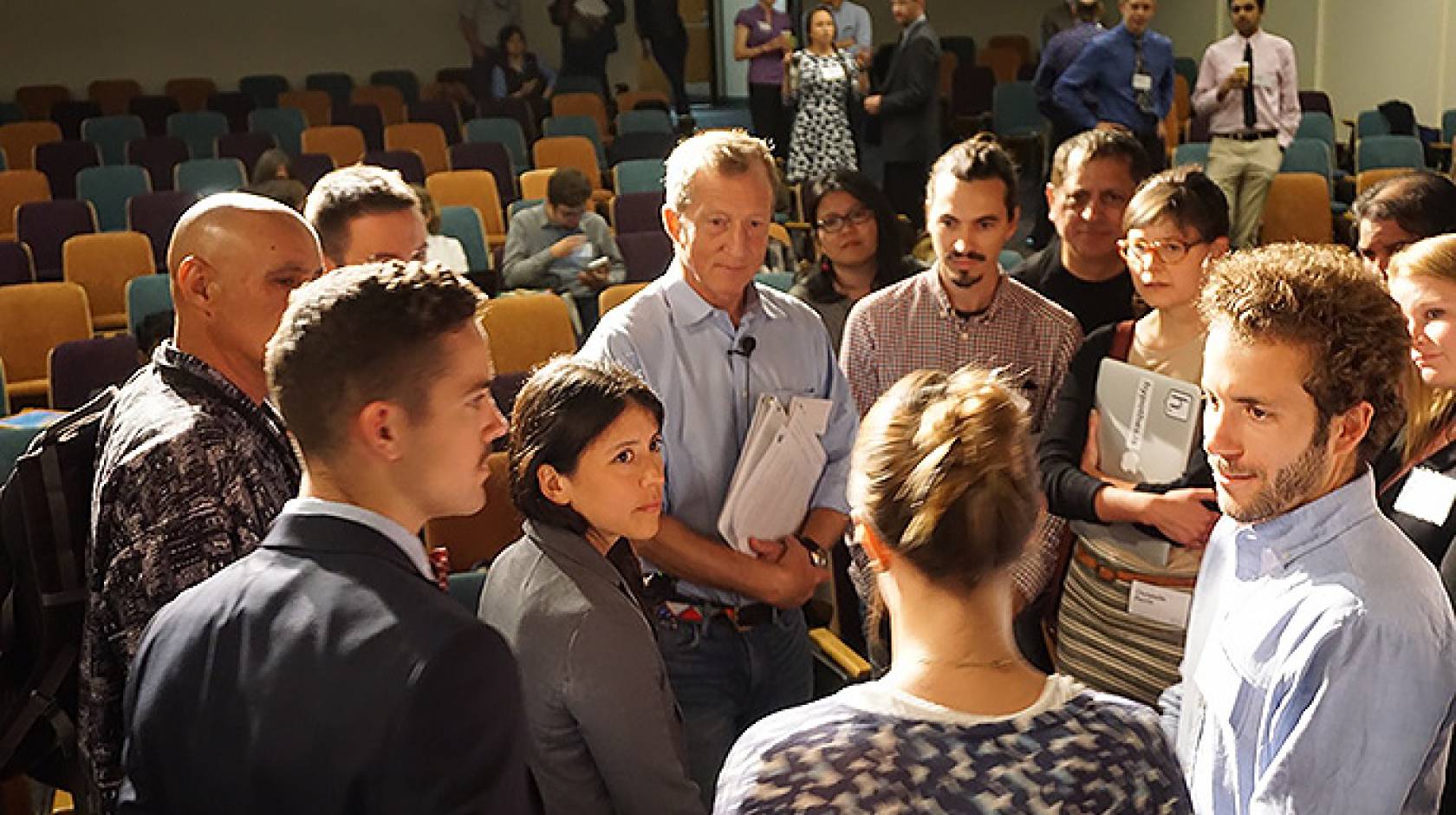 Credit: University of California
Noted business leader, environmentalist and philanthropist Tom Steyer has already hit many of his life goals, but there's one he's still working on: climbing all 12 of California's "fourteeners," the mountains over 14,000 feet.
Steyer told a story from one particularly difficult climb while speaking to a crowd of UC students and faculty and energy experts from Silicon Valley at the UC Carbon Slam event at PARC in Palo Alto this week.
Exhausted and picking his way down the sharp, jagged talus near the summit, Steyer's guide asked him, "Would you climb that mountain again?"
"Not in a million years," replied Steyer.
"Would you climb that mountain again if it solved climate change?"
"In bare feet," replied Steyer without hesitation.
To Steyer, climate change isn't just one issue on a long list, it's the foremost issue of the day – and one in which students must play a central role.
"Students have long held the role in society of being the ones who are willing to challenge the status quo," Steyer said. "Young people today are much more informed, and they care a lot."
Steyer thinks this passion will translate into action at the polls, where young voters have shown increasing apathy in recent elections.
A big piece of the puzzle has fallen into place: American businesses have rapidly gotten on board because it's now clearly in their economic interest.
"One thing people may not know is that around 98 percent of new electricity generation in the U.S. in the first quarter of 2016 came from renewable energy," Steyer said, citing data from the most recent U.S. Energy Infrastructure report.
What's missing, he said, is political leadership. Youth voters can help press the leaders of today into action, and they can become the leaders of tomorrow.
"If there are going to be technological and political solutions from the U.S., they're going to come from California," Steyer said. "It's essential that young people are a part of it."
Students leading the way
Steyer didn't need to tell the audience at Carbon Slam that young Americans are well-informed and care passionately about solving climate change: The presenters were living proof.
Organized by UC Santa Cruz professor Sue Carter, Carbon Slam gave students from all 10 UC campuses the chance to pitch their research to a panel of expert judges on the topics of climate change impact and climate change solutions. Each student had three minutes to convince the judges that their idea held the greatest potential to have an impact on the fight against climate change.
UC Berkeley's Alexis Shusterman won the climate impacts portion of the competition and was the people's choice winner for her work with BEACON (Berkeley Atmospheric CO2 Observation Network), which focuses on an inexpensive way to help cities and counties assess the effectiveness of their policies.
"Right now, there's no way for policymakers to know which policies are working and which are not," Shusterman said.
You can't measure success unless you can measure the problem. Shusterman's work helps regions assess whether existing measures are working and take a targeted, local approach to remaining problems.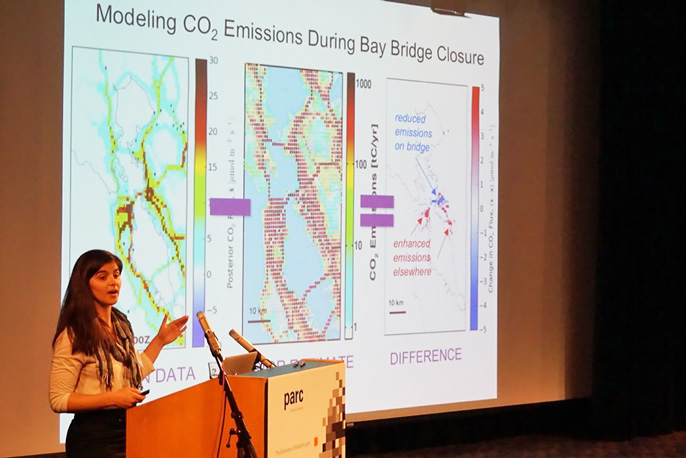 For climate change solutions, the judges awarded the first place prize to Eric Walters from UC Davis, who is working on developing biofuels using a novel fungal intermediary that could help bring the cost of manufacturing down to a level competitive with petroleum-based fuels.
The people's choice award for climate change solutions went to the team out of UC Santa Barbara. Shannon Walker, Heather Hochrein, Erin Williamson and Kelsey Johnson developed an online marketplace called EV Match that connects people with electric cars to people with available private charging stations – a sharing-economy tool that helps solve the problem of insufficient charging stations for electric vehicle drivers.
Empowering the next generation
The Faculty Climate Action Champions, who also presented at Carbon Slam, are not only pushing climate research forward, they're also taking on the challenge of training students in the broad skills that will be needed to take on the challenges of climate change in the real world.
UC Irvine's Steve Allison is developing partnerships with industry to help train climate leaders and give grad students options to make a difference outside of academia.
"Graduate students need practical training and preparation for diverse career options," Allison said, noting that while only a small fraction of graduate students land academic positions, their skill set makes them highly qualified for jobs in connected industries that could have just as much impact.
NextGen Climate, the environmental advocacy organization founded by Steyer, sees a potential for a youth impact right now. Their current campaign is spreading out across college campuses and using social media to mobilize the youth vote in 2016 around climate issues.
"2016 is the year to make clean energy central to the conversation," Steyer said. "Young people have got to be part of the solution; they've got to participate."