October 30, 2018
Tamara Straus
,
UC Newsroom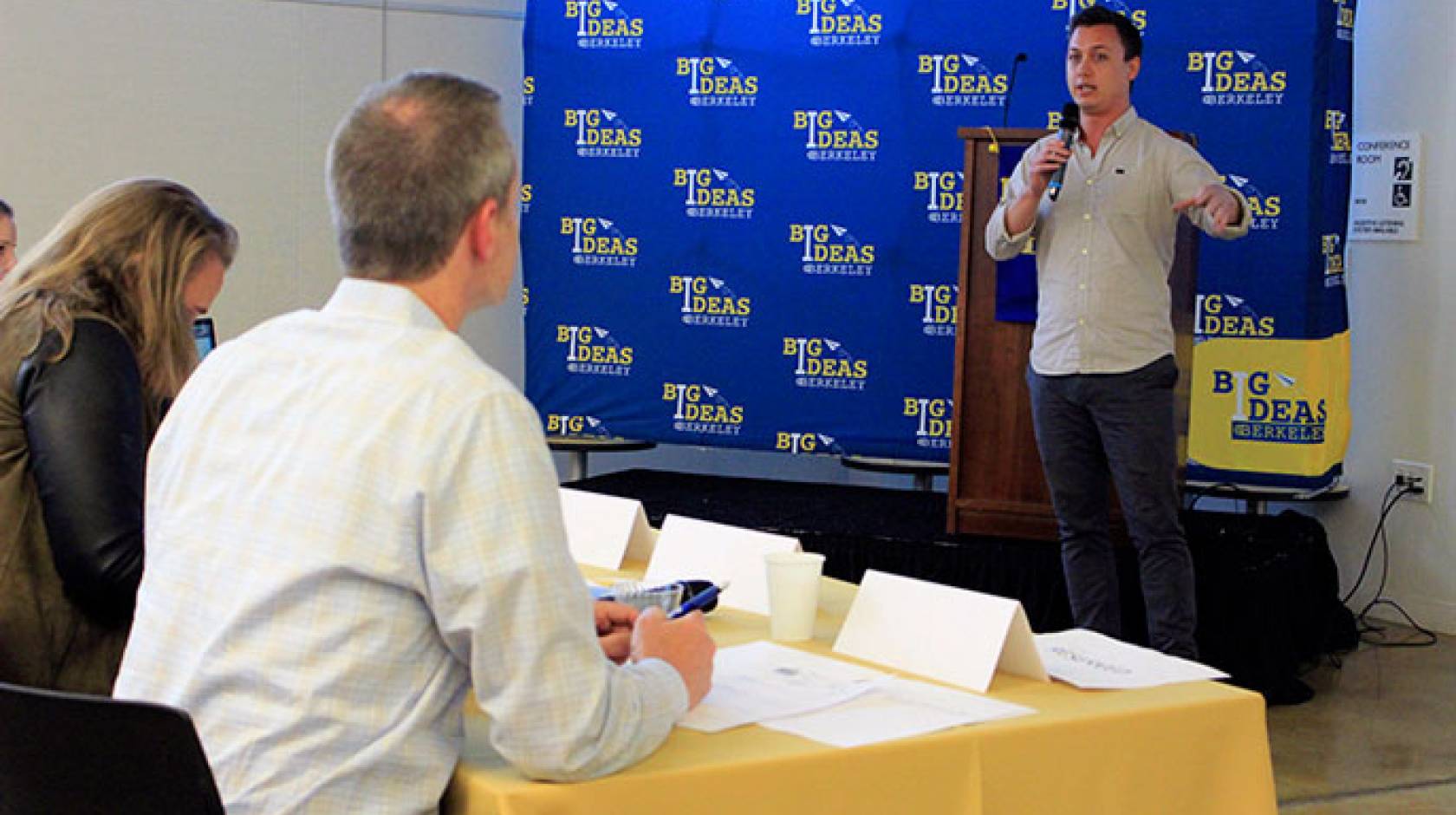 Credit: Jeremy Snowden/UC Berkeley
Election Day on Nov. 6 is not the only deadline in our midst. On Nov. 14 at 12 p.m. PST, the University of California's Big Ideas Contest will stop taking submissions for the 2018-2019 student innovation program, and begin sorting through the next generation of bright ideas.
Big Ideas may not attract as much attention as the midterm elections; however, the contest, now in its 12th year, has been a catalyst, specifically for a more innovative, equitable and just future.
Consider three recent winners. Acari, a 2018 Food Systems winner takes Mexico's invasive armored catfish, or "devil fish," and transforms it into food products to increase employment in rural fishing communities and provide a healthy alternative to beef jerky. Developed by Mike Mitchell and Sam Bordia, two graduates of the UC Berkeley international development master's program, the startup is currently working with Mexican communities to process and commercialize the fish and aims to roll out its El Diablito jerky by the end of the year.
Or consider Innovis Medical, a mobile blood clotting test that aims to have applications worldwide, from American hospitals to the frontlines of the war in Syria to rural areas in Sub-Saharan Africa. The 2018 Big Ideas winner in the Hardware for Good category (sponsored by Autodesk) is being developed by Jeffrey Lu and Johnathon Li, UC Davis graduate students in biomedical engineering and animal science. The founders are working with UC Davis Medical, where civilian and military surgeons are using the Innovis device to directly test human blood from cardiac patients alongside status quo devices.
Then there's ZestBio, the invention of two UC Berkeley biochemical P.h.D graduates Ryan Protzko and Luke Latimer. ZestBio, a 2017 winner in the Energy & Resources Alternatives category (launched, along with Food Systems, by the UC Office of the President), aims to harness the power of synthetic biology to upgrade agricultural waste into specialty chemicals. Imagine a juice bottle line that transforms the 10 million metric tons of citrus peel waste into a product that is safer than current plastics. ZestBio has received additional support from the Skydeck startup accelerator and the National Science Foundation.
Big Ideas is open to undergraduates and graduate students at all 10 UC campuses, and awards prizes ranging from $2,000 to $10,000. It is not a typical student innovation contest. Rather, it is a nine-month project incubation, mentoring and application process in which back of the napkin ideas often emerge as viable for- and nonprofits. The contest is split into two rounds: a pre-proposal round due on Nov. 14 and a full proposal round due on March 6, 2019. Since 2006, Big Ideas has inspired more than 6,000 students, funded 478 ventures and disbursed $2.4 million in prizes to teams that have gone on to secure more than $650 million in investment.
Perhaps most notable to Big Ideas participants is the way the contest plugs students into an ecosystem of mentors, academics, scientists, tech experts, industry leaders and investors, enabling them to access the full spectrum of resources needed to bring their ideas to fruition.
"In entrepreneurship, you're not selling your idea, you're selling your network," said Innovis Medical's Li. "Big Ideas participants enter the contest's well-oiled machine, and their biggest advantage is their network."
To draw the widest array of participants, Big Ideas is supporting a second year of its student Innovation Ambassador program. Each UC school will have a designated student "innovation ambassador" responsible for tapping into social entrepreneurship resources, spreading the word about the contest, and supporting students and the development of their social ventures as they move through the competition.
Big Ideas alumnus Kirk Hutchison, team lead for the Open Viral Load project out of UC San Diego, was a first place winner in the 2016 Big Ideas Global Health category. Said Hutchinson, "As a participant in Big Ideas, I was forced to stop looking at challenges like HIV diagnostics as purely a technology problem. I began to consider not only how to make the business case for my project, but also what it really takes to bring an innovation from the lab into reality."
Another perk offered again this year is remote advising, which allows students to get advice to finetune their project ideas and develop effective proposals as well as get answers to questions about the contest.
Phillip Denny, director of Big Ideas, said the contest is increasingly being viewed as an initial point of contact for catalyzing and engaging new student innovators, whose ideas are then supported by startup incubators such as Skydeck, Foundry, Launch, Y Combinator, Better Ventures and I Corps.
"Big Ideas," said Denny, "is providing the ideal flow of entrepreneurial talent and innovations that feed in to the rest of the innovation and entrepreneurship ecosystem at the University of California."