April 28, 2023
Robyn Schelenz
,
UC Newsroom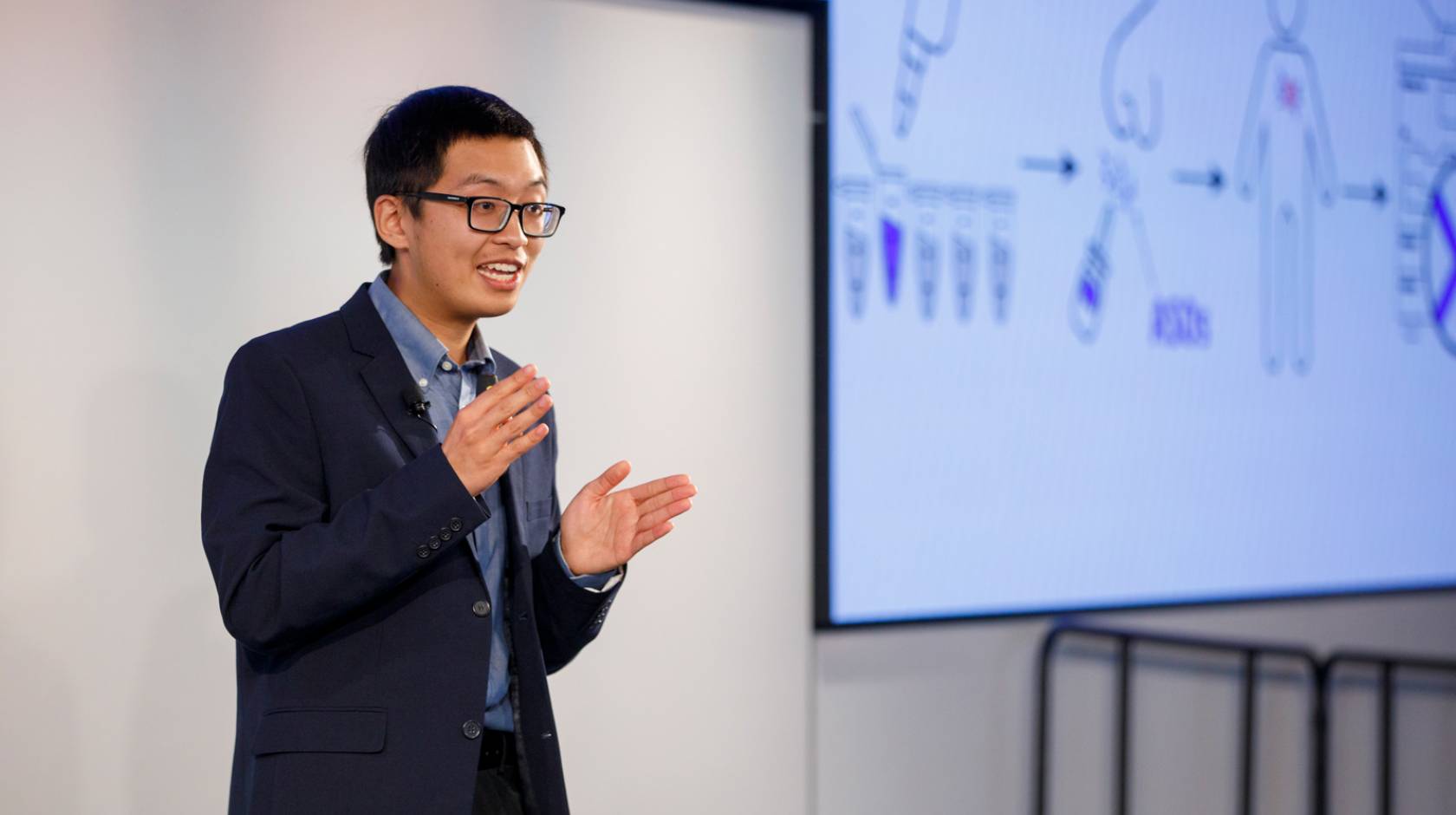 Can we recycle carbon dioxide from air? Upgrade our Covid vaccines? Provide earlier support for children with ADHD?
UC graduate researchers will explore those questions and more at Grad Slam, a UC-wide communications competition that will be livestreamed Friday, May 5 at 10:30 a.m.
Graduate student researchers, representing each of UC's 10 campuses, have three minutes or less to captivate and educate the audience as they summarize years of research into bite-sized talks. Each contestant has already won their campus Grad Slam competition and is now vying for bragging rights and a share of $14,000 in prize money at the systemwide finale.
Compressing years of meticulous work into a three-minute explainer isn't just a challenge for challenge's sake — it's a way to hone students' communication skills so they can effectively share the value of their research with anyone and with the world.
"Many of our 26,000 Ph.D. students are doing work that will, no doubt, help change the world and improve the way we live," said Pamela D. Jennings, UC executive director of graduate studies. "Grad Slam is a great showcase for some of the exciting research being done by UC graduate students, but it really is just a taste of what is out there. Grad Slam is also an outstanding professional development opportunity for our students in that it gives them a way to hone important communication skills. The ability to convey why their work matters in an accessible and interesting manner helps to make the value of research relevant to more people. No matter who you are, research impacts you and the way you live."
Now in its eighth year, Grad Slam's mission is to engage the public with the breadth of graduate research happening across the university while helping students develop communication skills that can help them get research funding, land jobs and inspire others about their work now and down the line.
The event will be held at LinkedIn's San Francisco headquarters and emceed by UC President Michael V. Drake ,M.D. The public is invited to watch the livestream and vote online for their favorite talk.
Winners are chosen by a panel of judges that includes leaders in higher education, the arts, and research, along with a student tapped by their local high school to represent the generation of scientists and scholars to come.
The first-place finisher will take home the systemwide Grad Slam trophy, or Slammy, as it is affectionately known. The judges will also award second and third-place prizes. But that's not all: Another judge — that is, viewers like you — will select the People's Choice winner by voting online for their favorite talk as soon as the presentations are concluded.
Students who take part in Grad Slam are invited to participate in public speaking workshops and even one-on-one coaching to sharpen their presentation skills. The top 10 finalists competing May 5 have spent months preparing for the contest, beating out dozens of competitors at campus contests.
But the value of the competition goes far beyond prizes for the Grad Slam participants.
"You may have this cool discovery, but if it's really going to be able to change the world, you need to be able to communicate it to people who don't do this every day," said Wei Gordon, last year's People's Choice winner, who gave a short talk on new therapeutics that could counteract some of sugar's harmful effects. "When you can explain what you do, you can find those collaborations and your research can advance much faster," she said.
Tune in to watch the livestream May 5 at 10:30 a.m.