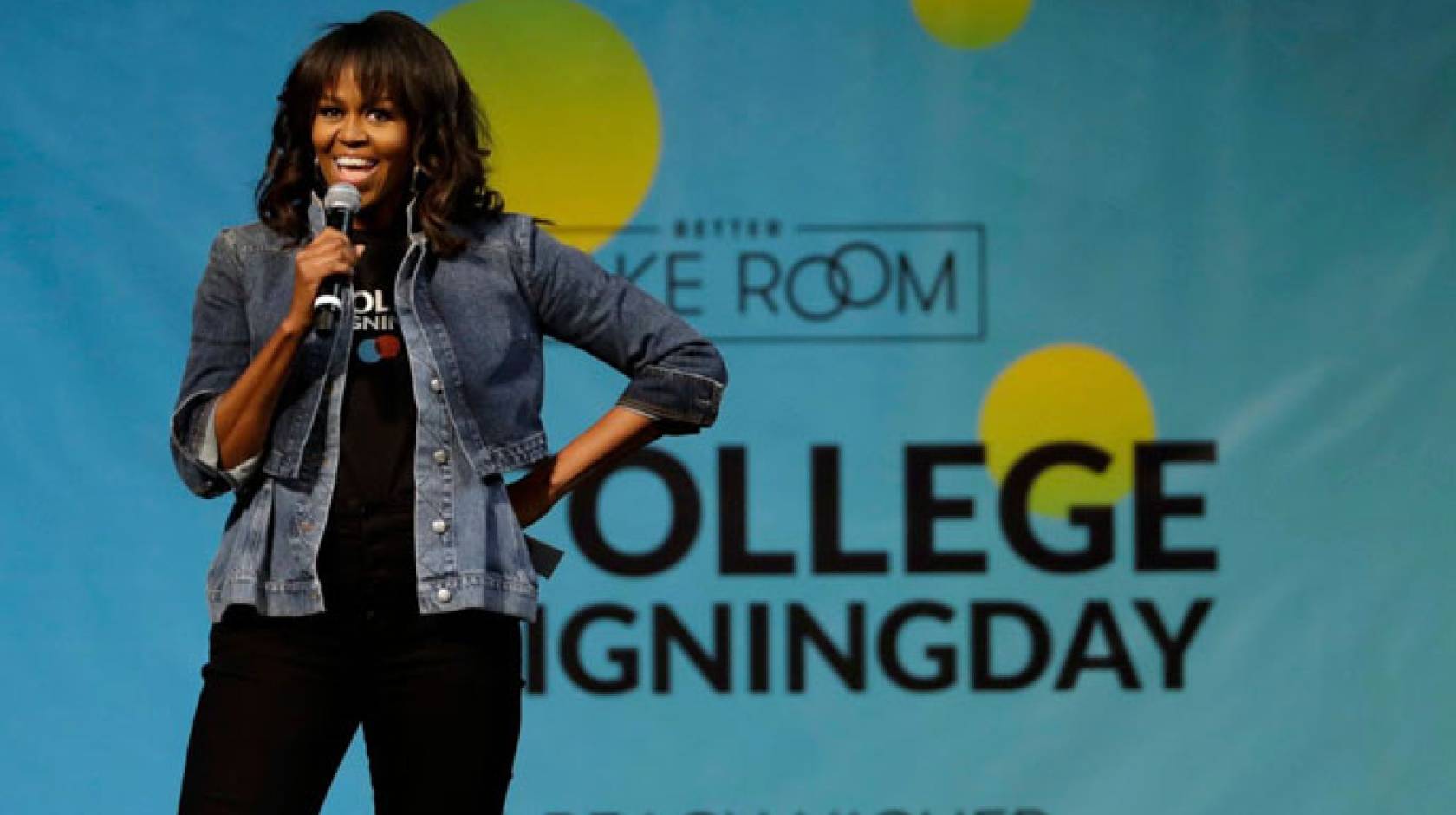 Credit: Matt Slocum/AP/Shutterstock
Former first lady Michelle Obama will join the University of California May 1 in cheering on thousands of California students as they take the bold step of committing to college.
The University of California has been selected by Reach Higher, the college access and success initiative launched by former first lady Michelle Obama during her time at the White House, to co-host its 2019 College Signing Day event on May 1 at UCLA's Pauley Pavilion. UC's other undergraduate campuses will hold simultaneous celebrations for students in their respective regions and stream the UCLA event.
College Signing Day is a national celebration of all high school seniors and transfer students, especially those from low-income, underrepresented and first-generation college-going backgrounds, who have committed to pursuing higher education — whether at a community college, a four-year college or university, or a professional training program, or by joining the military.
The high-energy celebration with Mrs. Obama will feature celebrities, athletes and other performers, all of whom are coming out to recognize students' academic achievements and to offer encouragement and guidance on how to make the most of their future educational opportunities.
The goal of the event is to give graduating students, both high school seniors and transfers, high-profile recognition for their choice to pursue higher education: think the Golden Globes or a Super Bowl parade. In fact, luminaries from those very events will join the festivities, but it's the students themselves who are the real stars of the show.
I'm excited to join the #CollegeSigningDay celebration with @MichelleObama and @UCLA May 1st! See you there! #BetterMakeRoom https://t.co/11Q7KyLC3i

— Usher Raymond IV (@Usher) March 6, 2019
So excited to join my friend @MichelleObama for #CollegeSigningDay at @UCLA to celebrate the pursuit of higher education! Mark your calendars for May 1, y'all!#BetterMakeRoom https://t.co/qN1pj2fHNe

— Eva Longoria Baston (@EvaLongoria) March 5, 2019
I can't wait!!! https://t.co/FeC9Q2BVyn

— KELENDRIA ROWLAND (@KELLYROWLAND) March 5, 2019
For many students, committing to education is the start of something extraordinary. Michelle Obama knows this herself: her high school guidance counselors did not encourage her to aim high when it came to college, and neither of her parents attended at all. But she was undeterred, and earned degrees from both Princeton University and Harvard Law.
"There are few things in life that are as transformative as a college education," said UC President Janet Napolitano. "We are excited to host a celebration of California students taking this significant step toward a brighter future."
Driving opportunity at UC and across the state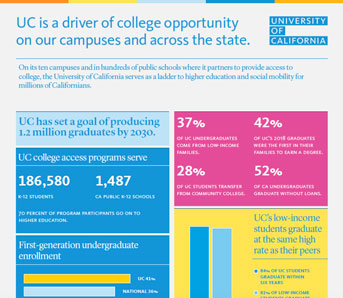 The University of California has long stood out among top-tier institutions in serving as a ladder to opportunity and social mobility.
Its role in serving large numbers of low-income and first-generation college students — who go on to graduate, succeed in the workforce and serve as role models in their communities — has led it to top rankings for institutions that serve as engines for social mobility and that contribute to the public good.
More than 40 percent of UC undergraduates are among the first in their families to attend college, and 37 percent come from low-income households. Resources are in place to support these students across the system, and they continue to expand their scope.
UC recently launched a systemwide effort to connect first-generation college students with faculty, alumni and older students who are also the first in their families to college, and to provide them with community and resources. UCLA, the host of this event, even has a first-generation student dorm.
Beyond its own campuses, UC is at work in high schools and community colleges across the state to help students, particularly those who are first-generation, low-income and from underrepresented groups, make it to college. In more than 1,500 public schools, the university offers academic and advising support so students can prepare, apply and pay for college. And UC's Transcript Evaluation Service helps students know exactly which courses they need to take in order to be eligible for admission to UC and the California State University system.
"We are proud to partner with the University of California, which is committed to opening the doors of college opportunity to all Californians and students across the country," said Eric Waldo, Reach Higher's executive director. "College Signing Day is a special tradition, and we are excited to celebrate our fifth anniversary at UCLA with students who we know will change the world."
The festivities are being held May 1 to coincide with a common deadline for students to respond to offers of admission at most colleges and universities.
More than 9,000 California high school and community college transfer students will be selected by their respective schools and institutions to attend the UCLA event. Thousands more will participate in regional College Signing Day festivities that are being held simultaneously on UC's eight other undergraduate campuses.
Participation is limited to those who have been invited by their schools and districts, but everyone is welcome to watch the livestream of the celebration.