January 9, 2023
UC Newsroom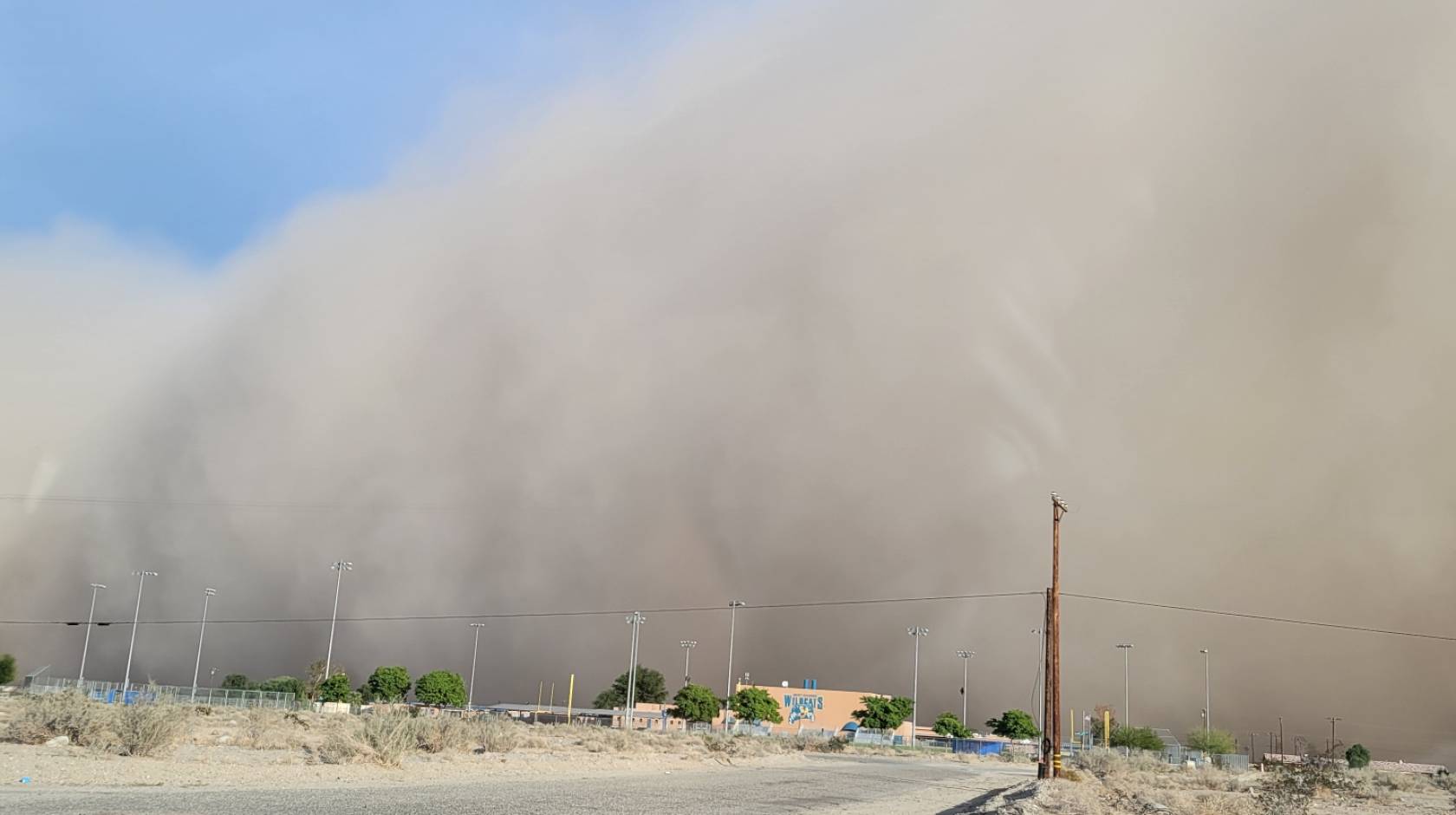 Credit: National Weather Service San Diego
A massive dust storm brought inland Southern California to a temporary halt last October, causing near blackout conditions across an area stretching from the Coachella Valley and the Salton Sea all the way to the Imperial Valley.
Although dust storms are not uncommon in the desert southwest, evidence suggests that they are growing in frequency and severity as the planet warms, bringing both immediate hazards and longer-term problems for human health, the economy and the environment.
Enter UC-Dust, a new initiative led by UC San Diego climate scientist Amato Evan, along with researchers from UC Davis, UC Irvine, UCLA and UC Merced. The team will assess current dust storm activity in the state and how it might change in the future. They will share their findings with state policymakers and community groups as part of a new effort to develop strategies for mitigation and adaptation to what they call a "looming dust storm crisis."
The UC-Dust initiative is just one of the 21 exciting new projects that are being funded through $16.4 million in grants from UC's Multicampus Research Programs and Initiatives (MRPI). Awarded every two years through a highly competitive application process, the MRPI program leverages the renowned research capabilities of the UC system to develop real world solutions to significant problems facing California and the world. To be eligible, applications must draw on multidisclipinary academic expertise from at least three campuses. This year, 96 applications were received. Since 2009, the University has made over 120 MRPI grants totaling over $155 million and involving more than 730 UC faculty members. More than a quarter of that funding has been devoted to projects related to climate.
"The MRPI grant program fuels discoveries in areas that are critical to the lives of Californians and the future of the state," said Dr. Theresa Maldonado, Ph.D., UC's vice president for Research & Innovation. "By drawing on the expertise of researchers from diverse disciplines and campuses, the MRPI program taps into UC's collective strength to help California find solutions to its most pressing needs."
Helping California's most vulnerable communities
Many of the projects funded this year bring into sharp focus the overlap between climate change and health equity and prioritize research projects designed to benefit vulnerable or historically marginalized communities.
For instance, a $1.16M MRPI grant, led by an early-career scientist at UC Davis, will help alleviate air pollution hot spots in low-income neighborhoods.
California has more air pollution than any other state, but some communities bear the brunt of the health impacts. A state program launched in 2017, the Community Air Protection Program, aims to improve air quality in the low-income communities of color where concentrations of toxic air pollution tend to be highest.
With funding from the California Air Resources Board, UC Davis' Dr. Anthony Wexler has developed cost-effective, scalable new tools for measuring airborne pollutants, including toxic metals and organic compounds. The MRPI grant will support three early-career scientists at UC Davis, UC Irvine and UC Merced in bringing these tools to local communities and collaborating with residents and government agencies on efforts to improve air quality.
Addressing environmental challenges
Several other MRPI grants focus on challenges related to natural resource management, including a $2.5M grant led by UC Berkeley's Holly Doremus that will couple state-of-the-art computing and locally sourced knowledge to develop new approaches for managing sea level rise and increased salinity in the San Francisco Bay Delta.
Other grants focus on California's built environment. With 40 percent of greenhouse gas emissions attributable to construction and building use, a new California Center for Green Buildings Research will harness the expertise of researchers from UC Berkeley, UC Davis, UC Irvine, UCLA and UC Santa Barbara to develop new approaches for minimizing the environmental and human health burdens of buildings throughout their supply chains.
Prioritizing health equity
Multiple grants also support research into how COVID-19 has affected communities across the state. California is home to the largest population of Indigenous peoples in the U.S., yet there are significant gaps in access to health care and culturally sensitive health information. Native peoples have among the highest rates of hospitalization and death from COVID-19, and the lowest rates of vaccination. UC Merced's Anna Epperson will lead a collaborative project with UC Santa Cruz, UC San Francisco and California Native communities to assess how social networks affect decision-making with a focus on improving health interventions and outcomes for California tribes.
Other health equity projects funded through the MRPI grant program include a social mapping initiative to support disability justice; a program for early detection of diabetes-related blindness in vulnerable California adults; efforts to understand and address anti-Asian violence, and a project to strengthen and expand health equity and research policy at UC Irvine, UC Berkeley, UC Merced and UC Riverside.
See the full list of projects awarded 2023 MRPI grants here.