October 22, 2019
Julia Ann Easley
,
UC Davis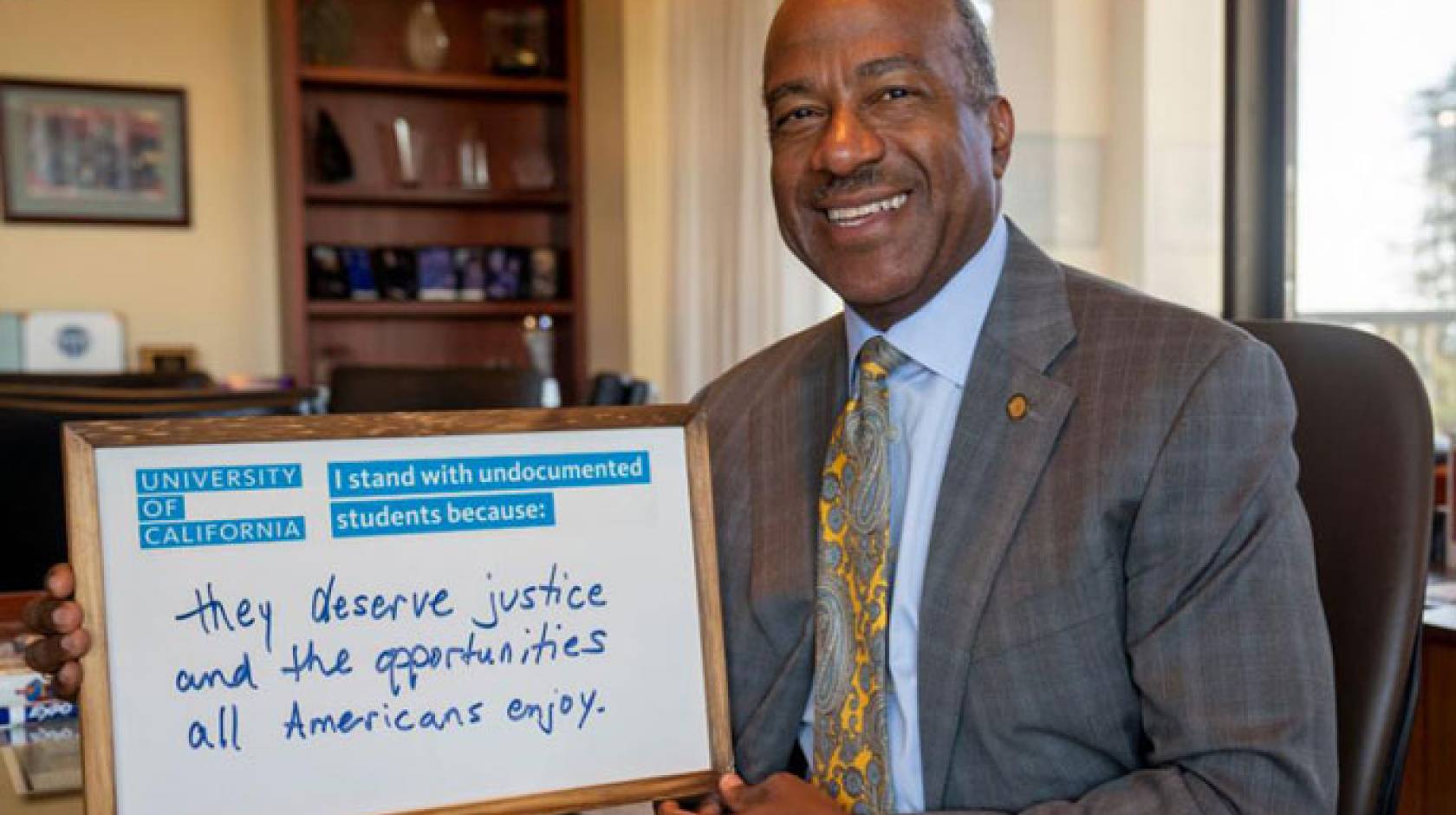 Credit: Gregory Urquiaga/UC Davis
Members of the campus community are encouraged to stand with undocumented students through participation in a University of California awareness campaign beginning Tuesday (Oct. 22).
The "I Stand With …" campaign aims to show support for undocumented students in the lead-up to Nov. 12 oral arguments before the U.S. Supreme Court in a lawsuit brought by UC. The university is challenging the Trump administration's decision to abruptly rescind the Deferred Action for Childhood Arrivals, or DACA, policy that has allowed about 700,000 young people — brought to the United States as children — to live, work and study here.
The campaign encourages people to share why they stand with UC's approximately 4,000 undocumented students.
How to participate
In some high-traffic areas on campus, whiteboards or chalkboards will be available for people to use on social media: Write down your thoughts, snap a photo and post! The organizers are still working out details on where those boards will be.
Or, download the "I Stand With ..." whiteboard template, write your message on it and post it alone or in a video clip. Suggested hashtags are:
#UCDACA
#UC4DACA
#UCisHome
#HomeisHere
#SCOTUS
#DACA
UC also invites people to sign an online pledge to stand with DACA recipients and promote the pledge through social media.
Student group involved
SPEAK, a student-run organization focused on supporting and empowering undocumented students at UC Davis, will be promoting the campaign. "DACA recipients live, work and contribute to our communities," said Angel Cardoza, a senior and SPEAK officer. "Every recipient and their families deserve to stay in the country that is their home."
Group members will have templates and a photo booth at the Student Community Center in the afternoon to help people share their support. In the evening, they will lead an informal dialogue about the politics around DACA, opportunities to participate in Coalition for Humane Immigrant Rights activities, and the importance of immigrants.
Highlighting resources
During the campaign, UC is highlighting the legal case, its proposed solution to protect DACA recipients and the resources the university provides for its undocumented community.
The UC Immigrant Legal Services Center, based at the UC Davis School of Law, is providing information on how to renew DACA and the center's resources.
Also at UC Davis, the AB540 and Undocumented Student Center offers students community, coordinates resources for them and supports their success.
On the day of the oral arguments, UC and its advocacy partners plan to rally on the steps of the Supreme Court. While the arguments themselves will not be livestreamed, the court makes audio recordings available on Fridays.