June 9, 2022
Abby Butler
,
UC Santa Cruz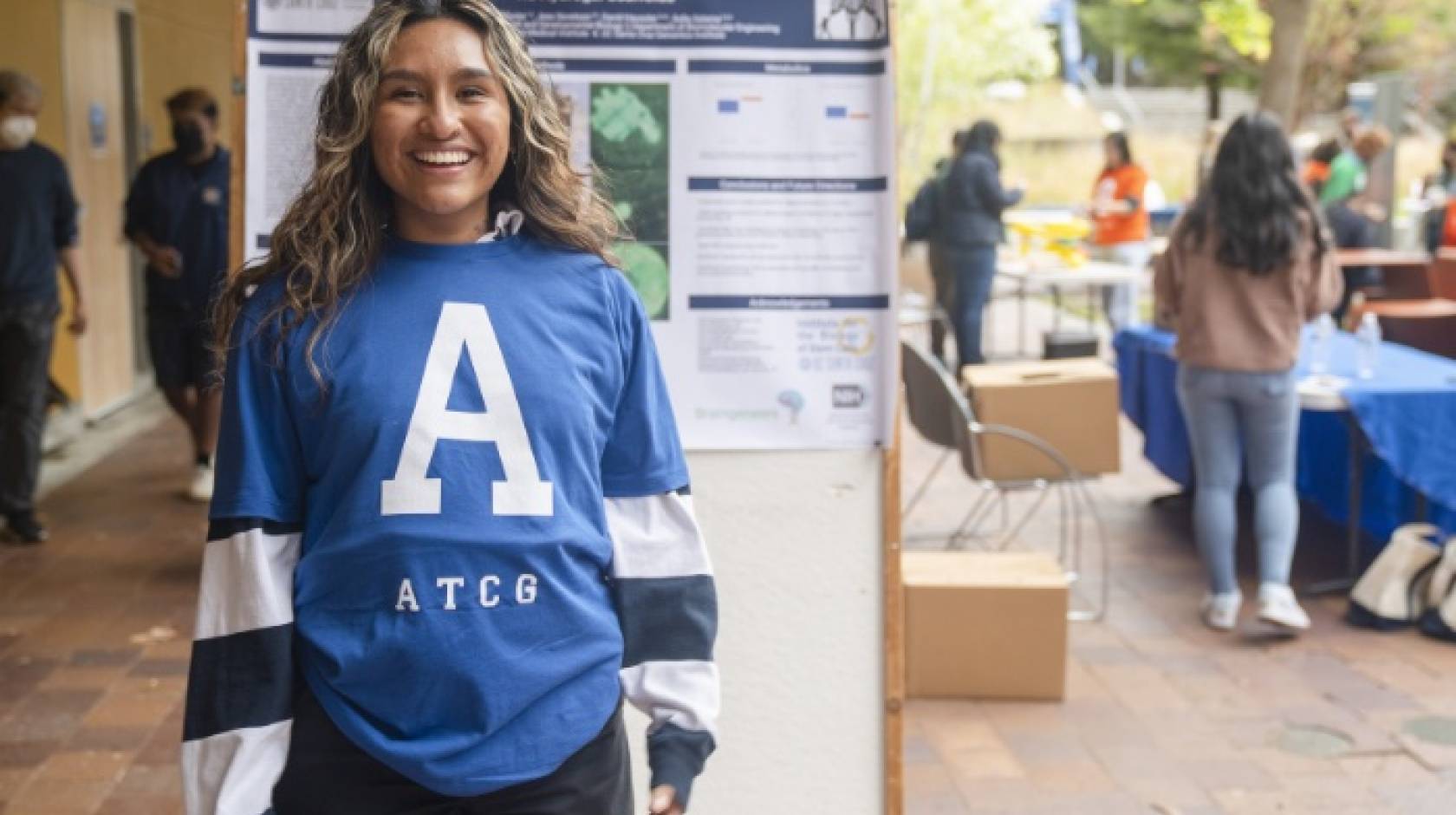 Twenty leading universities – including UC Irvine, UC Santa Barbara, UC Santa Cruz and UC Riverside – today announced the formation of the Alliance of Hispanic Serving Research Universities, which aims to increase opportunity for those historically underserved by higher education.
The new alliance includes every university that has been both categorized as R1—very high research activity—by the Carnegie Classification of Institutions of Higher Education and designated as Hispanic Serving Institution by the U.S. Department of Education.
The HSRU Alliance aims to achieve two key goals by 2030: double the number of Hispanic doctoral students enrolled at Alliance universities, and increase by 20 percent the Hispanic professoriate in Alliance universities.
"We are thrilled to join our partners in this collaborative effort to enhance opportunities for underserved and minority students," UC Santa Cruz Chancellor Cynthia Larive said. "Since obtaining HSI status in 2012, UC Santa Cruz faculty and staff have worked intentionally to enhance student success. I'm proud that our campus has shown true leadership in this arena and is committed to effecting real change."
This new concerted nationwide effort to increase educational opportunity underscores the efforts already underway across UC campuses to increase faculty diversity and support the success of Latinx, low-income, first-generation, and underrepresented students, and to prepare them for rewarding careers once they graduate.
Prior to the formal announcement today of the HRSU Alliance, the universities began working together on several initiatives. The first project, funded by the Mellon Foundation, is focused on supporting more Ph.D. students in Latino humanities studies and guiding them to academic careers. A second initiative, funded by the National Science Foundation, expands opportunities for Hispanic students in computer science.
The alliance began during the pandemic through conversations and distance-enabled meetings among presidents and chancellors. The effort took hold and grew into a determination to formalize the relationship announced today.
"After years of working on its creation, I am thrilled that we can now announce this important alliance," said UC Irvine Chancellor Howard Gillman. "We are all committed to using the distinctive characteristics of the Alliance of Hispanic Serving Research Universities to make rapid progress in advancing Hispanic student enrollment in doctoral programs and broadening pathways to the professoriate."
UCI has been committed to increasing the numbers of Latino graduate students and faculty. Over the past 10 years, the campus has nearly doubled its Latino Ph.D. students (217 to 416) and faculty (108 to 182). As of 2021, 7 percent of the faculty and 13 percent of Ph.D. students are Latino.
UC Santa Cruz is one of only two institutions in the nation that holds the honor of being a Hispanic Serving Institution, an Asian American Native American Pacific Islander Serving Institution and member of the Association of American Universities. And the campus is committed to creating educational equity that will help lead to real, transformative change.
UCSC alumnus Jacob Martinez, a leading voice in technology access and education who serves as an external adviser to the campus, said he expects the unified efforts of the universities will increase educational equity across the United States.
"UCSC is poised to be the leader in building Latino leadership throughout California and beyond," Martinez said. "By making a commitment to double the number of Latino doctorate students the alliance will have a positive impact on Latinos and non-Latinos communities for generations to come."
Martinez (Oakes '04, evolutionary biology) founded Digital NEST in 2014. The nonprofit, in Watsonville, Salinas, and Gilroy, is a technology workforce development hub providing youth in rural communities with high-demand technology skills.
UC Santa Cruz leaders are focused on creating lasting change across campus that will serve current and future students. Top campus leaders have continued to work closely with the Division of Student Affairs and Success and its Hispanic-Serving Institution Initiatives team.
Since 2015, UCSC has received $16.6 million through eight federal Hispanic Serving Institution grants to support institutional transformation. UC Santa Cruz's efforts are focused on increasing its servingness as a Hispanic Serving University while also working to advance the student experience.
In collaboration with scores of faculty and staff across campus, the Hispanic Serving Institution Initiatives team has launched and continued a range of programs and services to support undergraduate and graduate students in their academic success. A $3 million grant awarded in fall 2020 is focused on supporting graduate student success, which allows UC Santa Cruz to address inclusion through the full educational pipeline.
To advance its research impact, diversify its faculty, and provide greater access to research and learning opportunities for its students, UC Santa Cruz announced earlier this year that the campus will be hiring 100 additional faculty over the next decade, one of the most significant faculty hiring efforts the campus has pursued since its founding more than 50 years ago.
The HSRU alliance universities are engaged in thousands of research projects in the arts and humanities, STEM, health sciences, social sciences and other fields with world-changing outcomes. In 2019-20, Alliance universities produced 11,027 doctoral graduates, of which 13 percent were Hispanic.
Prior to the formal announcement of the HRSU Alliance, the universities began working together on several initiatives. The first project, funded by a $5 million grant from the Mellon Foundation, will conduct cross-regional research and train doctoral students in Latinx humanities. A second initiative, funded by the National Science Foundation, expands opportunities for Hispanic students in computer science.
Representing nine states, the 20 HSRU Alliance universities together enrolled 766,718 students in the Fall of 2020; of those, 33 percent were Hispanic. In 2020, the combined research spending of these universities totaled more than $5.9 billion.
Learn more about the Alliance of Hispanic Serving Research Universities at HSRU.org.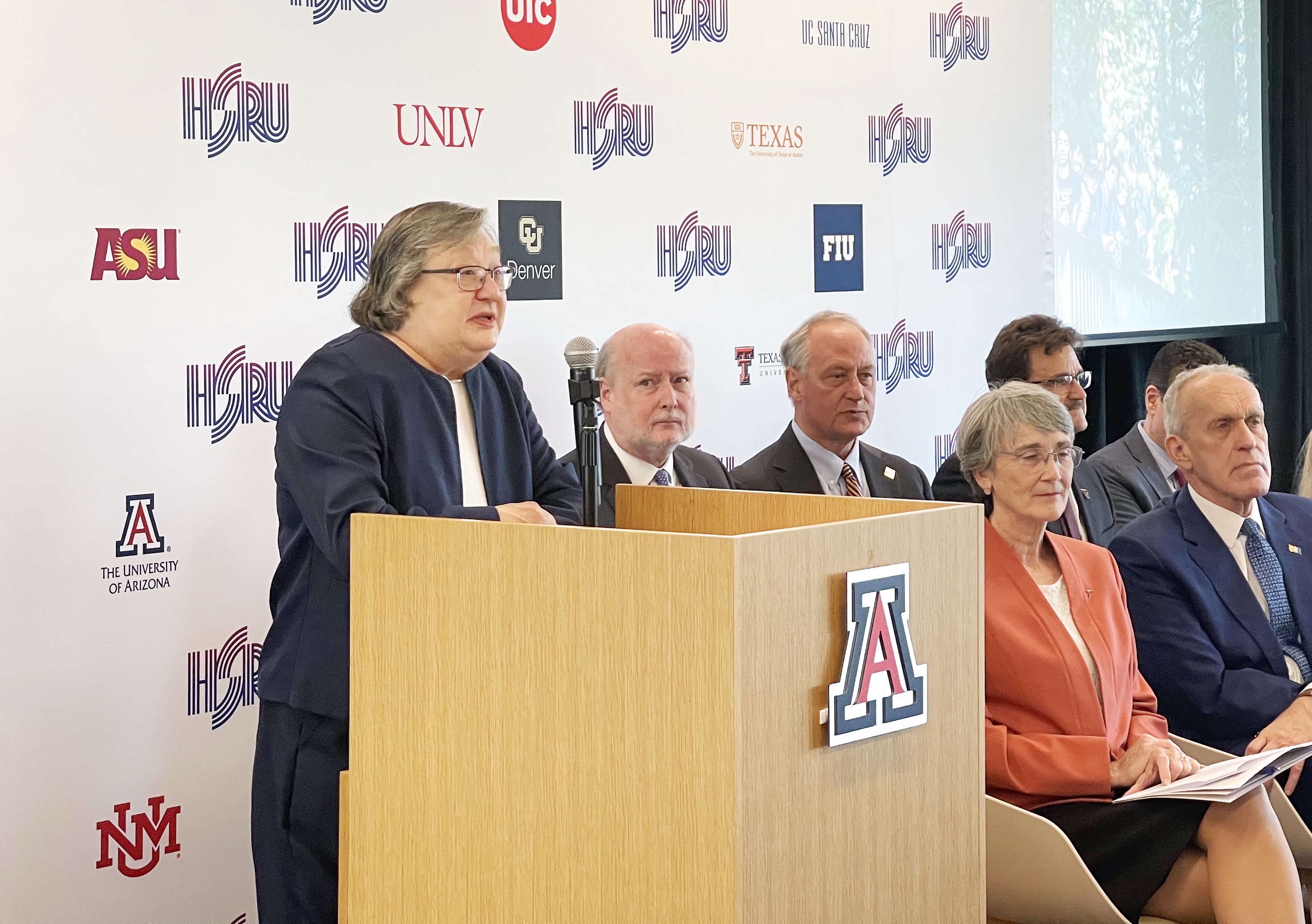 Abby Butler