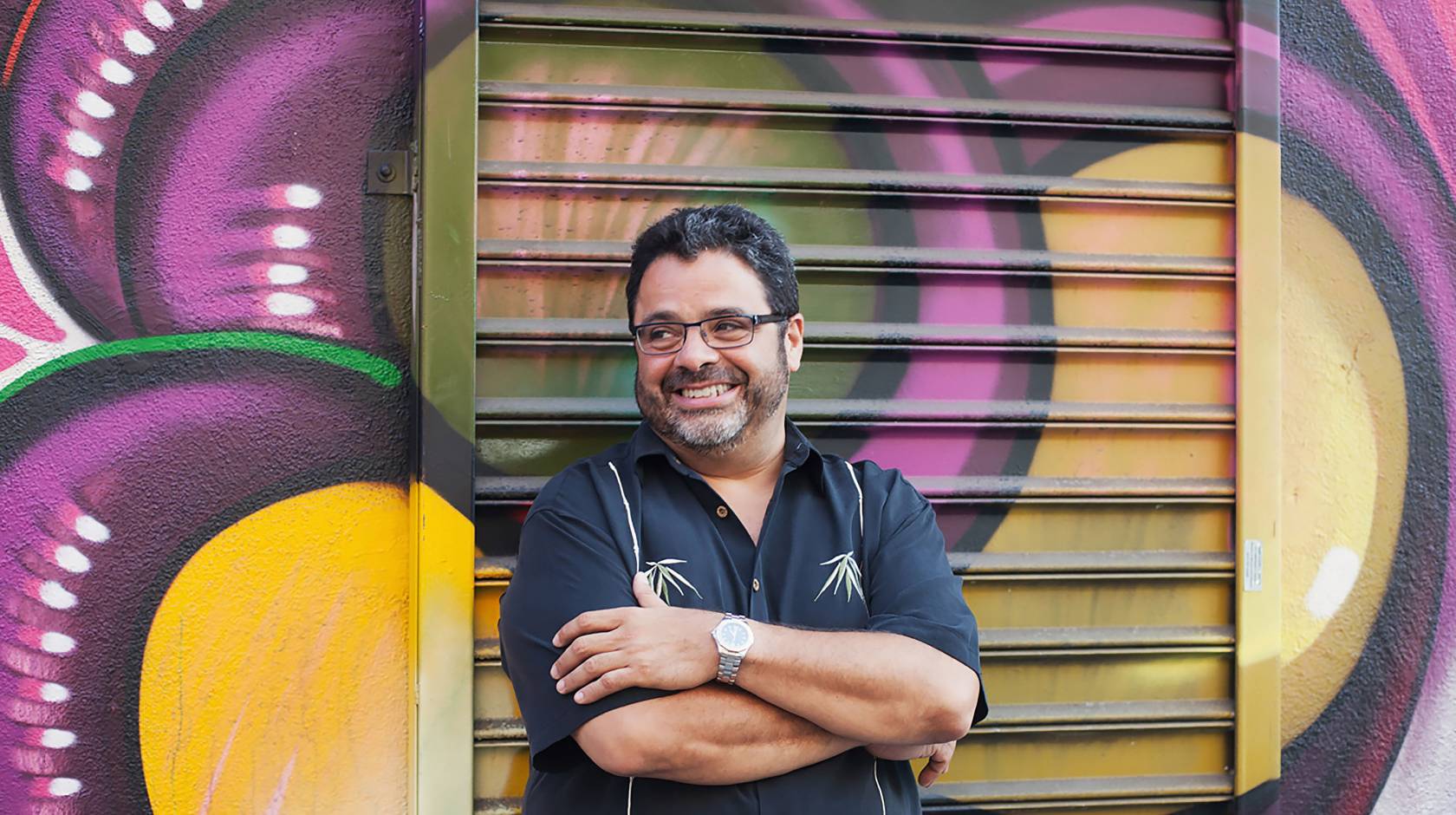 "I would tell the next generation of community builders: Think of yourself as a campfire builder.  Even as a campfire is useful to you for cooking and warmth, its glow and heat calls others to its side. In this sense what you build serves you, your beloved and those in your community."
That is how UCLA faculty member and Grammy award-winning jazz recording artist Arturo O'Farrill thinks of his work performing, preserving and educating others about the rich history of Afro Latin music.
O'Farrill, founder of the Afro Latin Jazz Alliance, is just one of the community builders UC is celebrating this Hispanic Heritage Month.
These UC students, alumni, faculty and staff are using their own spark to light the way for others, harnessing the power of community to uplift, to solve, to celebrate and protect.
From bringing new voices to the artistic canon to mobilizing for environmental justice, our community builders draw from the stories and traditions of the past to chart a better and more equitable future.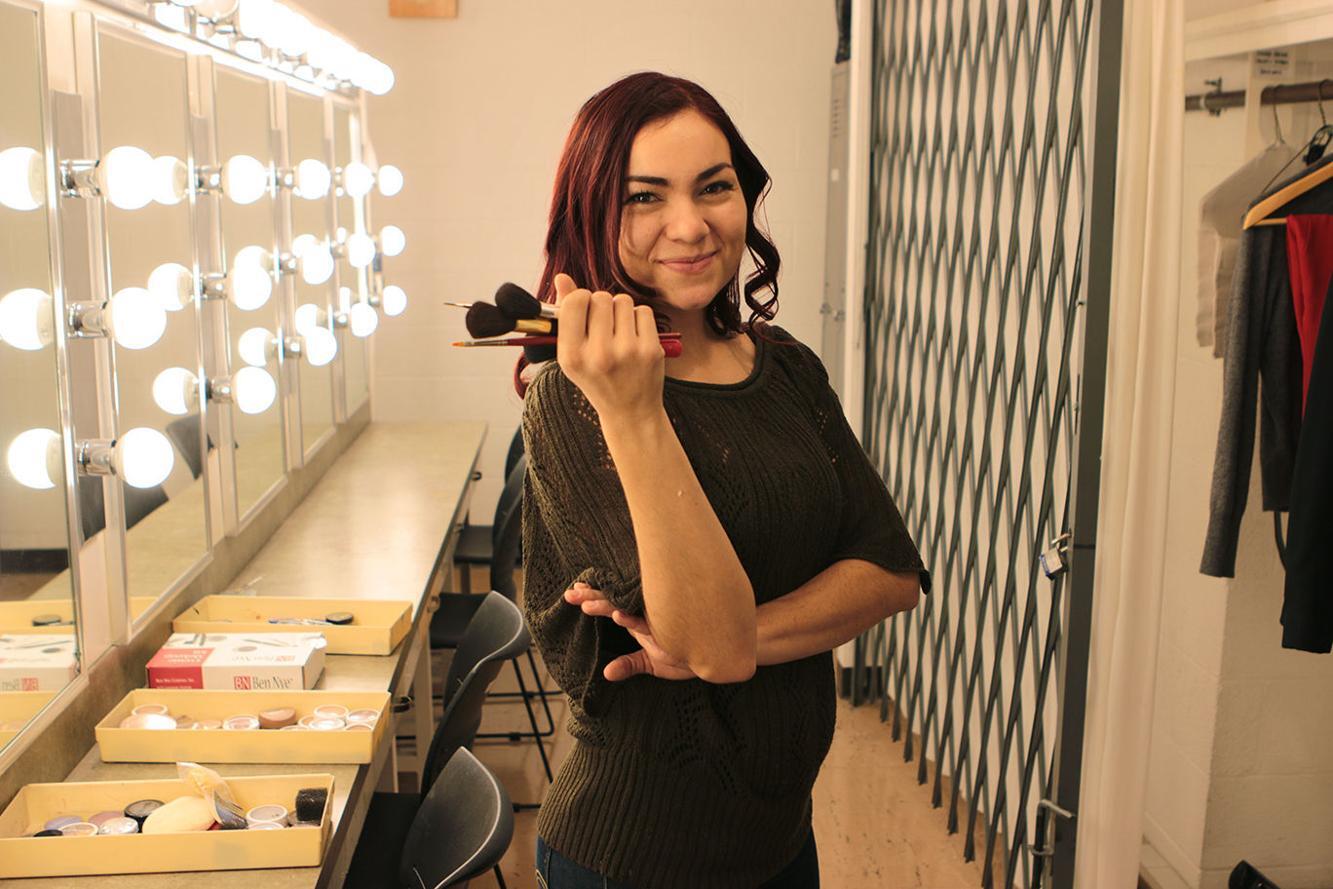 Pamela Rodriguez-Montero, faculty
UC Santa Cruz
Rodriguez-Montero grew up near the lush rainforests of Costa Rica. She brings her appreciation for nature, indigenous practices and cultural heritage to her work as a teacher, dancer and theater technical design specialist, striving to approach costuming, makeup and other aspects of theater design in a way that celebrates diversity and anti-racism.
I am passionate about starting conversations around a more inclusive way of creating theatre. As a teacher, I foster a space that re-centers artists' work from underrepresented backgrounds.
For me, community means expanding beyond the ideas of borders, nationalities and cultures to celebrate what brings us together. It's a moment to honor our journey and reflect on how to continue building our legacy of justice and peace.
What I would tell the next generation of theater community builders: Our stories deserve to be told. Our voices are essential and necessary.
Read more about Pamela Rodriguez-Montero at UC Santa Cruz's arts department.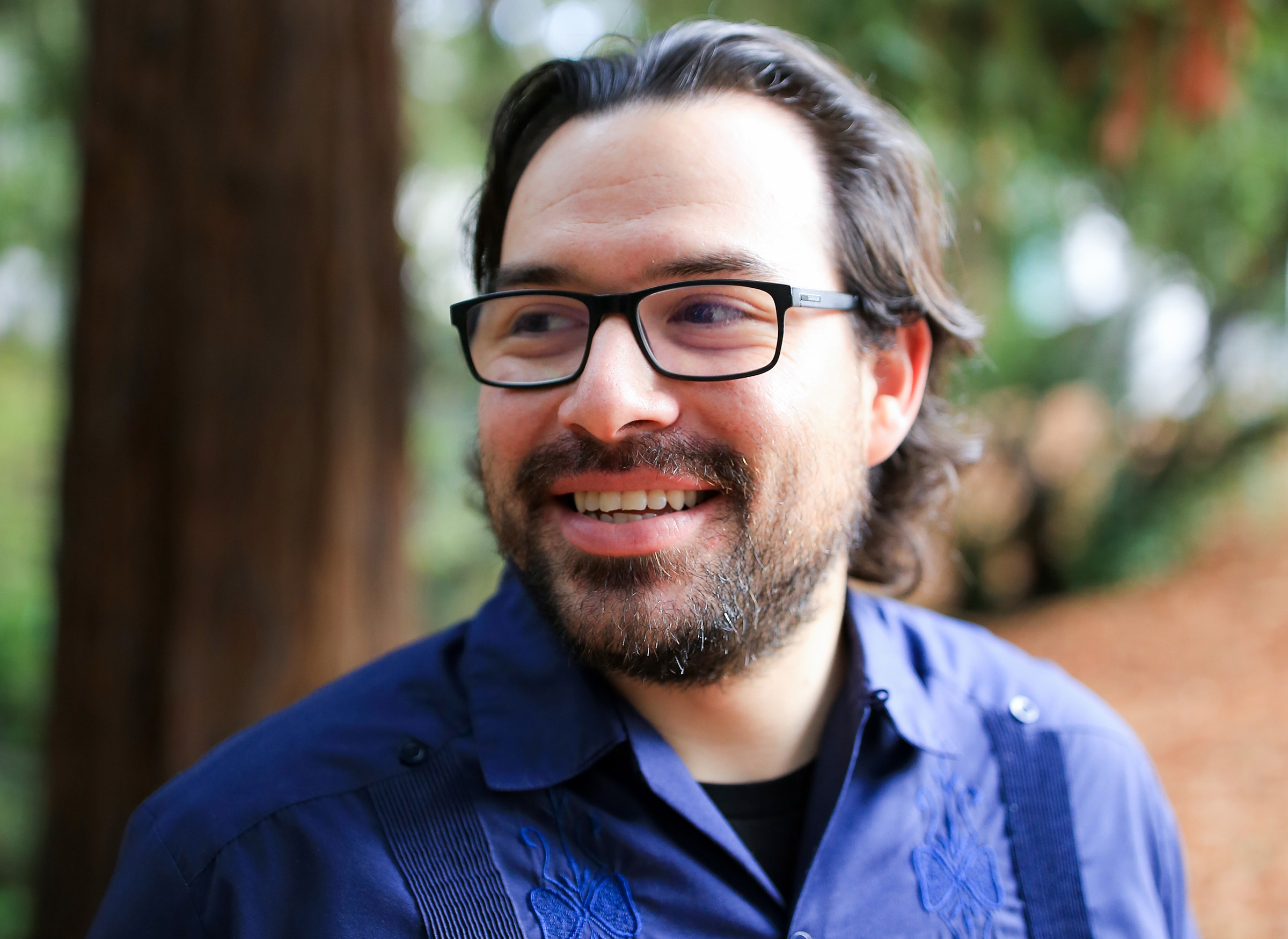 Ruben Canedo, staff
UC Berkeley
As co-chair of the UC Systemwide Basic Needs Committee, Canedo is working to ensure all UC students have reliable access to food, housing and other vital necessities. At UC Berkeley, he helped establish the Basic Needs Center as a source for resources, community and mutual support.
As someone who grew up with a disabled body, community was the only way I made it through my childhood. I learned at a very young age that to be and stay alive we must be interdependent.
I want to celebrate all of our latine/x communities, the ones born, the ones raised, the ones in chosen families, the ones married into, all of us. Our stories serve as medicine, as nourishment and as guides for how to leave this place healthier and better.
It's taken generations for us to be here, and we are responsible for making the lives of future generations healthier, joyful and just. The better we care for rising generations of our students, the better they will care for the communities they become a part of after they graduate.
Read more about Ruben Canedo at UCnet.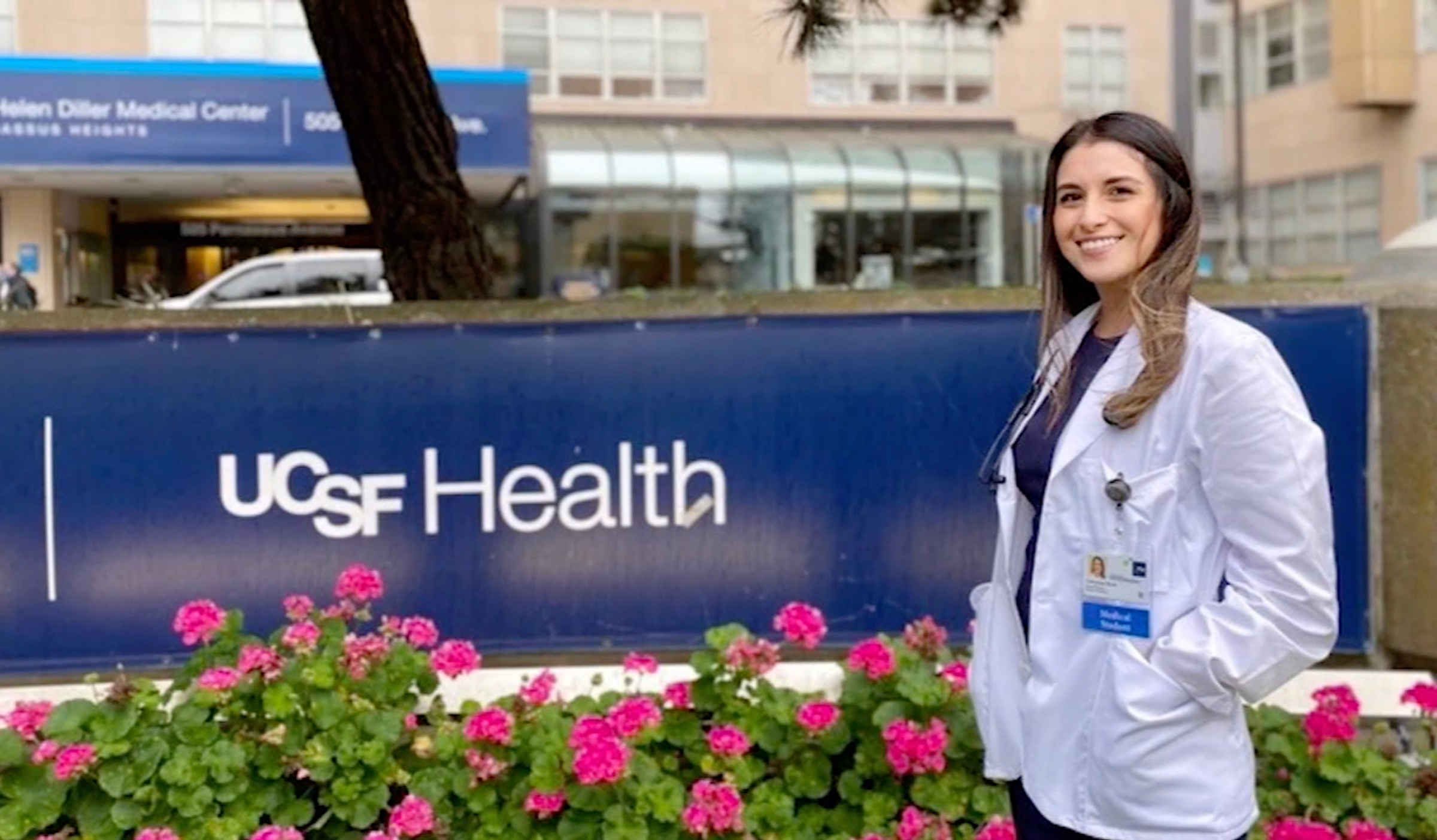 Vanessa Mora, medical student
UC San Francisco
A lifelong resident of the Central Valley, Mora is training to serve in her hometown as a physician, a community where doctors are in desperately short supply. Part of the UC PRIME program, she also serves as a mentor to bring more Latino and low-income students to the medical profession.
My background helps me envision each patient as if I were treating my own family. It reminds me that going to a hospital can be a confusing and frightening experience for folks, and my goal is always to help patients feel safe and empowered to make medical decisions.
I am inspired by my patients and their stories of resilience. Many of them have overcome unimaginable barriers and they deserve culturally compassionate care and representation in medicine.
I would tell other students from my background: Don't let the lack of representation in medicine discourage you. We owe it to our communities to be the trailblazers they deserve.
Read more about Vanessa Mora at UC Newsroom.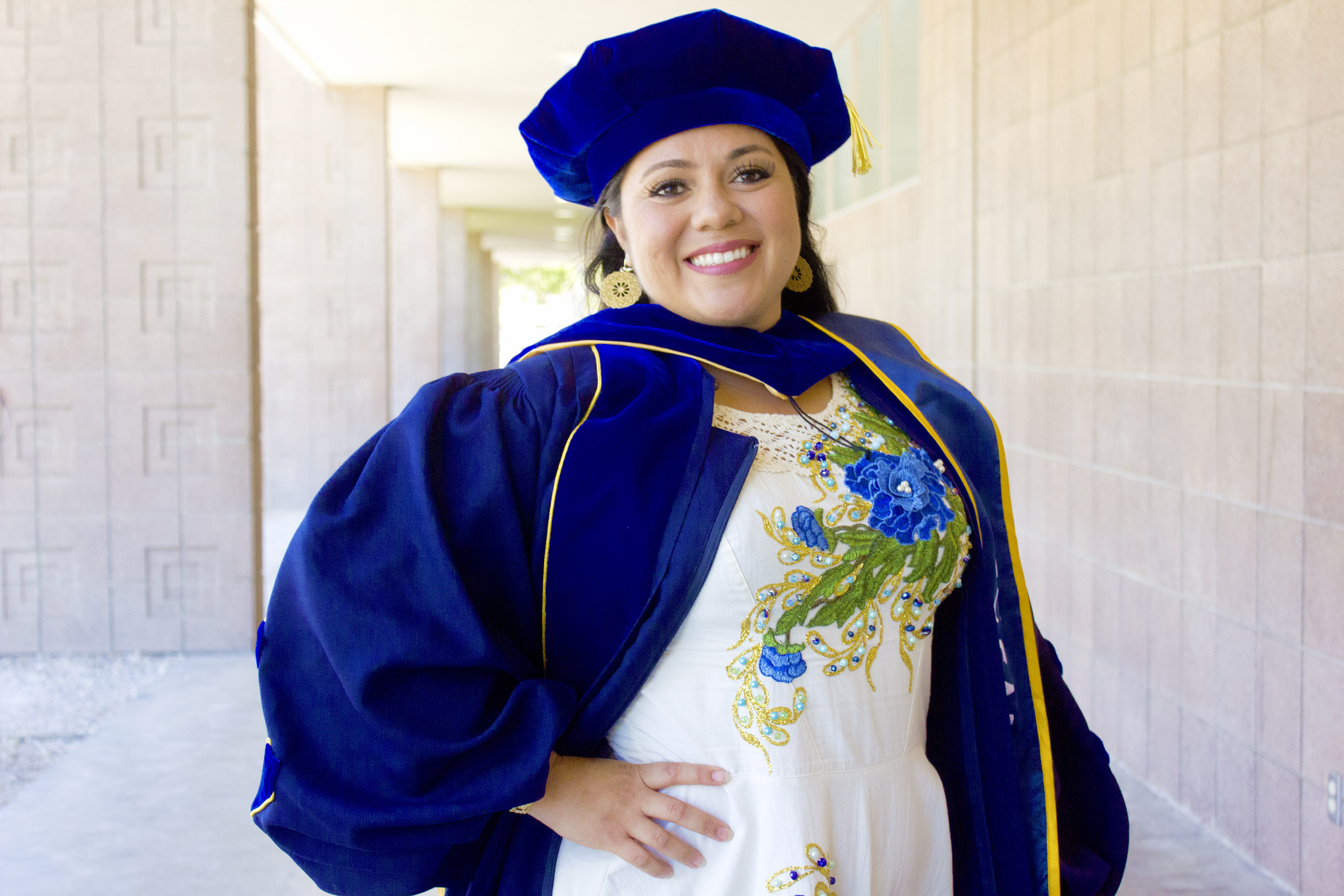 Ana Y. Guerrero, alumna
UC Berkeley, UC Santa Barbara
Guerrero didn't think college was in the cards for her. Now she holds a master's and Ph.D. from UC Santa Barbara's Gevirtz School of Education and advocates for students with FirstGen_Resilience, a platform she founded. Her research focused on the narratives of first-gen Latinx students' college and career aspirations, and the development of their personal identities as part of this process.
What fires me up most is supporting students to believe in themselves and their capacity to become who they aspire to be.  My work gives first-gen college students space and a platform to feel understood and validated, and to process experiences and feelings as a group by sharing our stories.
I hope others like myself, with high aspirations and little guidance, learn to advocate for themselves and take control of their education. I hope more first-gen college students see the value they bring to the institution, and really leverage their skills, knowledge and past experiences to thrive in college and beyond.
Read more about Ana Y. Guerrero at UC Santa Barbara's Newsroom.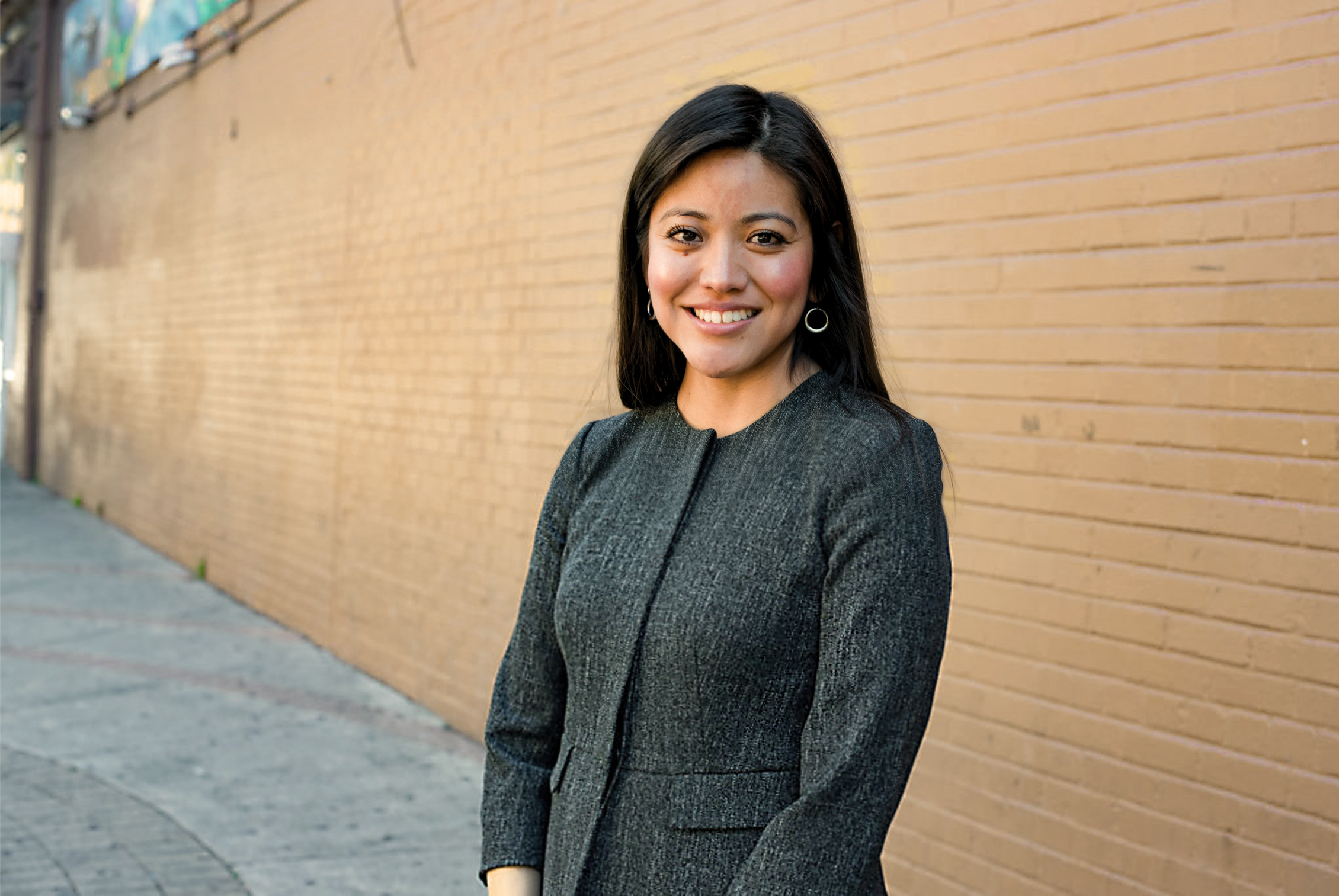 Aidin Castillo Mazantini, staff
UC Davis
Castillo Mazantini leads the UC Immigrant Legal Services Center, based at UC Davis, which provides free immigration legal services to students across the UC system. With nearly 20 years of experience as an immigrants' rights and social justice advocate, she has dedicated her career to removing barriers related to immigration status and to combating immigration detention, enforcement and criminalization. She is a graduate of UC Davis and UC Davis School of Law.
My lived experience as an immigrant has motivated me to work to remove systemic and legal barriers related to immigration status. For the past 10 years, I have done so as an immigration attorney.
I am motivated by the immigrant students and families that we serve. Immigrant workers and immigrant students have positively and powerfully transformed our communities and college campuses, and I am excited about the opportunity to support their efforts to move toward justice and equity.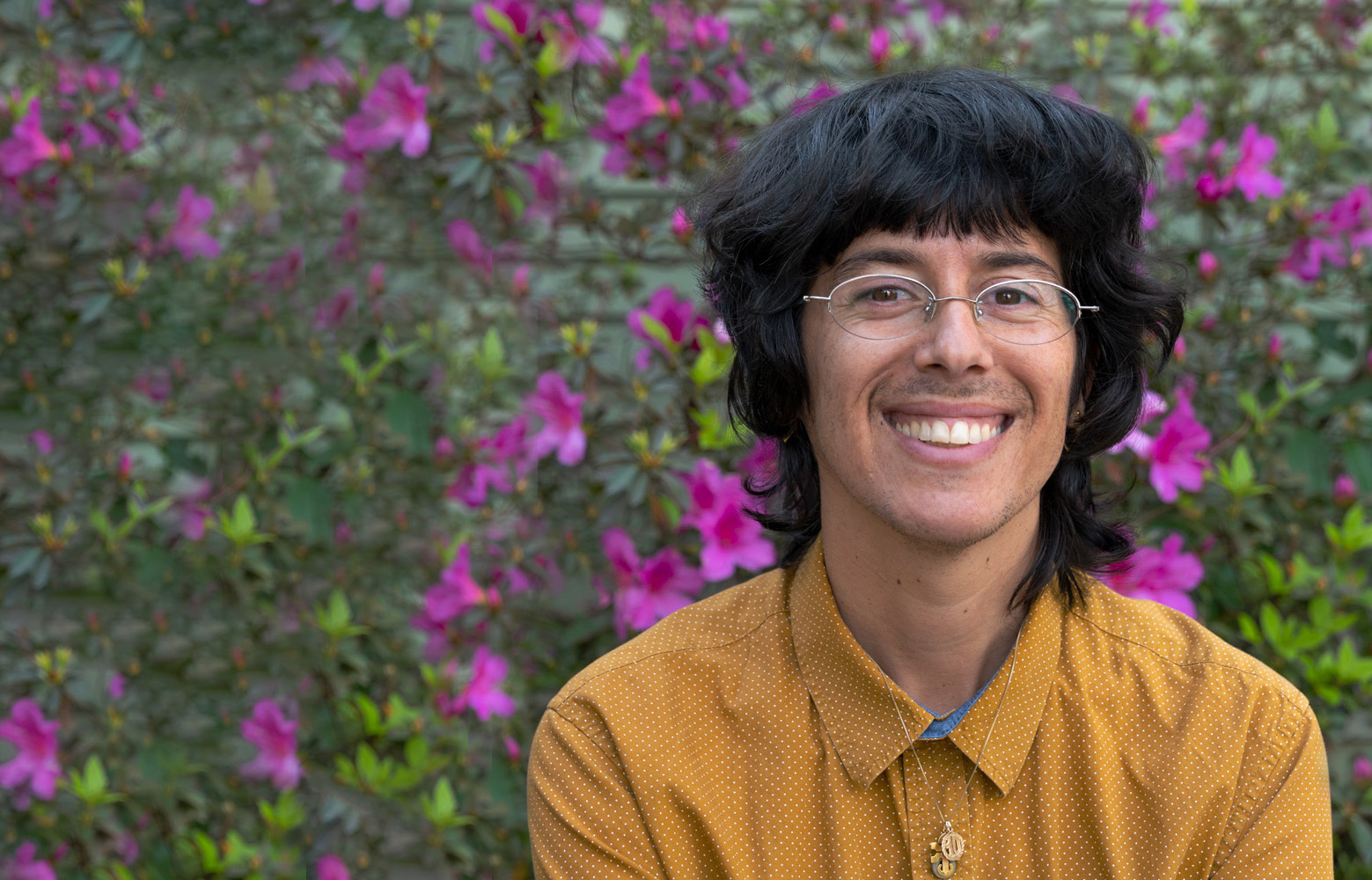 Dan Bustillo, graduate student
UC Irvine
Bustillo is a leading scholar at UC Irvine in trans Latinx studies. They are also a passionate instructor, community educator and mentor for trans and queer youth through the LifeWorks LA program.
If it weren't for the mentors — official and unofficial — who continue to support me, I wouldn't be where I am. I am learning to recognize when it is my turn to step into that role for someone else.
My responsibility, as I understand it now, is to bring trans Latinx knowledges to all of the communities I am part of. This doesn't just mean bringing my own voice to the conversation. It also means making space for a range of trans Latinx voices to be heard.
Working with youth has taught me just how clear, committed and fierce the incoming generation is. We need to trust, support and grow their knowledges, voices and contributions. They are already changing and expanding our communities!
Read more about Dan Bustillo at UC Irvine's humanities department.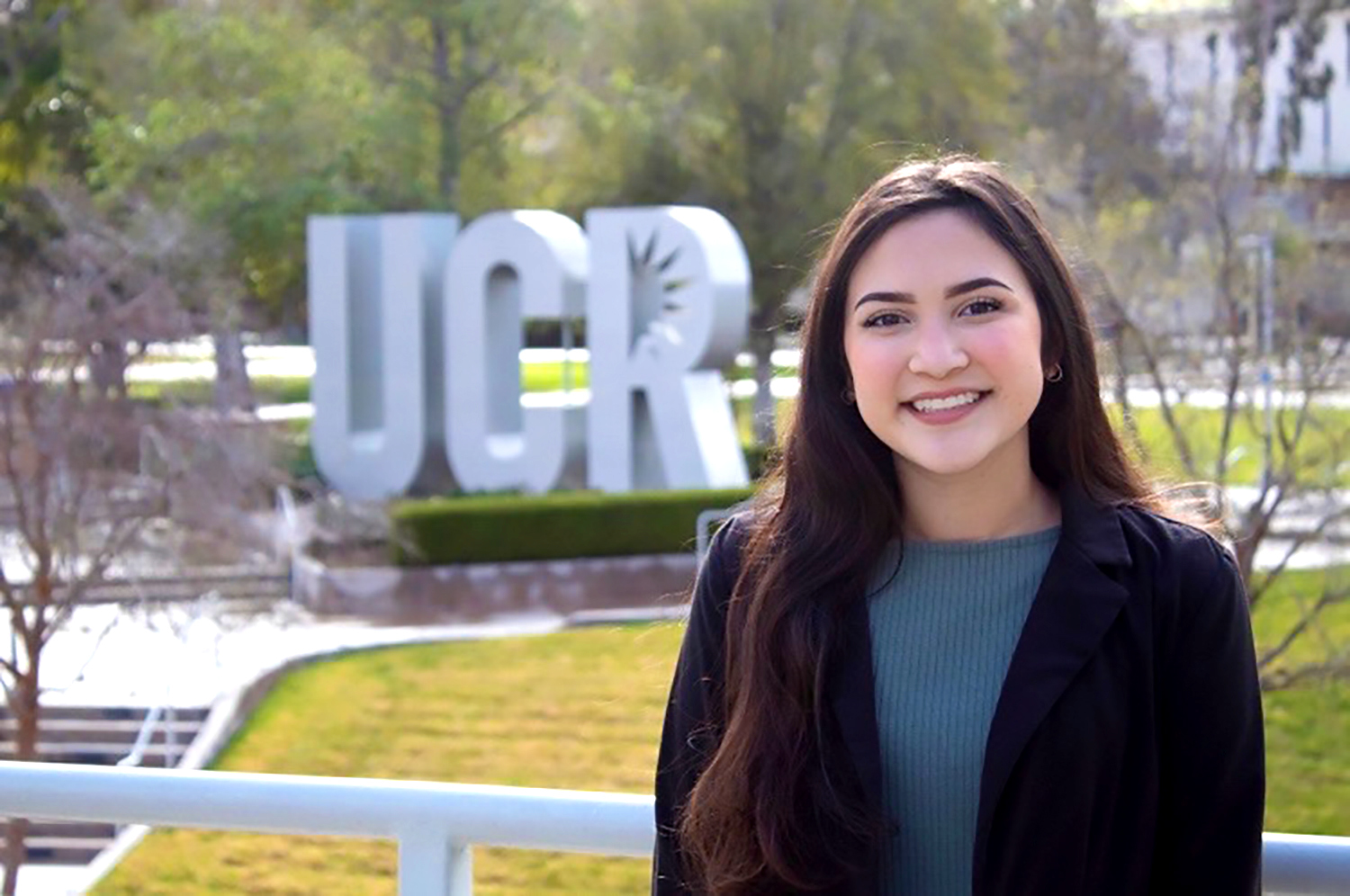 Alondra Martinez, student
UC Riverside
An undergraduate majoring in environmental engineering, Martinez leads student sustainability efforts at UC Riverside, including serving as director of the Green Campus Action Plan, working toward a zero-waste and carbon-neutral campus.
I grew up in Wilmington, Calif., a community that was mostly Latino. Everywhere you looked, you could see the pollution from the refineries. This helped me advocate for sustainability at a young age, informing anybody I came across about the change we could create if we all did our part.
People of color are the most prone to experience environmental racism, and in the Inland Empire, our air quality is among the worst. 
Community means creating an uplifting atmosphere where we can discuss problems that affect us and come up with solutions. My history has motivated me and encouraged me to form a community of individuals that will work toward positive changes.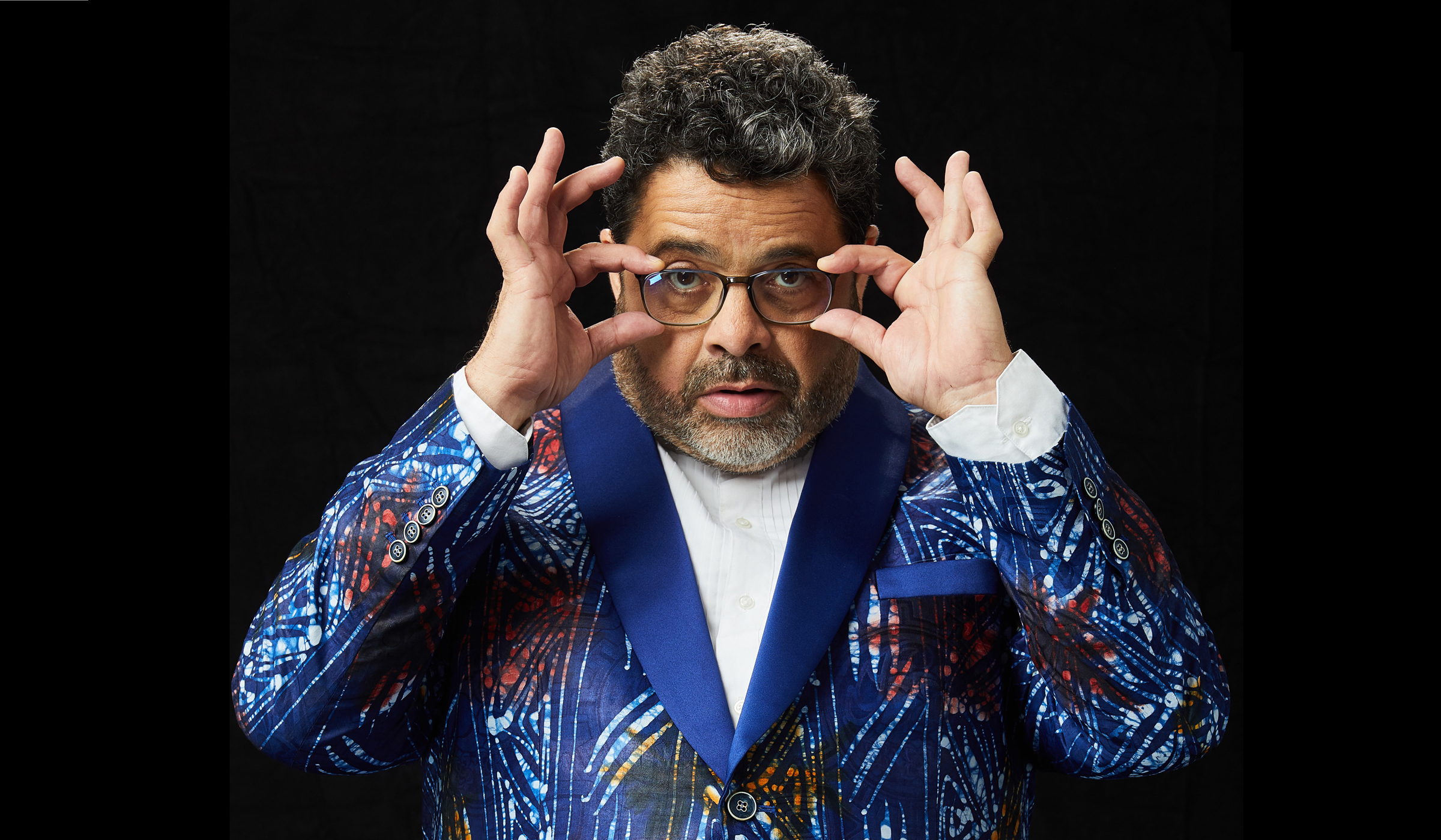 Arturo O'Farrill, faculty
UCLA
O'Farrill is a pianist, composer, educator and recording artist who has performed with musicians including Dizzy Gillespie, Wynton Marsalis and Harry Belafonte. In 2007, he founded the Afro Latin Jazz Alliance, a not-for-profit organization dedicated to the performance, education and preservation of Afro Latin music.
Latin Jazz occupies a huge part in the formation, history and development of jazz but is given short shrift in the history books and journals. The Afro Latin Jazz Alliance was created to serve [this] gap.
I've always felt like a jazz musician on the outside looking in. It has caused me to work very hard at demanding a seat at the cultural table.
Once I am in the room, I will challenge every notion of who I am, what is expected of me, and what I will deliver. What I am committed to is excellence, modernism and the highest levels of progressive thinking.  We are here and our music is part of this story — and we will represent.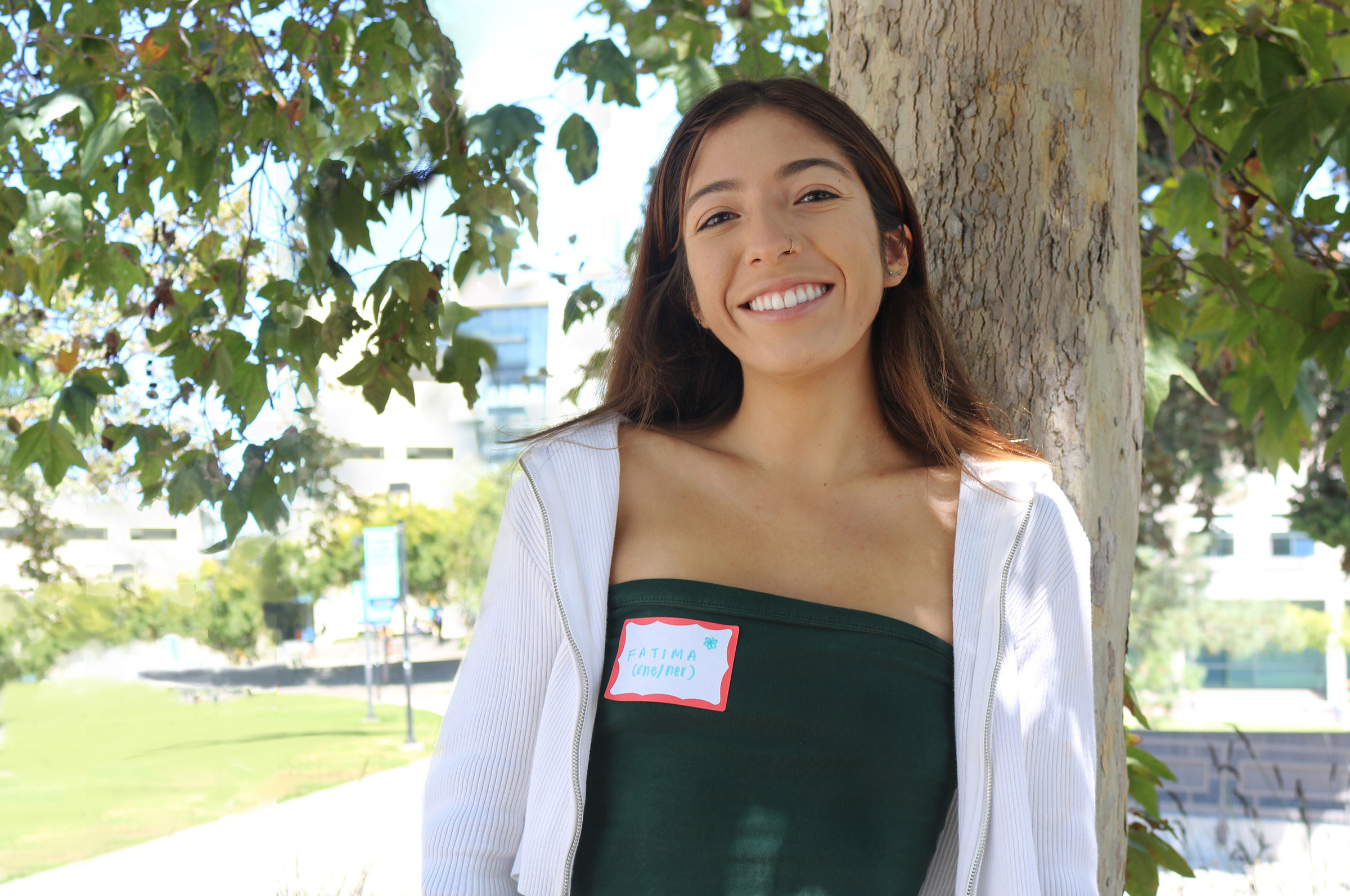 Fatima Maciel, student
UC San Diego
Maciel is a first-generation, Mexican American undergraduate in public policy and ethnic studies. She advocates for immigrant and refugee rights with local nonprofits, including the Partnership for the Advancement of New Americans.
When I was in elementary school, my parents disclosed their citizenship status to me as undocumented immigrants. At the time, I didn't comprehend the meaning behind this label. With a stronger appreciation for my parents' sacrifices and culture, I've managed to turn an unfavorable situation into my motivation.
I've persisted in my education in hopes of helping the fight against oppressive policies that target minorities in America. I'm committed to grasping a better understanding of who I am and reminding myself of the privilege I was provided.
We are setting the foundation for future generations to make change. At times, that is the most we can do, but we cannot let that extinguish our fire and passion for being changemakers.
Read more about Fatima Maciel at The Mercury News.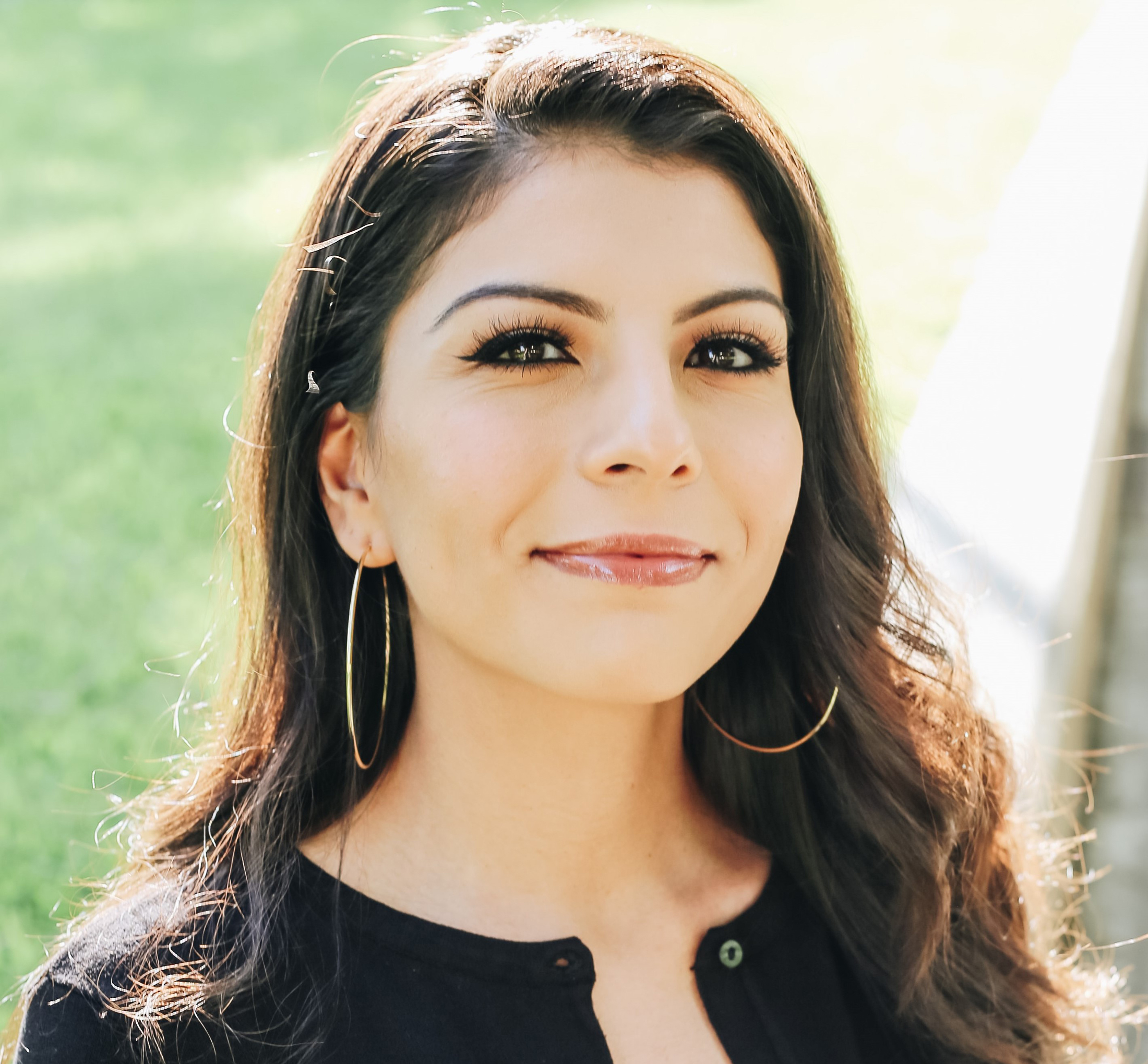 Veronica Lerma-Gonzalez, alum
UC Merced
Now a professor of sociology at UC Davis, UC Merced graduate and Central Valley native Lerma-Gonzalez focuses her research on those in her community who have intersected with the criminal justice system. By bringing those experiences into critical conversations about criminalization, gender and racism, she explores how we can effectively work together to dismantle systems of inequality across California. 

My scholarship is shaped by my intersecting identities as a working-class, system-impacted Chicana mother and first-generation college graduate born and raised in California's Central Valley. What drives my research is a steadfast commitment to understanding and dismantling systems of violence that (re)produce the carceral state.
 
I specifically situate my work in the context of the Central Valley, a region largely ignored by social science scholars and disregarded by much of the state as "the other California."  
 
It is true that structural barriers and institutional inequities seem particularly pronounced here. However, as my work and lived experience attest, from the fields to the prisons, Central Valley Latinx communities persist and resist every day.