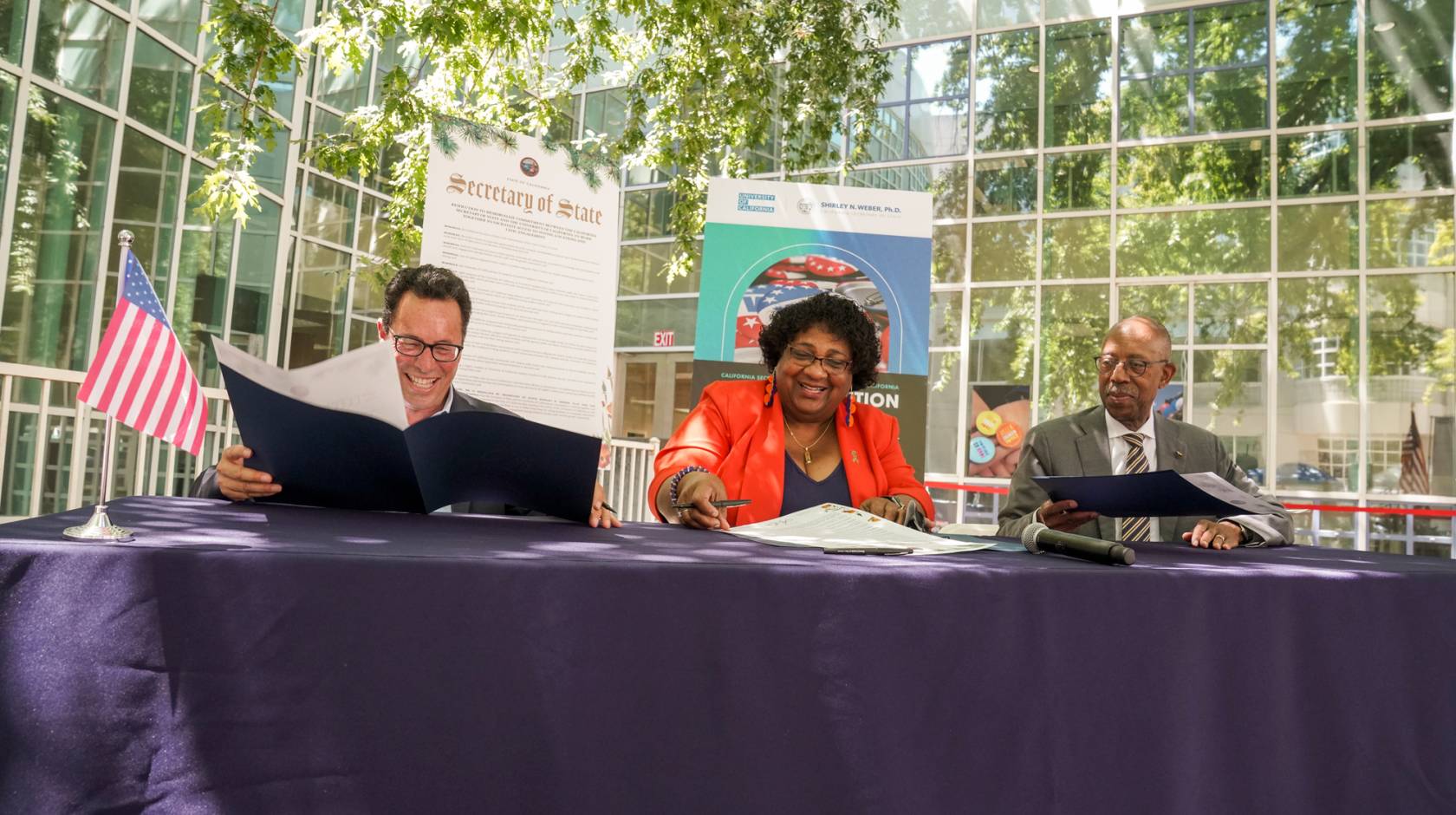 It's about to get even easier for University of California students to vote in the upcoming election.
UC leaders and the California Secretary of State signed a joint resolution today (June 29) pledging to work together ahead of November's general election to boost civic engagement and facilitate voting by ensuring that UC has ballot drop boxes or voting centers on all 10 of its campuses.
"At the University of California, we have a long and proud tradition of working together to make the world a better place. And there are many ways to make a difference. But one of the most profound ways is exercising our right to vote," said UC President Michael Drake, M.D., during a signing event on the UC Davis campus.
"Together, we can make sure that voting centers and drop boxes are easily accessible across all University of California campuses. We can raise awareness about voting options. And we can foster civic engagement among our students, faculty, staff and the greater communities in which our campuses are located."
President Drake was joined at the event by UC Board of Regents Vice Chair Richard Leib, California Secretary of State Shirley N. Weber, Ph.D., Gwen Chodur, president of the UC Graduate and Professional Council, and UC Davis Chancellor Gary May.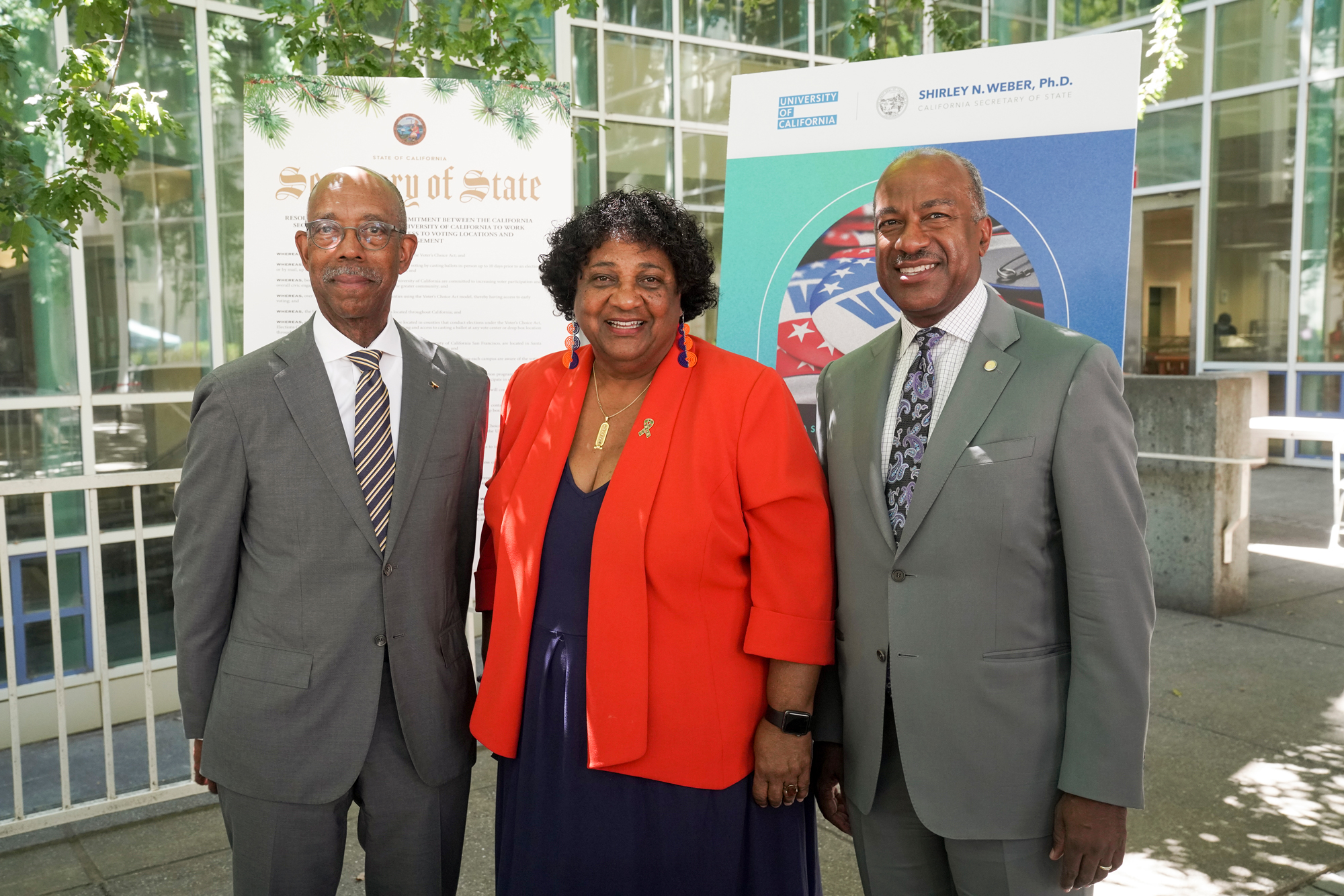 The joint resolution aims to build on a substantial surge in student voting during the 2020 presidential election, when 75 percent of eligible UC students cast a ballot. By contrast, less than half of eligible student voters participated in the 2016 presidential election.
UC's partnership with the California Secretary of State's office is intended to keep that momentum going. Among other things, the joint resolution calls on each UC campus to establish a point person who will work with their respective county election officials to ensure students and the public are aware of drop box and voting center locations on UC campuses, along with other voting options ahead of the Tuesday, November 8 general election.
"The University of California is a proud supporter of the state's efforts to promote civic engagement. This resolution builds on our long history of public service, voter education and registration efforts," said Richard Leib, vice chair of the UC Board of Regents. "I am excited to sign this resolution and look forward to continuing to partner with Secretary Weber to further our shared goals of increasing voter turnout among our students and communities."
Civic engagement has been a core value at the University of California since its inception more than 150 years ago. For many students, it is also an important part of the educational experience.
As such, UC and its campuses have been ramping up efforts to ensure that students know how to participate in the democratic process and are getting the message that they can shape the future through the simple but powerful act of casting a ballot.
Ahead of the June primary, UC launched the nonpartisan UC Votes campaign, which combines digital outreach and an online portal that demystifies how to register and vote, and provides handy tools for registering, checking voter registration status, finding polling locations and more.
UC Davis in April installed a permanent ballot drop box on its campus, and other campuses are looking to follow suit.
"Now, more than ever, it is vitally important to normalize and encourage civic engagement within our campus community," said Gwen Chodur, a Ph.D. candidate in nutritional biology at UC Davis. I am grateful to the State of California and UC for their leadership in removing barriers to voting for students."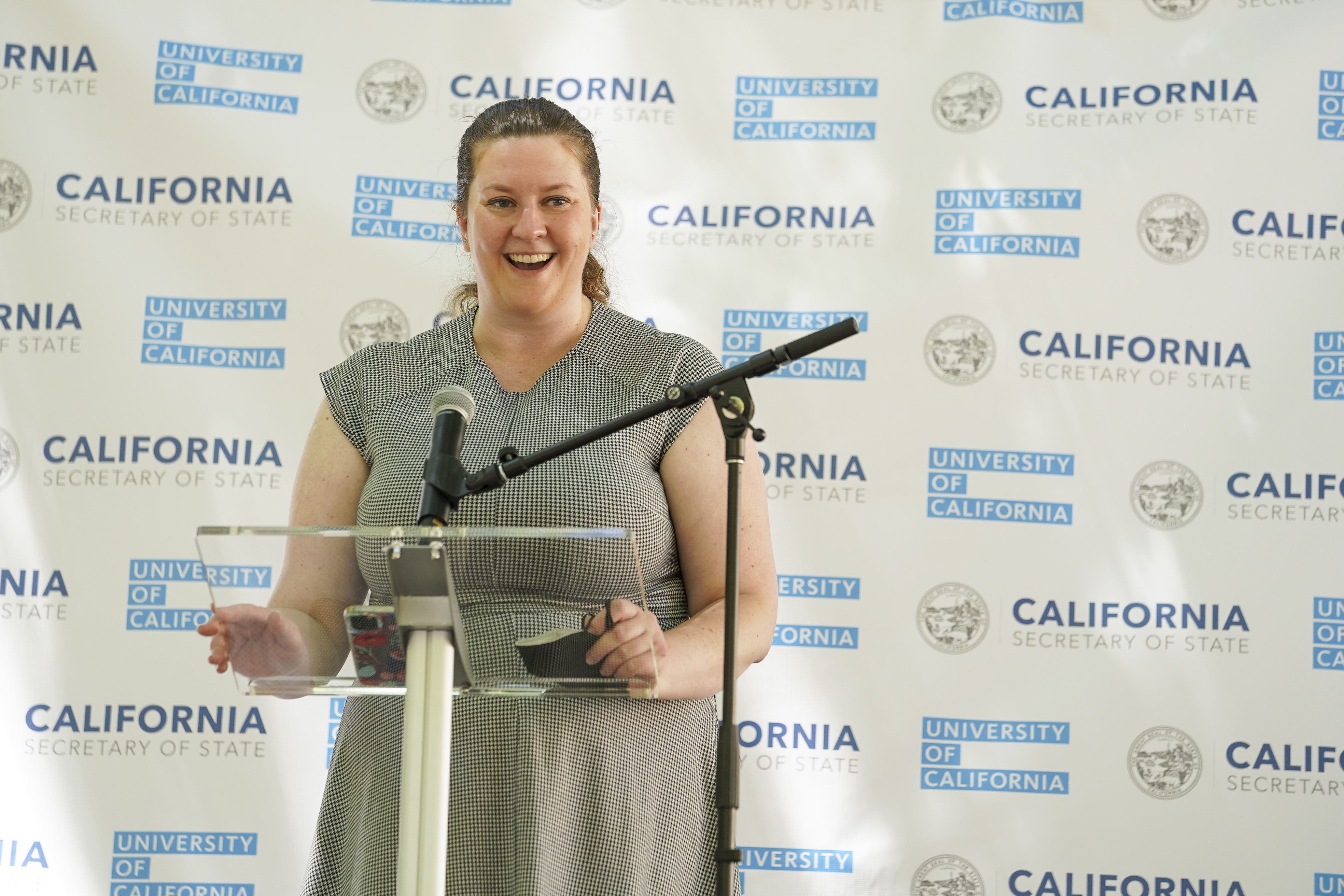 Secretary Weber applauded UC's ongoing efforts and said she welcomed the University's partnership in the important work of strengthening participation in the democratic process.
"We are committed not only to cultivating the next generation of voters, but also a new generation of active, engaged citizens who will value and protect the institutions of democracy," Weber said. "Because the demands of democracy don't stop when we cast our ballot, we want to encourage college students to support our democracy through participating in civic and voter education programs, volunteering as poll workers, and by encouraging their peers, family members, and community to register to vote and participate in elections."
Read our press release here: UC President Drake, Board of Regents Vice Chair Leib sign resolution with California Secretary of State Weber to affirm partnership aimed at increasing student participation in elections