UC luminaries to receive National Humanities Medal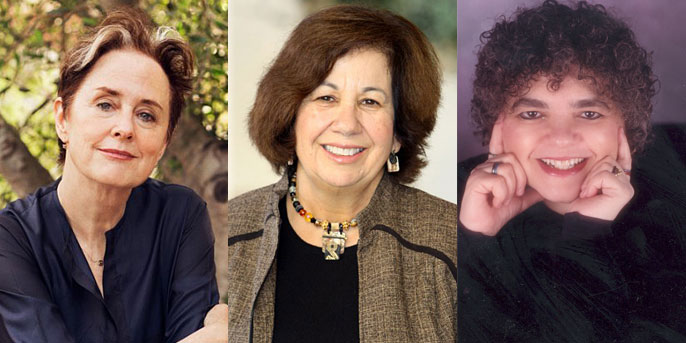 Watch online
The 2014 National Humanities Medals will be awarded at a White House ceremony at 3 p.m. EDT (noon Pacific) Sept. 9. The event will be livestreamed at www.WhiteHouse.gov/live.
Food activist Alice Waters, historian Vicki Lynn Ruiz and Arabic letters scholar Fedwa Malti-Douglas are among 10 recipients of the 2014 National Humanities Medal, bestowed by the White House. The honorees, named today (Sept. 3), will receive their medals at a Sept. 10 ceremony at the White House.
Waters, a UC Berkeley alumna, is renowned not just for her landmark restaurant Chez Panisse, but also for her tireless work to change our relationship with food, most notably through the Edible Schoolyard Project. The project promotes a vision of gardens and kitchens as interactive classrooms for any and all academic subjects.
"I took Maria Montessori's philosophies on experiential learning and applied them to teaching in a garden, teaching in a kitchen, as a way to open children's senses," Waters says. Today there are nearly 5,000 locations — school cafeterias, classrooms, support organizations, and businesses — in the Edible Schoolyard network.
Waters also is the author of a dozen books, many of them cookbooks offering recipes for the kind of simple, delicious food that has made Chez Panisse a legend, inspiring everyday home cooks to eat locally, seasonally and sustainably.
Ruiz, a Distinguished Professor of history and Chicano/Latino studies at UC Irvine, is an expert in 20th century U.S. history. She has dedicated much of her nearly 40-year academic career to reclaiming the stories of Latinas who have fought for civil and labor rights.
Her three-volume "Latinas in the United States: A Historical Encyclopedia," which Ruiz coedited with Virginia Sánchez Korrol, was the first encyclopedia about the contributions of Latinas in the United States and includes close to 600 entries. Over her 35-year academic career, Ruiz has written, edited, or coedited more than a dozen books, been appointed to the National Council on the Humanities, was a 2015 National Women's History Month honoree, and was named a Latina magazine "Woman of the Year in Education" in 2000.
"I consider this award as one that recognizes the field of Latina history more than me as an individual," Ruiz says. "When I was a graduate student, I could not begin to imagine all of the stories awaiting interested scholars in public archives and personal memories. That said, I am deeply honored by this once-in-a-lifetime acknowledgement of my work."
Malti-Douglas, Martha C. Kraft Professor of Humanities emerita at Indiana University, is a two-time UCLA alumna. Her work in Arabic literature includes "Men, Women, and God(s)," an extended study of the Egyptian feminist Nawal El Saadawi's oeuvre. Other subjects Malti-Douglas has tackled range from the bukhala(misers) of medieval Arab literature to the comic strips, political and otherwise, of the Middle East and North Africa today.
In retirement from academia, Malti-Douglas has focused increasingly on her creative writing, earning a Master of Fine Arts degree from Bennington College and studying at the Writers Studio in New York. Her post-academe output so far includes a chapbook of visual poetry, the beginnings of a third novel, and a nearly complete draft of her memoirs. Asked about the remarkable variety of her career, Malti-Douglas says simply that she doesn't want to write the same book over and over again. "For me, that would be death," she says. "I need to keep exploring."
The National Humanities Medal honors an individual or organization whose work has deepened the nation's understanding of the human experience, broadened citizens' engagement with history and literature or helped preserve and expand Americans' access to cultural resources.