Service-minded scholars reap awards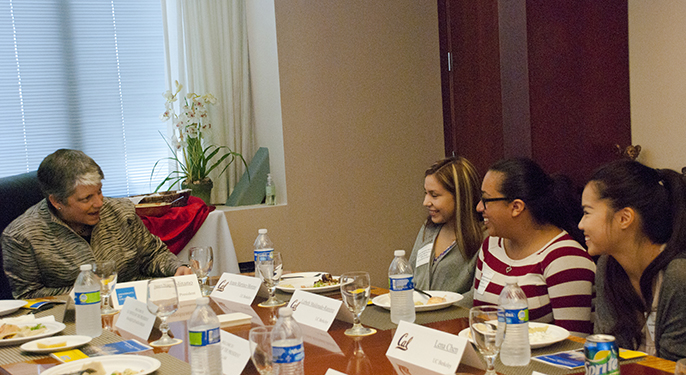 For six Oakland students who received a $5,000 UC scholarship Aug. 14 from the UC Office of the President, helping others has been as important to their high school experience as geometry and English lit.
"I used to be a really shy person. Now I'm able to stand in front of big crowds and give speeches," said Oakland High School graduate Vicky Lam, who is going to UCLA in the fall. Among other volunteer efforts, Lam organized a program to keep teens out of gangs, and a monthly drive to distribute food to the hungry.
The scholarship, launched this year, was given to students who had graduated from Oakland public schools and plan to attend a UC campus in the fall. The award is part of an effort by the UC Office of the President, based in Oakland, to build stronger partnerships with the local community.
Hundreds of hours of service
Recipients of the UC Oakland Partnership Initiative Scholarship all come from high schools in Oakland, and will attend a UC campus this fall. The scholarship review committee selected finalists based largely on their UC admissions applications and their community service, with every recipient reporting more than 600 hours of volunteer work to benefit local residents.
"It's not enough to say, 'I made it,' said MetWest High School graduate Lizbeth Maldonado-Ramirez, who is headed to Berkeley in the fall. "We should focus on: How can I help others make it too?" Maldonado-Ramirez contributed almost 1,700 hours to helping others in her community, including serving as a mentor to young Latina women.
It is just that spirit the award seeks to recognize.
""It is great to see students who, in high school, are already doing things to make people's lives better," said UC President Janet Napolitano at a luncheon to congratulate recipients and families. The scholarship program, she said, "is our contribution as members of the Oakland community, and as a public research university system that serves California and its students."
While not a precondition of the award, recipients all qualify for UC's Blue and Gold Opportunity Plan, which covers tuition and fees for California resident students whose total family income is less than $80,000.
The additional funds will help the students — most of whom are the first in their family to go to college — finance their first year at UC by helping to cover housing and other costs.
A joyful surprise
The award came as a joyful surprise for the recipients and their families, who were unaware of the scholarship until they received a notice from Napolitano's office in their email.
"I thought, this can't be real. Somebody's playing a joke on me," said Ojalique Genaeda Frison, a McClymonds High School graduate who is headed to UC Merced. "It was a big relief because I thought I was going to have to take out a loan."
"I called my mom crying. I said, 'Guess what! I just got a scholarship for $5,000!' She was beyond happy," said Maldonado-Ramirez. The first in her family to go to college, she is paying for college entirely on her own. The aid, she said, will enable her to avoid having to take a part-time job. "I can focus on schoolwork. That's what's the most exciting."
UC Oakland Partnership Initiative recipients
Lena Chen, Skyline High School, UC Berkeley
In addition to being Key Club president, Chen has served at a youth health clinic, local elementary schools and community organizations to empower and build community among area youth. She plans to major in biology.
Ojalique Genaeda Frison, McClymonds High School, UC Merced
Frison mentored elementary and middle school students as part of the Culture Keepers program, helped distribute food during the holidays through a local meals program, and acted as a peer tutor for ninth and 10th graders. She plans to major in psychology.
Vicky Lam, Oakland High School, UCLA
Lam delivered food to the hungry through local food banks and meals programs. She also was a peer tutor in math and a volunteer at San Francisco's Cherry Blossom festival. She plans to major in English.
Aranta Martinez-Moreno, Skyline High School, UC Berkeley
Martinez-Moreno has volunteered in habitat restoration and promoting eco-friendliness at Chabot Space and Science Center. She also has served at local food banks and as a peer tutor at her high school. She helped organize a community service mission to Nicaragua through the Global Glimpse program. She plans to major in society and the environment.
Lizbeth Madonado-Ramirez, MetWest High School, UC Berkeley
Maldonado-Ramirez mentored middle school students and engaged them in efforts to avoid the school-to-prison pipeline, volunteered with the California Coalition for Women Prisoners and helped organize a job fair as an intern in Mayor Jean Quan's office. She plans to major in political science.
Dominic Hoang, Oakland Military Institute, UC Santa Cruz
Hoang volunteered extensively with his school's student leadership program, eventually holding the title of executive officer. He plans to major in business management and economics.