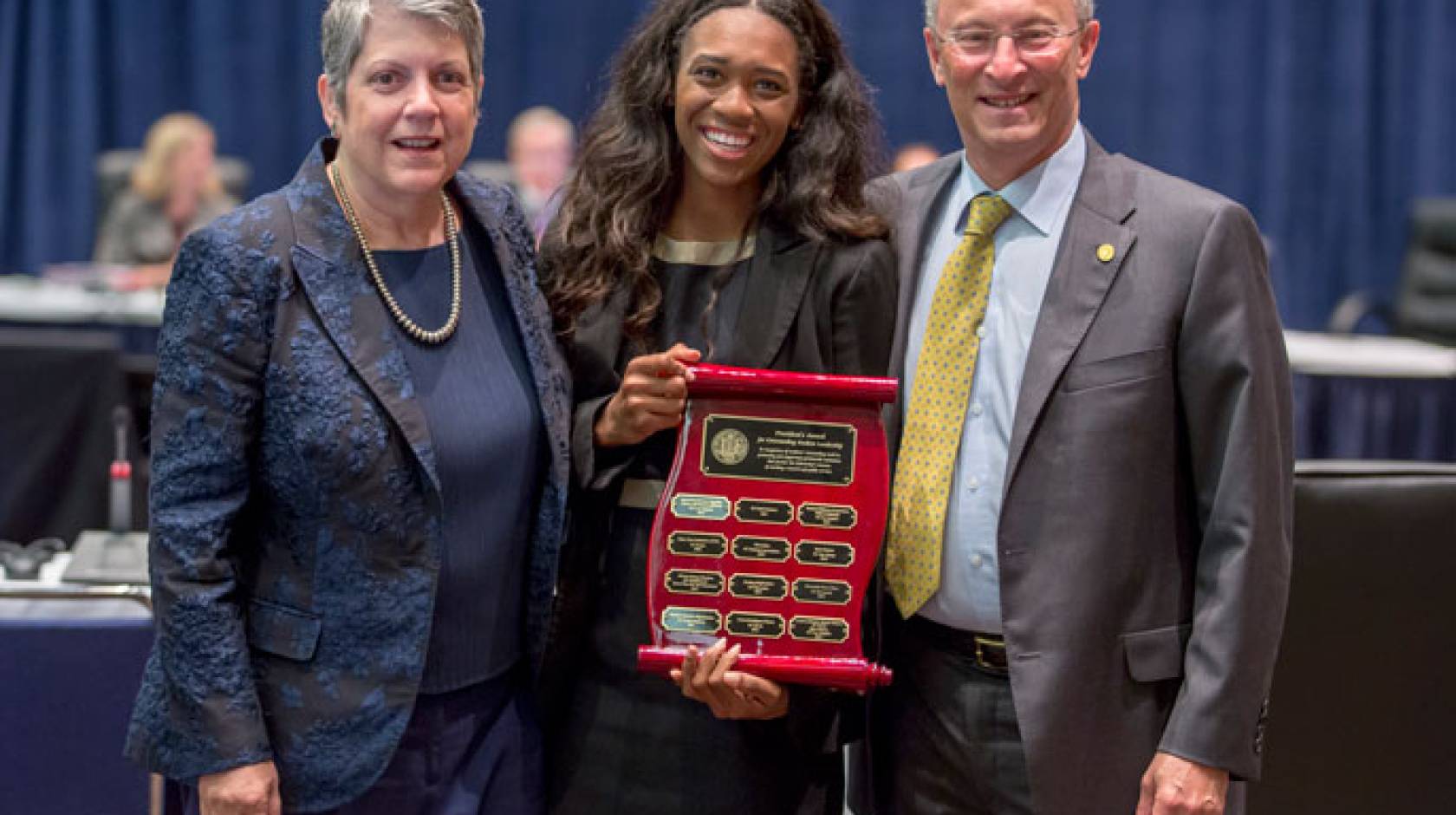 University of California President Janet Napolitano honored students from UC Davis and UCLA on Wednesday (May 11), bestowing on them the President's Award for Outstanding Student Leadership.
"This award was created to recognize UC students for their hard work, their creative thinking, and their public service," Napolitano said. "I am honored to present these awards today for the third time in my tenure as president."
Napolitano presented plaques to the three winners during the UC Board of Regents meeting.
This year's honorees are: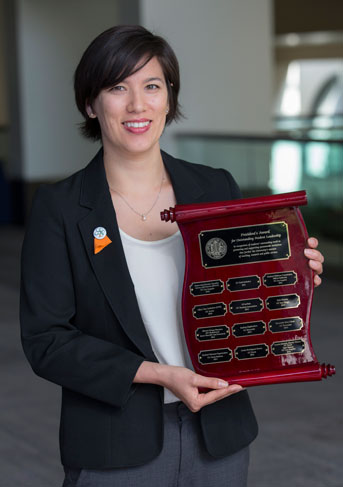 Lauren Jabusch, UC Davis, for her leadership on sustainability efforts and contributions to enhancing inclusiveness and diversity.
Jabusch, a graduate student in biological systems engineering, has been a tireless champion of UC's sustainability goals in her role as a Communications and Engagement Fellow on the president's Carbon Neutrality Initiative.
She helped coordinate UC's first-ever Cool Campus Challenge, which attracted 19,000 participants across all 10 campuses; helped develop a teaching curriculum for other CNI engagement fellows; is working to establish student environmental research centers at all 10 campuses; and promotes the work of other CNI fellows through social media and blogs.
Mariah Watson, UC Davis, for her work on a wide range of student issues, including diversity, inclusion, hunger, mental health and homelessness.
Watson, an undergraduate majoring in international relations and philosophy, has been an inspirational student leader at the UC Davis campus, serving as both a senator and as president of the Associated Students, University of California, Davis.
During her ASUCD tenure, she helped develop a strategic plan to address hunger and homelessness on campus; was instrumental in establishing productive meetings between the African Black Coalition and the Office of the President; and helped establish a student-oriented police review board, which has served as a model for other campuses. Her leadership has helped advance inclusiveness and diversity across the UC system.
Tyler Watson, UCLA, for his work on UC's Global Food Initiative and UCLA's Healthy Campus Initiative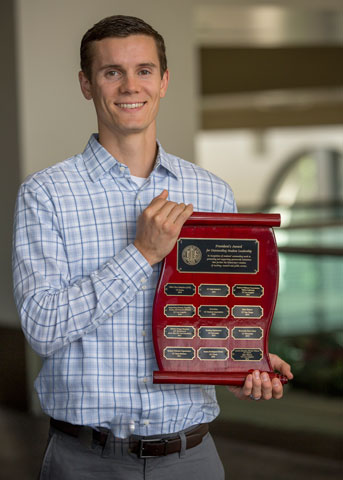 Watson, a doctoral student in environmental health sciences, has played a lead role on the UCLA campus in support of UC's Global Food Initiative. As a graduate student researcher with the Healthy Campus Initiative, he has helped UCLA assess how the built environment affects the initiative's goals, and as an outgrowth of that work, helped launch the StairWell project, which encourages campus residents and visitors to use the stairs instead of the elevator.
He has also played a major role in UCLA's food security program, helping to coordinate strategic planning efforts at both the campus and systemwide level.
"I know the Board joins me in congratulating Lauren, Mariah, and Tyler on their many accomplishments," Napolitano said. "It is students like these who give us all hope for the future."