April 13, 2020
Sandra Baltazar Martínez
,
UC Riverside
Credit: UC Riverside/Alif Emil Marchi
For the past week, six UC Riverside costume- and scene- shop employees have been sitting behind sewing machines, stitching together face masks for their colleagues.
These dedication stems from their desire to offer another layer of protection for essential personnel who continue to work on campus in service of students.
These six employees are part of UC Riverside's Department of Theatre, Film, and Digital Production. Their years of experience building sets and creating new wardrobes, came in handy when an Environmental Health and Safety engineer reached out to see if anyone in the department could help.
Within hours, Alan A. Call, Alif Emil Marchi, Joshua Stephenson, Kerry Jones, Landis M. York, and Maria Hong had a plan in place.
They took over two floors of the Arts Building, rearranging sewing machines to create enough physical space between them in order to safely adhere to social distancing policies, wearing face masks as they operated the machines. In a few hours, they had completed 32 masks completed. By day four, they had sewn 284. One of the first teams to receive these masks were UC Riverside's Police Department officers and their support staff, said Tracy Stark, safety engineer with EH&S.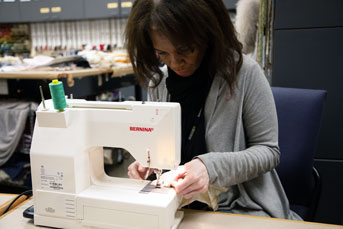 "The theater community is extremely close knit, and the folks on our campus are a true embodiment of that," Stark said. "Their work is a really big boost to the campus community. We want to make this situation as bearable as possible for the essential personnel; we want to let people know we are going to get through it together."
The goal is to sew at least 750 washable, three-ply face masks with existing material found in the costume shop. The masks, made out of colorful and fun patterns, are supplemental to other face coverings UC Riverside already offers its workers, but are not intended to be medical grade, Stark said. These are free for all essential employees.
Employees who want a cloth face covering should speak to their supervisors or email ehspublichealth@ucr.edu for more information, Stark said.
Joshua Stephenson, '17, a scene shop foreman who started working in the unit as a student in 2014, said volunteering to make the masks was simply his way of thanking "some of the people that are out there every day" making sure "our corner of the world keeps on spinning."
Alan Call, technical director, said the motivation to help had been there since the beginning.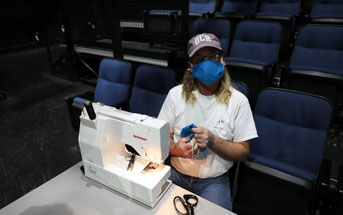 "We had the knowledge and the means to do this. Our equipment was sitting idle, so we geared up and made it happen," said Call, who has been at UC Riverside for 35 years. "We were asked on a Thursday afternoon if we could do this, and we were sewing Friday morning."
Kerry Jones '84, scenic artist and properties designer, said she too was glad to help.
"I was happy to be asked to make masks, as I had been trying to think of some way to safely help out or volunteer in the community," said Jones, who has been working at UC Riverside since 1995.
That same commitment to help is shared by her colleague, Maria Hong, a costume shop assistant. She has been working at UC Riverside for six months and has seen the campus grow over the last two decades she's lived in Riverside.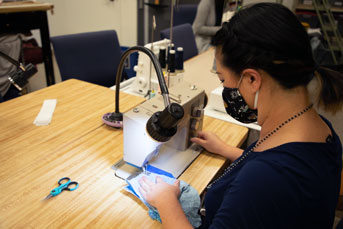 Controlling the pandemic might be out of her control, she acknowledged, but sewing is something she has total control over.
"If I can help, even in this small way, I am happy to do it. I am hopeful the masks will help keep someone safe," Hong said. "I hope they know that it was made for them, because they matter, even if I don't personally know who they are."
For Landis York, costume shop manager and costume designer, volunteering to sew helped her feel less helpless and less frustrated about not being able to help those affected by the COVID-19 pandemic.
"Working on the project has given me something positive to focus on," said York, who joined UC Riverside in 2018. "Making masks has allowed me to feel that, yes, even as the world grinds to a halt, l can contribute to the UC Riverside community in some small way."