October 20, 2016
Alec Rosenberg
,
UC Newsroom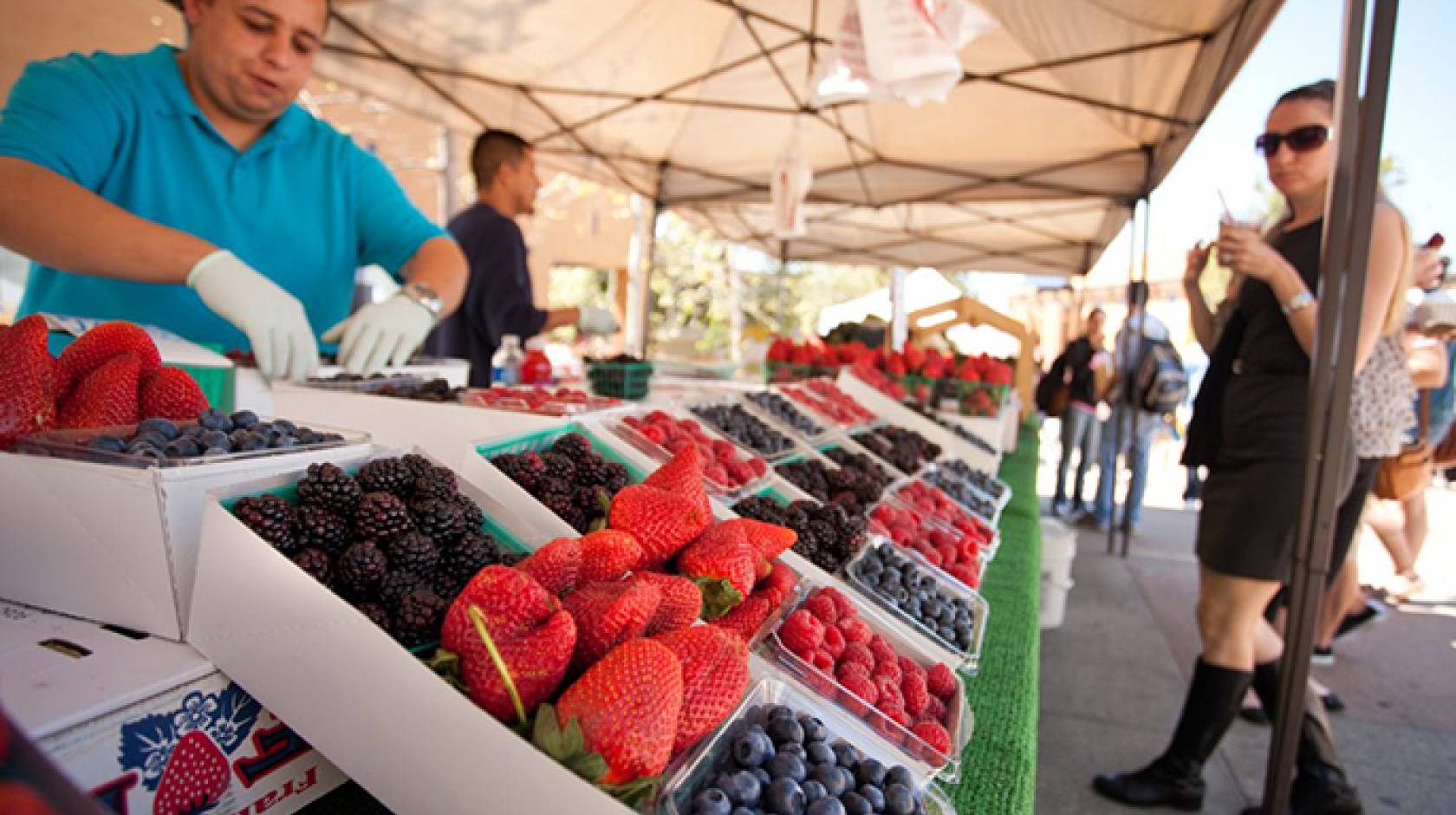 Credit: Hoang Xuan Pham/UCI
Student ambassadors for the University of California's Global Food Initiative will lead the charge this National Food Day (Oct. 24) in building awareness of the campus resources available to ensure food security for UC students.
During the next week, UC campuses will host a variety of events to highlight campus food resources and nutrition information, from locally sourced meals to cooking demos and panel discussions.
GFI student ambassador Holly Mayton of UC Riverside is looking forward to connecting with Riverside community members at the campus's Fall Food Open House, shopping at the campus's new farmers market and introducing new students to the growing array of campus food resources.
"I hope that Food Day helps to spread the word about the many exciting opportunities for students to engage in their campus food systems, including community gardens, food pantries, farmers markets, sustainable dining options, nutrition services and even food-focused coursework," Mayton said. "As GFI ambassadors, we hope that by connecting our student populations with UC-wide food initiatives and decision-makers, it will benefit the UC food system as a whole."
Guided by the findings of an in-depth UC survey, President Janet Napolitano in July approved $3.3 million in new funding over the next two years to address student food security issues. The funding, which includes $151,000 for each of UC's 10 campuses, is in addition to the $75,000 per campus that Napolitano allocated in 2015 to address the immediate challenges of ensuring that students have ready access to nutritious food, and reflects GFI's goal of promoting a nutritious, sustainable food supply.
"It's a struggle facing college students around the state and across the U.S.," said Tim Galarneau of UC Santa Cruz, who co-chairs UC's GFI Food Access and Security Subcommittee.
Taking action
Each UC campus has developed an action plan to increase awareness about campus food resources and the availability of financial assistance, along with creating workshops to educate students about how to eat healthy on a budget, and expanding meal sharing programs and food pantry storage and access.
Among the highlights:
UC campuses are helping eligible students sign up for CalFresh, California's nutrition assistance program. It provides up to $200 a month that may be used at local farmers markets and grocery stores.
All nine UC undergraduate campuses have food pantries that provide emergency relief to hungry students.
Swipe Out Hunger, which allows students to donate excess dollars on their meal plan to others who are in need, is expanding to all nine UC undergraduate campuses. Co-founded by Rachel Sumekh while she was a student at UCLA, the program just launched chapters at UC Davis and UC Santa Cruz, giving it chapters on six UC campuses, with plans for further expansion. At UC Riverside, about half of the Swipes funds go toward planting crops at its R'Garden, with the produce donated to the campus food pantry.
Campuses are publicizing food resources online. UC Davis has launched Aggie Food Connection, a website devoted to food resources at UC Davis, including the food pantry, free cooking classes, Fruit and Veggie Up, and information on how to sign up for CalFresh.
Students have helped to increase the availability of fresh produce on campus. At UC Davis, GFI fellow Aria Wexler works on the Fruit and Veggie Up program with Nugget Markets in Davis. Nugget donates slightly imperfect but still fresh and tasty produce to the campus, which makes it available for free to students at the Student Health and Wellness Center and campus food pantry.
UCLA has partnered with Food Forward to glean produce from farmers markets. GFI fellows Savannah Gardner and Tyler Watson lead a group of UCLA students who collect fruits and vegetables donated by local farmers. Half of this bounty makes its way to the UCLA Food Closet and the 580 Café, both of which serve financially insecure students; some of the food is distributed to graduate students and their families living at UCLA University Village. The other half goes to Food Forward.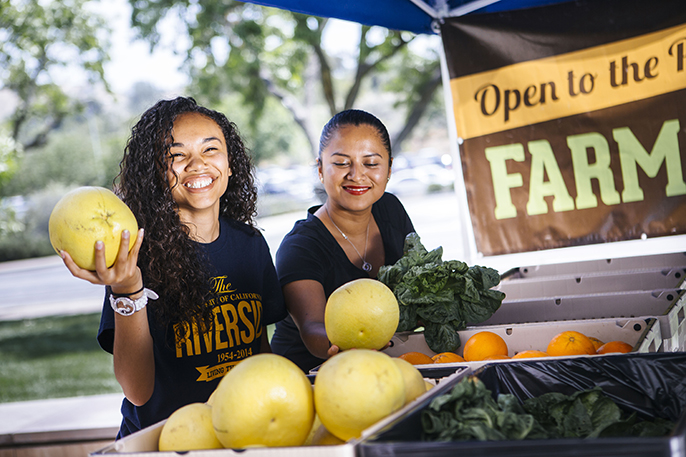 Food Week activities
During Food Week, campuses will host a variety of events that will spotlight those food resources and more.
UC Irvine is starting a free farmers market for students, the first of which will be held Oct. 24, to augment the provisions in its food pantry. UC San Diego will host a free Sustainable Food Expo that same day, providing cooking demos and on-campus resources for attendees who want to grow their own food, eat healthier, learn about the food pantry and take action to change the food system on campus.
UCLA's Food Day events will include a panel discussion on how food choices affect our health and our planet.
UC Berkeley will hold a panel discussion Oct. 26 on issues of representation and participation in food systems. This event is part of a broader effort to build more equitable food systems on campus, which includes a crowdfunding campaign.
On Oct. 27, UC Merced will host an EcoFest, while UC Riverside will launch a new weekly farmers market and host a food truck festival to raise funds for its campus food pantry.
"Food Day is not just a day; it's a yearlong catalyst for healthier diets and a better food system," said Duane Gornicki, interim senior director of residential dining at UC Riverside.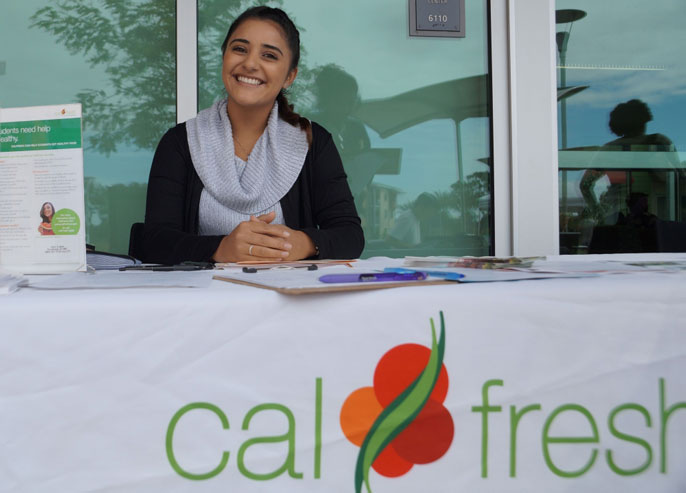 Growing alternatives
At UC San Francisco, the campus has established the Food Security for Students Program to ensure that students have reliable access to a sufficient quantity of affordable, nutritious food.
At UC Santa Barbara, along with programs such as its food pantry and Swipes chapter, the campus is increasing food security through its Food, Nutrition and Basic Skills Program and its Edible Campus Project, which works to repurpose underused spaces for food production, turn waste into food, and engage students as growers and producers.
UC Santa Cruz has a number of programs that include two free food pantries, a new Swipes chapter, budget cooking classes, affordable pop-up produce stands, emergency food gift cards and services that help eligible students sign up for CalFresh.
"It's important that we can work together to make a difference and ensure students know the resources they have to succeed," said UC Santa Cruz student Diane Villalba.