March 2, 2018
Nicole Freeling
,
UC Newsroom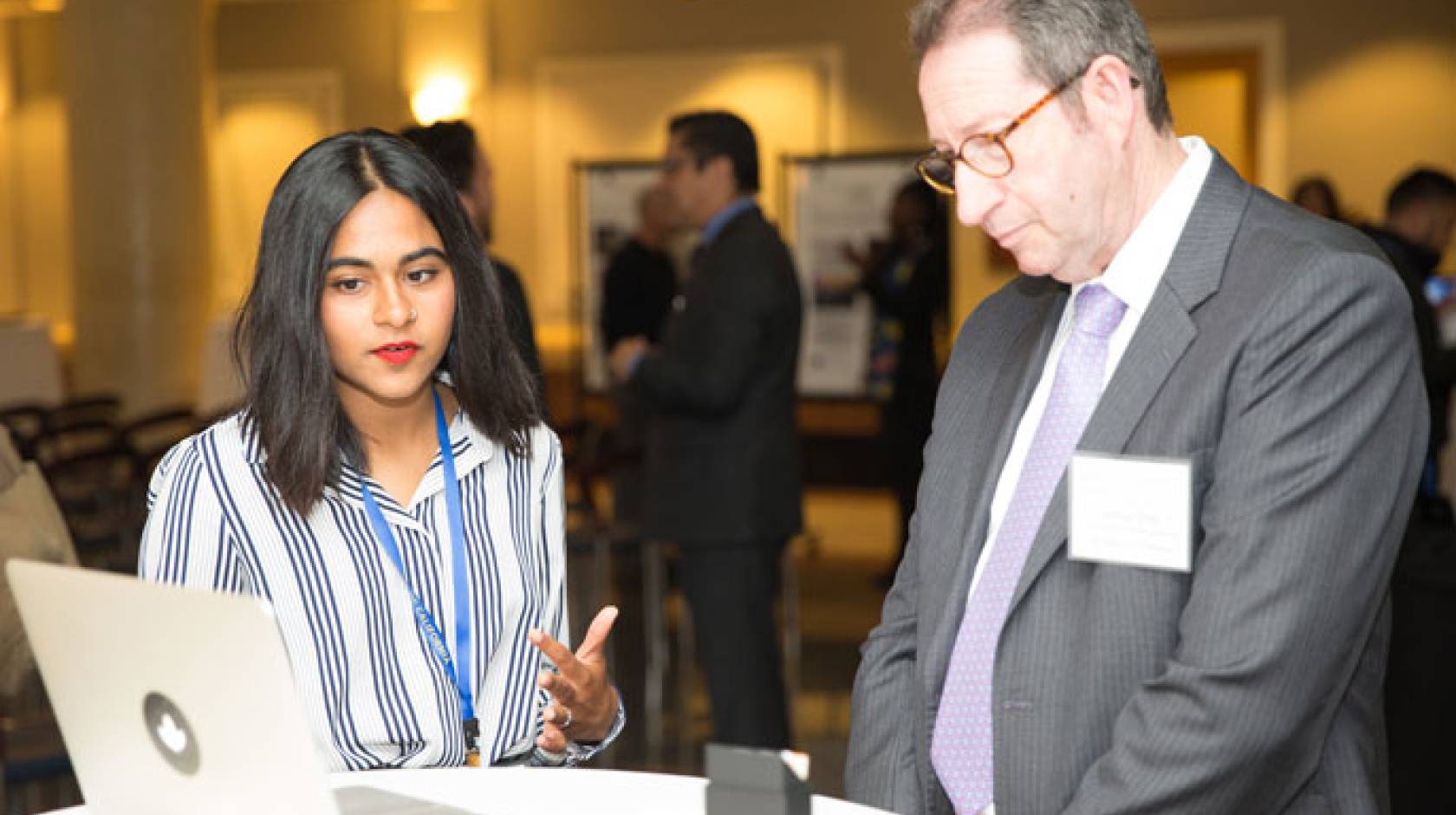 Anika Ullah hasn't even graduated from college yet, but she has the credentials of someone with years of research experience under her belt.
A biology major and visual arts minor at UC San Diego, Ullah, at 22, is one of the youngest people in the history of her department to lead a clinical study, which looked at the effects of antibiotics on the urinary microbiome and antibiotic resistance. Through the nonprofit she founded while in school, Intersectional Health Project San Diego, she and her team mapped unsafe school crossing zones near hotspots of contagion for hepatitis A infection in San Diego's Barrio Logan community. If that's not enough, the college senior is also studying the feasibility of using citrus fruits as a low-cost biosensor for pollution along the U.S.-Mexico border.
But wait, there's more! She is also involved in research to find less carcinogenic ways of preparing betel nut — an addictive stimulant that is popular in Asia — and has received funding from the Taiwanese government for her work.
"The ability to participate in undergraduate research has let me weave together wildly different disciplines to conduct research projects," said Ullah, whose projects blend visual media, science and community engagement. "We're taking our findings and applying them in a way that can directly improve health outcomes for people in vulnerable communities."
Ullah was one of 22 incredible UC students who came to Sacramento on Feb. 26 to share with alumni, lawmakers and others the research they are doing as undergraduates. The event, part of a series of celebrations to observe UC's 150th anniversary, illustrated the blend of teaching, research and public service upon which the university was founded, and which is still so central today.
"These students are the innovators, the dreamers and the thinkers of tomorrow and looking at them, I know our collective future shines bright indeed," UC President Janet Napolitano told the audience.
While all colleges impart knowledge, UC undergraduates actually have a hand in creating it, Napolitano said. The result pays huge dividends to California and its residents, and ignites new interests and career possibilities for the students who participate.
"This is a group that represents the California Master Plan in every way," said Darin Anderson, a UC Riverside alumnus and UC Regent-designate. "These are DACA students, community college transfer students, first-generation students, all immersed in research that drives the state forward."
Research that solves the world's problems
Along with presenting the fruits of their toil at the library and lab bench, students talked about the benefits of being able to participate in groundbreaking work.
"This has single-handedly changed my entire undergraduate trajectory," said UC Berkeley student Ankur Mahesh, who is studying computer science, with a focus on using it to address issues related to climate change. The junior landed a research position at Lawrence Berkeley National Laboratory where he is using deep learning and computer vision techniques to help scientists discover how to better predict extreme weather events, a pressing need that is exacerbated by climate change.
"This has exposed me to the types of problems I want to tackle," he said. "But more importantly, it has introduced me to the people I want to tackle those problems with."
Mahesh and his lab colleagues have formed fast friendships, forged by struggling together through the daily trial-and-error of research. "You run the program and pray, and run it and pray," he said. "These are the people you want to be up with until 3 a.m., until the program runs successfully."
Mahesh estimates that he puts in about 30 hours a week at the lab in addition to his coursework, but he says it's time well spent. "I'm excited to use machine learning to tackle these scientific research questions," said Mahesh. "It's so different from homework, where the focus is answering someone else's question."
Insight into why emigrants flee their homes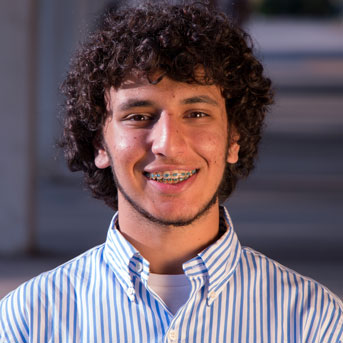 Mina Hanin hardly spoke English when he came to the U.S. from Egypt as a teenager. Now, he speaks it fluently enough to eloquently share his research, which focuses on the unrest and political violence it takes to spur large numbers of emigrants to leave their homes.
When Hanin was 16, his mother was the victim of an acid attack by a group of religious extremists. He and his family fled the country, leaving all their belongings and their livelihoods behind. The teenager never really understood they weren't going back until his parents enrolled him in the local high school in Rancho Cucamonga.
Now Hanin, the eldest of three children, is the one helping his family adjust to this new world.
"Back in Egypt my parents were taking care of me," said Hanin. "Coming here, it has been me taking care of them."
Hanin is a legislative fellow in the office of Senator Richard Roth, an ambassador with the University Honors Program, a member of the judicial council for the Associated Students of UC Riverside and the undergraduate representative to Riverside's Academic Senate.
"I only have four years to be in college," said Hanin, who plans to get a law degree and go into public policy. "I have to make the most of it I possibly can."
Securing a bright future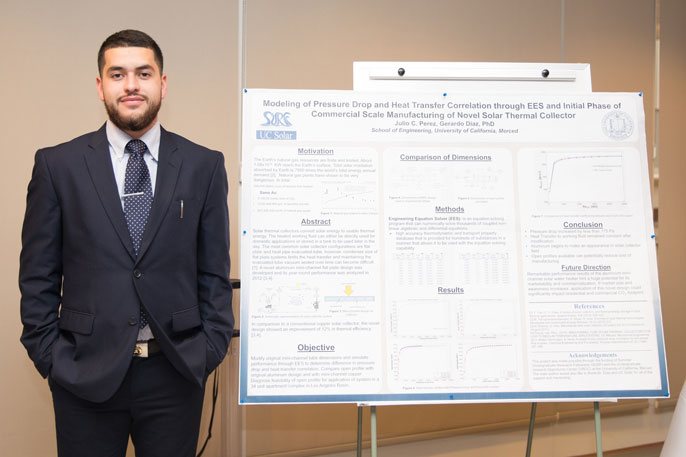 In his work as a research assistant at UC Solar, UC Merced mechanical engineering major Julio Perez is part of a research team working to help secure a sustainable energy future. But his experience at the lab has also provided Perez, a DACA student, with a foothold at a time when his own future is deeply uncertain.
Working under the guidance of professor Gerardo Diaz, Perez is part of a research team that has designed and tested a novel solar thermal collector that could replace natural gas for heating water in homes. The aluminum used in the collector is both cheaper and more efficient than the copper currently used in commercial production.
The funding he received for participating in the program has helped him cover the costs of his education, which is critical since, as an undocumented student, he is ineligible for federal loans. He has now been admitted to a Ph.D. program at UC Merced, with full funding.
More importantly, he knows that he has valuable skills that will serve him well, whatever his future holds.
"The passion and experience I've developed by being able to participate in this research is something that I'll always take with me. They can take away your status, but your experience and understanding and expertise, no one can take that away from you. That's the power of knowledge."
Unearthing a hidden history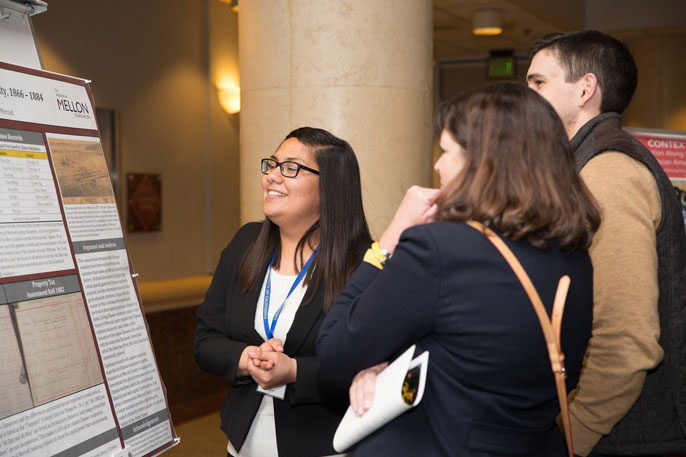 UC Merced history major Verenize Arceo was surprised to discover there were research opportunities in the humanities as well as in the hard sciences.
The Winton, Calif., native is using old records to piece together a vanished part of the town's history — a Chinese community that was among its earliest settlers but which is oddly absent from the history books.
"I always thought of history as reading and writing," Arceo said. "Now, all of a sudden, here I am in the archives, with the gloves on, handling these 100-year-old documents," she said. "This has exposed me to a world I didn't know existed."
Early census data for Merced County show that the Chinese community grew from 13 people in 1860 to 581 by 1880. Records show them buying and selling land, an indicator of money and power.
Yet newspapers written at the time made scant mention of this population. And the historical records are equally sketchy. Property tax records listed people by generic names such as "John Chinaman" and didn't provide lot numbers or property descriptions, which were usually standard for such records. Census data listed only first or last names. But, using the limited information in these documents along with supporting records like real estate bills of sale, Arceo is working bit by bit to reconstruct the history of this community.
"There are all these people whose stories are missing," said Arceo, who will present her research next month at the annual conference of the Organization of American Historians. "I'm trying to give them their voices back."