January 22, 2021
UC Newsroom
As a new federal administration begins to take shape under President Joe Biden, a growing list of University of California-affiliated alumni and faculty have been nominated or appointed to positions in the new government.
California native Kamala Harris, a graduate of UC Hastings College of Law, is undoubtedly the most prominent of these new faces. With her swearing-in on Jan. 20, she becomes the first UC-affiliated person to ever hold the vice presidency. Dozens of UC-affiliated people, representing virtually all UC campuses, have been tapped to serve in the new administration.
Public service is one of the three core elements of UC's mission, and these former UC faculty and alumni manifest this mission at its highest level.
Here are a few of the nominations and appointments so far — just a snapshot as new staffers continue to join the administration.
Kamala D. Harris, elected vice president of the United States
Kamala Devi Harris, the Berkeley native, now Biden's governing partner, earned her law degree from UC Hastings in 1989. Vice President Harris was a leader during her time at UC Hastings, serving as president of the Black Law Students Association. She went on to distinction as San Francisco District Attorney, California Attorney General and United States Senator. In the Senate, she became known for her trenchant cross-examination of witnesses while serving on the Judiciary Committee. In addition to being the first woman to serve as vice president, she is also the first Black person and the first person of South Asian descent to be elected to this office.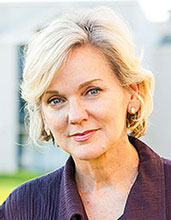 Jennifer Granholm, nominated for secretary of the Department of Energy
A two-term governor of Michigan, Granholm is an expert in the policy and politics of energy, and has most recently been teaching classes in clean energy, policy innovation and communication at UC Berkeley's Goldman School of Public Policy.
"I'm so grateful to UC Berkeley and the Goldman School of Public Policy for giving me the ability to access great research talent and fabulous grad students passionate about clean energy," said Granholm. "I will carry their hopes for a clean energy future with me to Washington, and if I'm confirmed, will focus with zeal on deploying clean energy in every pocket of the country, with an emphasis on communities that have been hardest hit by economic, racial and environmental injustice."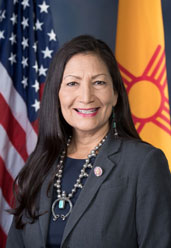 Debra Haaland, nominated for secretary of the Department of the Interior
When President Biden announced his intention to nominate New Mexico Rep. Debra Anne Haaland as secretary of the interior, it made history — Haaland would be the first Native American to serve in any cabinet position, let alone secretary of the interior, a role that oversees the nation's federal lands and works closely with Native American tribes. A member of the Laguna Pueblo tribe, and a former student of American Indian Studies at UCLA, Haaland and her colleague Sharice Davids became the first two Native American women to serve in Congress in 2018.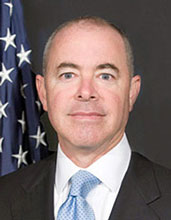 Alejandro Mayorkas, nominated for secretary of the Department of Homeland Security
Mayorkas, who immigrated with his family from Cuba, graduated from UC Berkeley in 1981 with a bachelor's degree in history. If he is confirmed by the Senate, he will become the first Latino and immigrant leader of DHS, one of largest domains in the federal government.
He previously worked at DHS during the Obama administration as deputy secretary and also as director of U.S. Citizenship and Immigration Services. He also served as an assistant U.S. attorney in the Central District of California, with a focus on white-collar crime.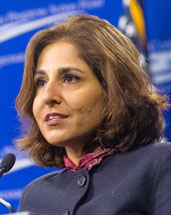 Neera Tanden, to be nominated director of the Office of Management and Budget
A veteran of multiple presidential administrations, UCLA alumna Tanden has been advancing policies for working families her entire career, motivated by her experience as a child whose family depended on food stamps and Section 8 housing on their way into the middle class. If she is nominated and confirmed for the role of director of the Office of Management and Budget, she would oversee the largest office in the executive branch, which includes the performance of federal agencies and the administration of the federal budget. She would also become the first woman of color and the first South Asian American to lead the OMB. Tanden is the current president and CEO of the Center for American Progress. She previously served as senior adviser for health reform at the U.S. Department of Health and Human Services, developing policies and provisions of the Affordable Care Act, which she helped shape.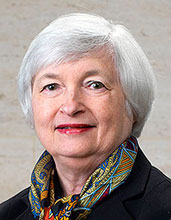 Janet Yellen, nominated secretary of the Department of the Treasury
Yellen has been a trailblazing economist and an influential teacher based at the UC Berkeley Haas School of Business.
If confirmed, she will become the first woman ever to serve as Treasury secretary. In that post, she would play a critical role in helping guide the nation's economic recovery from a pandemic that has shuttered businesses and left millions of people unemployed and in dire financial straits. She was the first woman to serve as chair of the Council of Economic Advisers, under President Bill Clinton, and the first woman to chair the Federal Reserve, appointed by President Barack Obama.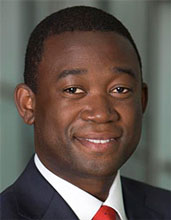 Adewale "Wally" Adeyemo, nominated deputy secretary of the Department of the Treasury
Adeyemo was born in Gbongan, a large town in Nigeria's Osun state, and was a baby when his parents emigrated with their three children to the U.S. He graduated from UC Berkeley with a bachelor's degree in political science in 2004, after serving as president of the Associated Students of the University of California.
Adeyemo ascended quickly to a series of influential appointments. He joined the Obama administration in 2010 as chief of staff for the new Consumer Financial Protection Bureau. Later, he was named deputy chief of staff for the Treasury Department, assistant secretary for international markets and development at the Treasury, and deputy director of the National Economic Council. Most recently, he has been president of the Obama Foundation. If confirmed as deputy secretary of the Treasury, he will hold its second-highest post, with Janet Yellen, a fellow UC Berkeley community member, at its head.
"Public service is about offering hope through the dark times and making sure that our economy works not just for the wealthy, but for the hard-working people who make it run," Adeyemo wrote in a recent tweet.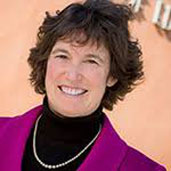 Cindy Marten, nominated deputy secretary of the Department of Education
UC San Diego alum Cindy Marten has been nominated for the second-highest position in the Department of Eduction, deputy secretary. Since 2013 she has served as superintendent of the San Diego Unified School District, having been unanimously selected by the district's Board of Education. In that role, she directed implementation of the district's Vision 2020 initiative, committing to a meaningful graduation for all students with the district achieving the highest graduation rate among big-city districts in California and the fastest reading growth of large urban districts nationwide in 2019. "Work hard. Be kind. Dream big! No excuses," is Marten's mantra. Prior to becoming superintendent, she was a classroom teacher for 17 years.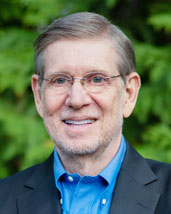 Dr. David Kessler, appointed chief science officer, White House COVID-19 Response
UCSF professor Dr. David A. Kessler, the former head of the Food and Drug Administration for two previous presidents, has been tapped to lead the COVID-19 response as chief science officer. He will lead what the Trump administration called Operation Warp Speed — the federal effort to produce and distribute vaccines and newly developed treatments for COVID-19 throughout the U.S. Kessler was also a member of the Biden-Harris Transition's COVID-19 Advisory Board, as were other UCSF experts.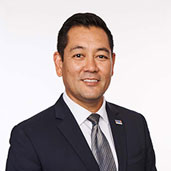 Dr. Cyrus Shahpar, appointed COVID data director, White House COVID-19 Response
Dr. Shahpar, who earned his medical degree and MBA at UC Irvine and his master's in public health from UC Berkeley, joins the Biden administration in the role of COVID data director. Dr. Shahpar has focused on infectious disease and public health throughout his career, and previously led rapid response for the Centers for Disease Control and Prevention. He departs a role as vice president for Epidemic Intelligence at the Resolve to Save Lives Initiative to join the Biden administration, having previously served on the incoming administration's Agency Review Team for the Department of Health and Human Services. Dr. Shahpar also worked at UC San Francisco as a programmer and analyst early in his career. You can read more about his work on the COVID-19 pandemic and other epidemics in this feature from the UC Irvine Paul Merage School of Business.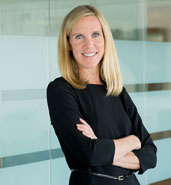 Andrea Kendall-Taylor, appointed senior director for Russia and Central Asia, National Security Council
Andrea Kendall-Taylor joins Biden's national security team as the lead for Russia policy, having served in a similar role for the Biden-Harris Transition. She is an expert on national security challenges in the region, including authoritarianism and threats to democracy, and leaves her role as senior fellow and director of the Transatlantic Security Program at the Center for a New American Security to join the Biden administration. She previously served as a senior intelligence officer both as Deputy National Intelligence Officer for Russia and Eurasia at the National Intelligence Council in the Office of the Director of National Intelligence and a senior analyst at the Central Intelligence Agency. Kendall-Taylor received her Ph.D. in political science from UCLA.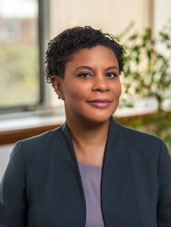 Alondra Nelson, appointed deputy director for science and society, Office of Science and Technology Policy
Alondra Nelson, an expert and acclaimed author in the intersection of science, policy and social inequality, has been named deputy director for science and society in the Office of Science and Technology Policy at the White House. She was previously the president of the Social Science Research Council and Harold F. Linder Professor at the Institute for Advanced Study in Princeton. She is an elected member of the American Academy of Arts and Sciences, the American Philosophical Society, and the National Academy of Medicine, and serves on the Board of Trustees of the Andrew W. Mellon Foundation, among other roles. She earned her undergraduate degree at UC San Diego, where she was elected to Phi Beta Kappa.
You can hear from Nelson at UC San Diego's upcoming Triton Leaders Conference February 5-6 where she will be a conference keynote speaker. Learn more and register: https://bit.ly/2XJ8wrA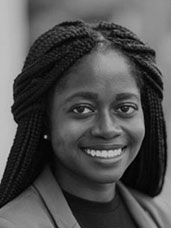 Joelle Gamble, appointed special assistant to the president for economic policy, National Economic Council
A UCLA alum and former board member for the UC Student Association at UCLA, Joelle Gamble will serve on the president's new economic team. A California native, Gamble began her career as an organizer running campaigns for economic opportunity and higher education access in California. Prior to joining the administration, she advised the Biden transition team and worked as a principal at Omidyar Network, a social change venture. She is also formerly the senior adviser to the president and CEO of the Roosevelt Institute and national director of the Roosevelt Institute's network for emerging leaders in public policy.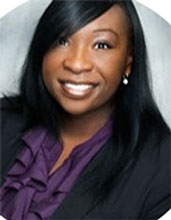 Funmi Olorunnipa Badejo, appointed associate counsel in the Office of White House Counsel
Born in Nigeria, Olorunnipa Badejo graduated from Berkeley Law in 2007. During the Obama administration, she worked in the U.S. Department of Justice and served as ethics counsel at the Office of White House Counsel.
She most recently has been general counsel for the U.S. House of Representatives Select Subcommittee on the Coronavirus Crisis.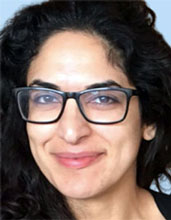 Reema Dodin, appointed deputy director of the White House Office of Legislative Affairs
Dodin, the daughter of Palestinian immigrants, graduated from UC Berkeley in 2002 with a degree in political science and economics. She served most recently as deputy chief of staff and floor director for the office of U.S. Senate Democratic Whip Richard Durbin.
Dodin is the co-author of "Inside Congress: A Guide for Navigating the Politics of the House and Senate Floors."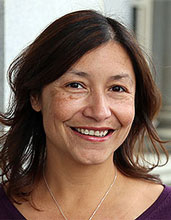 Julie Chavez Rodriguez, appointed director of Intergovernmental Affairs
Chavez Rodriguez, born in Delano, a town in California's Central Valley, graduated from UC Berkeley in 2000 with a degree in Latin American studies. She rose through a range of high-level political, management and policy positions and served in the Obama White House as special assistant to the president and senior deputy director of public engagement, where she led engagement with leaders in the LGBTQ, Asian American Pacific Islander, Latinx, veterans, youth, labor and other communities.
Most recently, she served as national political director and traveling chief of staff for Harris' presidential campaign, and then as deputy campaign manager for the Biden-Harris campaign. She is the granddaughter of César Chávez, the iconic labor organizer and co-founder of the National Farm Workers Association.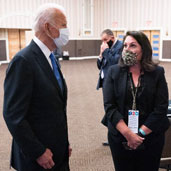 Meghan Hays, appointed director of message planning, White House
Hays, a Sacramento native and UC Davis graduate, will be the director of message planning for President Biden, having previously served as deputy communications director for strategic planning for Biden for President. Hays has a long working relationship with Biden, having acted as deputy communications director during Biden's years as vice president in the Obama administration. She got her start in public service the day after she graduated from college, when she went to work for then-Gov. Gray Davis. Hays went to community college before attending UC Davis. Of her experience there, Hays told Politico, "I learned to work hard, be scrappy, and take nothing for granted — all skills that have served me well in politics!"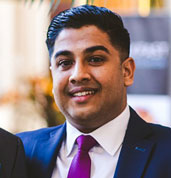 Vedant Patel, appointed assistant press secretary, White House
UC Riverside 2012 graduate Vedant Patel has been appointed assistant press secretary on the president's new communications staff. Prior to this role, Patel was senior spokesperson for the Biden Inaugural Committee and regional communications director for the Biden-Harris campaign. Patel has spent his nascent career in a number of political roles, including as communications director for Congresswoman Pramila Jayapal, western regional press secretary at the Democratic National Committee and communications director for Congressman Mike Honda. Born in India and raised in California, Patel now lives in Washington, D.C., with his wife.
Portions of this article were adapted from Edward Lempinen's piece, "At a time of crisis, Berkeley policy experts join Biden administration," on the UC Berkeley news site and "Congratulations, Kamala!" a letter from UC Hastings Chancellor and Dean David L. Faigman. Please read the original articles to learn more about UC alumni and faculty joining the administration.